Shawn Murphy and Tyleik Williams are nationally known football recruits from Stonewall Jackson who have college scholarship offers ranging from Virginia Tech to Alabama to Oklahoma.
That served as nice camouflage Friday for freshman Shane Eller.
In the first varsity game of his life, Eller led the Raiders with three tackles-for-loss, including a pair of sacks that helped Stonewall beat Gar-Field 41-7 on the road in Woodbridge.
Eller certainly wasn't alone as a defensive standout – the Raiders amassed seven sacks en route to 13 tackles-for-loss – but he helped show that Stonewall's defense truly teems with talent.
Eller played Friday alongside Murphy, a sophomore linebacker who is ranked No. 1 nationally by 247Sports among Class of 2022 inside linebackers. And freshman Amare Campbell rounded out the Raiders' starting linebacker corps after turning age 14 just before the beginning of this season.
"In another year or so we'll maybe have the best three linebackers in the state of Virginia," Stonewall coach Carroll Walker said. "These are nice young kids that have always played travel football with the community that we come from. We have high expectations."
Gar-Field moved the ball relatively well early against the Raiders' defense, amassing 83 yards for a 7-7 tie less than 8 minutes into the game. Over the next 40 minutes, however, Stonewall allowed only 149 yards of offense.
During that time, the 5-foot-9, 185-pound Eller even held his own as a nose guard on the Raiders' defensive line.
"I wanted to show out for my first game of high school," Eller said.
He at least impressed teammate Xander Albea, a junior cornerback who also ended as Stonewall's leading running back Friday.
"I'm telling you, this is a game you're going to remember for the rest of your life," Albea told Eller.
Playing adjacent to Murphy and Williams certainly helps Eller, Albea and all of the other Raiders shine. Williams, a junior defensive tackle, ranks No. 4 on 247Sports' list of Virginia 2021 recruits with a No. 13 ranking in the nation among all 2021 players.
"If I make a mistake, I feel like one of them are going to be there to help me," Eller said.
Albea agreed.
"It makes you comfortable," he said. "You know you have two [coveted teammates] holding you down. It's real nice."
Williams and Murphy obviously draw the attention of opponents.
"It might intimidate people a little bit," Walker said. "But I'm on them constantly: 'Be focused. Don't pay attention to your press. Let's just play football and get better.'"
Williams finished Friday with one tackle-for-loss and one forced fumble, while senior Leonard Guerin had two sacks. Adding one sack each were seniors Ra'sean Coates, Amir Lewis and Amari Woford. Plus, junior Terry Muse and senior Anthony Marble each had one tackle-for-loss with sophomore Sean Scott adding an interception.
So Stonewall won it's season-opener after a Week One bye, while the Indians (1-1) lost by 34 points despite winning 41-14 last week against Justice.
"Last week on the offensive line we managed to control the game," Gar-Field coach Tony Keiling said. "We could throw the ball when we wanted."
That was not the case against Stonewall. Indians quarterback Bishop Fitzgerald rarely passed without first scrambling. The Raiders seemed to have a player in Gar-Field's backfield within seconds of each snap.
"A lot of free runners to the quarterback," Keiling said. "They've just got a good blitz scheme.
"You win the line, you win the game," he said. "We didn't win the line tonight."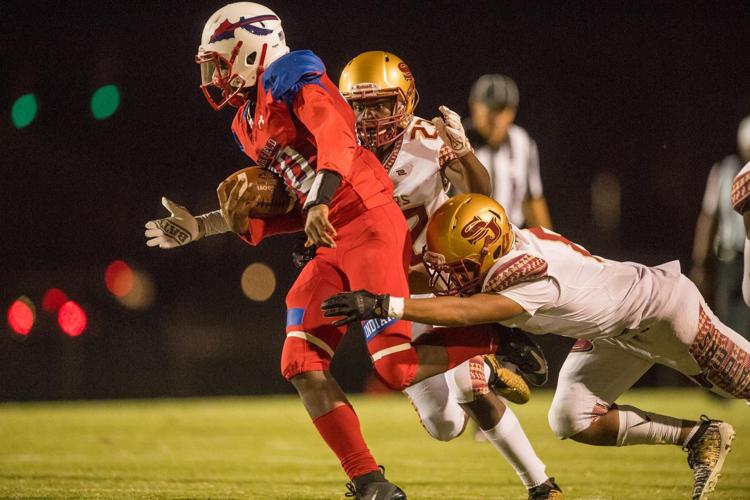 Nonetheless, Fitzgerald impressed a lot of the Raiders. He often evaded Stonewall's initial rush to finish with 134 yards on 9-for-22 passing and 47 yards on 14 runs, despite the Raiders' seven sacks hurting that rushing total.
"You can get a good rush and get pressure, but he can see a seam," Walker said. "He's got the talent. He's a great quarterback with vision.
"He challenges a team to be honest" with defensive patience, Walker said. "Chasing him around has just prepared us to be better. If you have to play that guy down the road in the season, you could have trouble with him."
It almost seemed as though Gar-Field's backfield operated with a mass limit. As soon as the Raiders' 6-3, 300-pound Williams penetrated Fitzgerald's passing pocket, it propelled the Indians' 5-11, 175 quarterback toward the sideline like an overflowing robust river.
So Williams somehow never tackled Fitzgerald behind the line of scrimmage despite occupying the same space so often.
"It's amazing," Keiling said. "He's probably the best running quarterback … and he can pass with the best of them. He made a lot of people miss."
Regardless, Raiders starting quarterback Toviel Jung nearly matched Fitzgerald's production. The junior finished with 3 yards on 5 carries and 164 yards on 8-for-12 passing, including an 86-yard touchdown pass to Khalid Shabazz-Williams on a go-route that gave Stonewall the lead for good at 13-7 with 10 minutes, 41 seconds remaining in the second quarter.
No. 2 quarterback Dashon Reeves added 57 yards and two touchdowns on 3-for-4 passing with 38 yards on five carries. So Shabazz-Williams ended with 91 yards on two receptions while Elijah Reeves had 55 yards and a touchdown on four catches with Jovon Jackson adding 50 yards and a touchdown on two receptions.
Cramping forced Albea out of the game before halftime, but he still amassed 110 yards on only eight carries as Stonewall's starting running back.
"If he didn't cramp up, he would have run for a good 300 yards," Walker said of Albea, who doesn't yet have a college football scholarship offer. "He just needs to be noticed. He's probably a nice little back that some [NCAA team] is going to scoop up."
Albea led the Raiders in rushing yards Friday, but he didn't score a touchdown. Instead, Amari Wofford scored once on six carries for 33 yards and Coates scored twice on five carries for 44 yards. Coates' 5-yard touchdown run came after a 50-yard run by Albea and his 1-yard touchdown run came after a 41-yard run by Albea.
"I did trip up a couple times," Albea said, laughing about missing the end zone by only a few yards. "But there's points on the board and we're winning. That's all that matters to me."
Albea, Coates and their like dominated on the ground despite playing without a pair of expected starters on the offensive line. Seniors Darien Decker and Kevin Ortega-Lopez filled in on the offensive line with few ill effects.
"I'm proud of them," Walker said.
Yet penalties plagued both teams. The Raiders lost 150 yards on 14 penalties while Gar-Field lost 147 on 17, which gave both teams reason to feel optimistic about the future.
"We're going to have a winning season," said Keiling, whose Indians finished 3-7 last fall to give them a 10-60 record since their last winning season in 2011 (9-3). "No doubt about that.
"This here is a wake up call for a young team," he said of losing to Stonewall. "You win big one week and you can lose big the next week if you're not focused."
Walker, meanwhile, leaned on the typical coach's trope of "One game at a time" Friday after his team finished 2018 with a 5-6 record and its first playoff berth since 2014.
But Eller said, "I want to win states. I feel like we've got a good enough level of athletes to be states worthy."
And Albea couldn't disagree.
"I didn't want to put it like that," he said with a laugh, "but that's the only goal.
"Just keep practicing and getting better every day," Albea said. "If we can do that, we can go deep. … I'm putting it all on the line this year."