New style, same results for coach Tony Keiling's football program at Gar-Field.
When the Red Wolves went 6-1 on the gridiron last spring, they did so with a potent offense that racked up 31 or more points five times.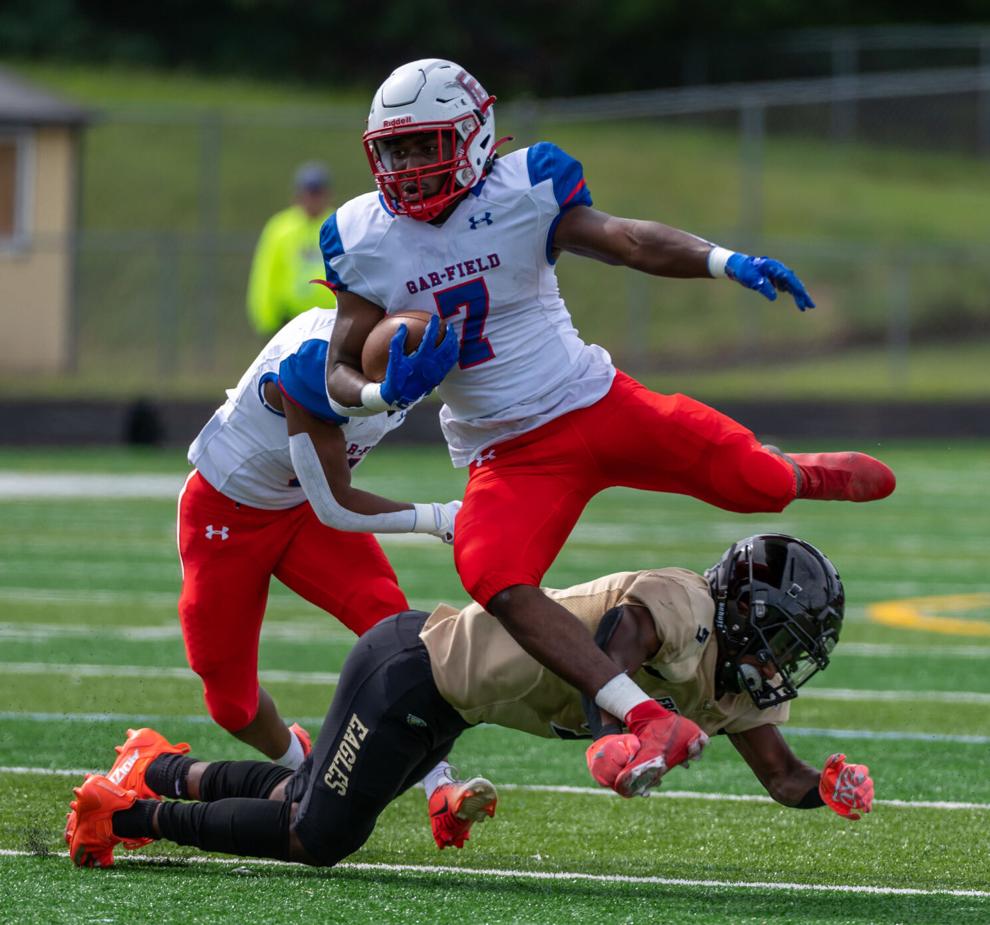 So the Wolves' current record (4-2, 3-0 in the Cardinal District) heading into their Oct. 15 contest at Forest Park isn't surprising. What's surprising is how they're winning.
"This team is totally different from last year," fifth-year head coach Tony Keiling said. "We're winning with our defense. It's hard to run on our defense."
After opening 0-2, Gar-Field is on a four-game win streak despite scoring 31 just once, a 35-0 defeat of Colgan. Their other victories are by 11 points or fewer, averaging 21 points scored.
"It's basic football. Good defense, good special teams, and ball-control run game," Keiling said.
Senior middle linebacker Deavohn "Debo" Bumbrey leads that hawkish defense in tackles, helped by junior Kalvon Sanders.
Ryan Adams, an athletic 280-pounder, figures to repeat as a first-team all-district two-way lineman. Amonte Thompson is versatile at the end of both lines.
Offensively, senior Elijah Sledge leads a stable of running backs who get carries, including Sanders and Jordan "Speedy JT" Terry. They run behind beefy linemen Jacobi Reynolds and Bryan Carcamo, who combine for 500 pounds.
That offensive line averages more than 220 rushing yards per game.
After taking last season off, 6-foot-4 senior Isaiah Crockett is potent as a receiver and a cornerback. "It's hard to get the ball over him," Keiling said.
Senior Jalil Singleton is a do-everything player as a defensive back, receiver and kick returner. Josh Lopez is a weapon as an experienced senior kicker.
Despite taking over for Offensive Player of the Year Bishop Fitzgerald, sophomore quarterback Omar Diallo is "playing really smart, making key decisions, managing the game for us," Keiling said.
"He's developing as a passer and as a runner. He's a very intelligent football player. The kids rally around him and they believe in him."
Keiling took over a struggling program and went 0-10 in 2017. The winning percentage has risen every season since.
"We have a really good, experienced coaching staff, we've started an off-season development program, we do fundamental skills and speed and agility," Keiling said. "We develop guys who can specialize on defense, offense and special teams."
Keiling said the community is embracing Gar-Field football. His JV team features 48 freshman and sophomore prospects.
With a potential third consecutive playoff spot in the offing, the future could be now.
"We want to keep playing good defense, run the ball, control the clock, and good things will happen," Keiling said.
Correction: An earlier version of this story misstated Gar-Field High School's record at 6-1. It is 4-2. The Times regrets the error.