Reina Washington's seven steals helped the John Paul the Great Wolves beat Catholic High's girls basketball team 49-31 Saturday at home in Dumfries. 
They finished with 12 steals, including four from Mary Caiafa, as John Paul the Great improved its record to 10-5. Washington also had 15 points with nine each from Caiafa and Alissa Turner, while Briaan Wydajewski had six.
Wydajewski added 11 rebounds with five apiece from Turner and Katie Bochonok, while Washington had five assists, Caiafa had four and Wydajewski had three. Wydajewski also had three blocks.
Osbourn Park girls basketball 47, Battlefield 38
The Osbourn Park Yellow Jackets began the second half of their Cedar Run District schedule Friday with a 47-38 victory over Battlefield's girls basketball team at home in Manassas.
So they remained undefeated in district play at 6-0 and improved to 13-5 overall by holding an opponent under 40 points for the 13th time in their past 15 games.
Hannah Osaro led Osbourn Park with 13 points Friday while Hailey Kellogg had 10 and Jo Raflo had eight.
For the Bobcats, Kat Jenks had 19 points with 7-for-8 free-throw shooting and Anna Tekampe had five points with four each from Sofia Miller, Julia Mitchell and Reese Burch. Tekampe also had eight rebounds, Miller had seven and Burch had five, while Miller had three blocks.
Forest Park boys basketball 48, Gar-Field 40
The Forest Park Bruins extended their winning streak to four games Friday with a 48-40 victory at home over Gar-Field's boys basketball team.
Kenyani Lee and Kenneth Clark scored 11 points each to give Forest Park a 10-7 record with a 5-3 mark in the Cardinal District while the Indians fell to 2-15 and 0-8. The Bruins built an 11-6 lead in the first quarter, a 24-15 advantage at halftime and a 33-21 lead entering the fourth period.
Evan Reed added nine points and Tyler Smith had five, while Kyle Bond had nine rebounds and four points. For Gar-Field, Cory Wilson scored 21 points, Edward Wilkerson had seven, Carlton Harris had six and Syrell Grier had five. Wilson also had 10 rebounds.
Potomac boys basketball 65, Woodbridge 60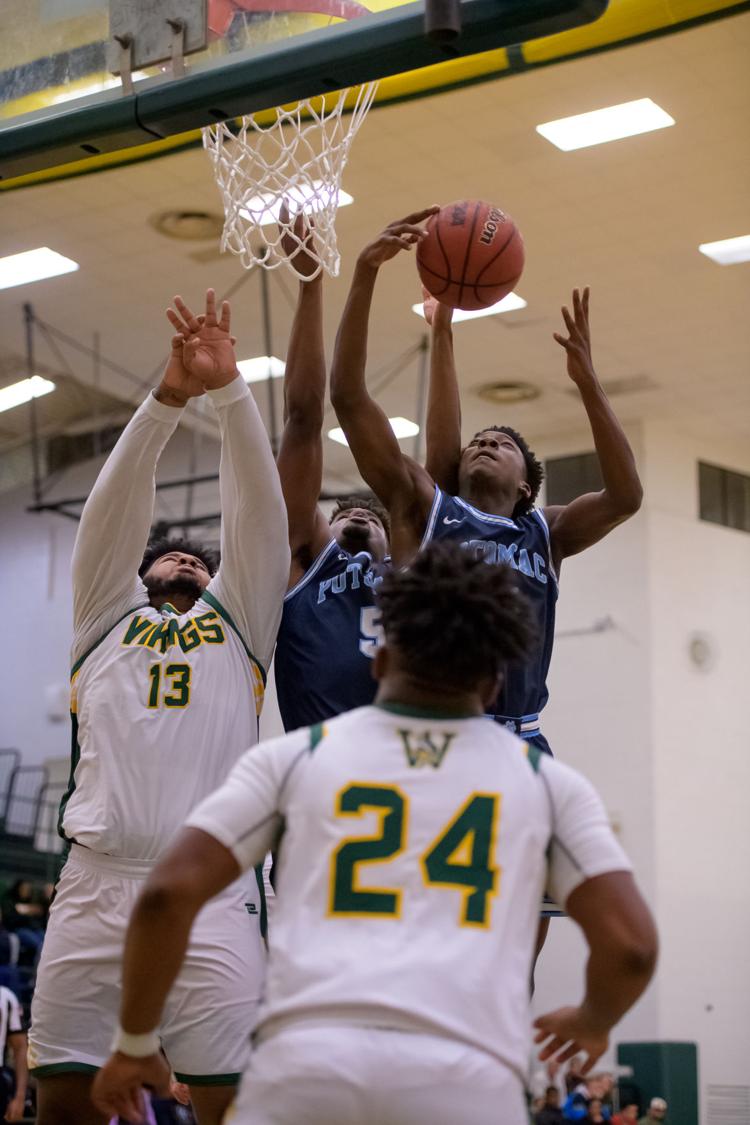 After dominating Woodbridge's boys basketball by 41 points in December, the Potomac Panthers needed to rally from a seven-point deficit Friday to beat the Vikings 65-60 at home in Dumfries thanks to a career-high 20 rebounds by Tyrell Harris.
The Panthers fell behind 21-14 in the second quarter, but they rallied for a lead as large as 41-32 in the third period. Woodbridge narrowed its deficit to 60-58 late in the fourth quarter, but Potomac's Kyle Honore scored the next three points, followed by a pair of Harris free throws, to seal the victory. So the Panthers improved their record to 7-1 in the Cardinal District and 14-3 overall while the Vikings fell to 5-3 and 10-8.
Harris finished with 23 points and 10 offensive rebounds – also a career high – while Honore had 16 points and four assists. Anthony Jackson added 11 points and Caleb Satchell had seven, while Lorin Hall and Rakim Lamarre had five rebounds each. Satchell also had five steals.
Brentsville girls basketball 63, Manassas Park 26
Alden Yergey scored 23 points Friday to give the Brentsville Tigers a four-game winning streak with a 63-26 victory over Manassas Park's girls basketball team at home in Nokesville.
Gabby Garrison added four 3-pointers for 12 points as the Tigers boosted their record to 13-3 overall with a 4-2 mark in Class 3 Northwestern District play. Cai Smith also had 12 points and Cara Vollmer had 11, helping Brentsville build a 27-15 lead by halftime.
The Tigers made 9 of 12 free throws with Vollmer going 2-for-2 and Kendal Meunier and Yergey going 3-for-4 each. For Manassas Park, Cierra Davis has seven points and Navaeh Maynes had six as the Cougars fell to 1-11 and 1-4.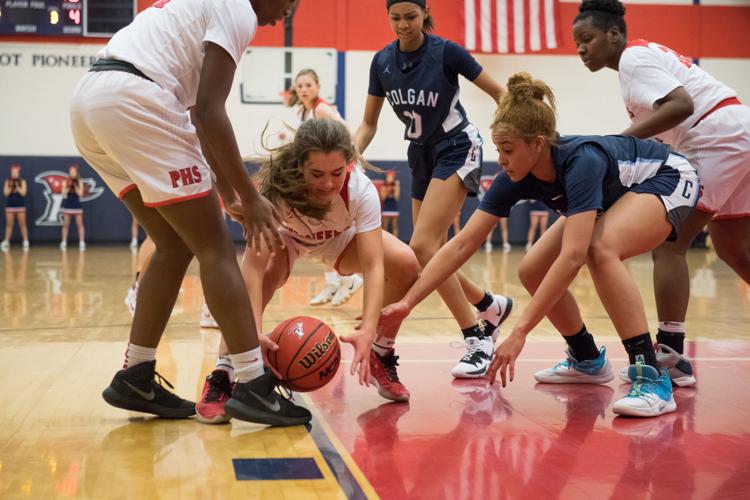 Patriot girls basketball 56, John Champe 42
The Patriot Pioneers made 6 of 12 3-pointers Friday to break a three-game losing streak with a 56-42 win over John Champe's girls basketball team on the road in Aldie.
Taylor Booker went 2-for-2 on 3-pointers to lead the Pioneers with 10 points as they boosted their record to 8-9 overall and 3-3 in the Cedar Run District. Addisyn Banks added nine points, Lauryn Moore had eight, Caitlin Blackman had seven and Emily Casey had five. They helped Patriot take a 13-7 lead in the first quarter and a 27-15 advantage at halftime before entering the fourth period with a 40-28 lead.
Banks also had 13 rebounds, Moore had nine, Blackman had seven, Kayla Amoah had six and Malorie Upperman had five. Upperman added four assists and Blackman had three steals, while adding two blocks each were Booker, Upperman and Moore.
Forest Park girls basketball 48, Gar-Field 19
The Forest Park Bruins rebounded from their first loss of month to beat Gar-Field's girls basketball team 48-19 on the road.
They shut out the Indians in the first quarter, 14-0, to give Forest Park a 7-1 record in the Cardinal District with a 10-6 mark overall after its six-game winning streak ended Jan. 22 with a 53-50 loss to Stonewall Jackson. Against Gar-Field, the Bruins built a 23-7 lead by halftime and entered the fourth period with a 37-13 advantage.
Bella Gomez led Forest Park with 14 points on three 3-pointers while Shania Glenn had seven points, as did Kayla Burton and Ebele Okuadido. Mattie Ross added six points on two 3-pointers and, for the Indians, London Jackson had five points.
Stonewall Jackson girls basketball 69, Osbourn 33
The Stonewall Jackson Raiders rebounded from their first Cedar Run District loss of the girls basketball season by beating Osbourn 69-33 Friday on the road.
So their record improved to 12-5 overall and 5-1 in the district after they lost Tuesday to Osbourn Park 52-51, while the Eagles stand at 9-8 and 0-6.
Against Osbourn, Hannah Williams scored more than 29 points for the third time this winter, finishing with 31 points on 12-for-18 field-goal shooting to give her 22.3 points per game this season. Williams and Maryan Yusuf each made 3 of 5 3-pointers as the Raiders finished 9-for-16 (56 percent) as a team. 
Yusuf ended with nine points and Zoe Kanti had 15 with six each from Ana Umana and Amanie Bonchu-Stokes. Kanti made 7 of 13 field goals, while Williams had 10 of Stonewall's 15 steals, seven rebounds and six assists.
Yusuf added five assists and Kanti had three, while Bonchu-Stokes had two steals and eight rebounds. Kanti and Nataezja Gaskins added five rebounds each with four apiece from Umana, Toyah Goines and Jonae Beasley. Gaskins also had two blocks.
For the Eagles, Amiyanna Williams had 16 points and 12 rebounds, while Fantasia Payne had nine points and Maia Williams had four. Love Delaney and Maia Williams added six points apiece while Kayi West had four rebounds and Payne had two steals.
Patriot boys basketball 63, John Champe 52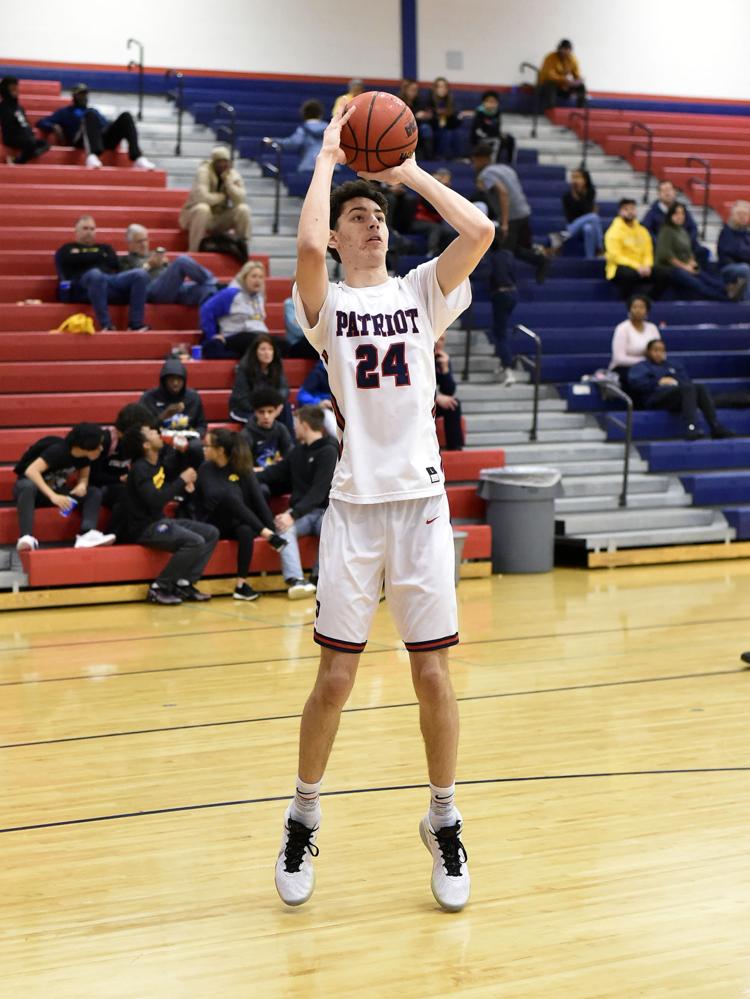 The Patriot Pioneers handed John Champe its first Cedar Run District loss of the boys basketball season by beating the Knights 63-52 at home in Nokesville.
So the Pioneers moved into a tie with John Champe atop the district standings with matching 5-1 records while the Knights improved to 13-4 overall and Patriot improved to 14-4. The Pioneers also avenged a Dec. 10 loss to Champe, 61-56, as Chad Watson and Trey Nelson scored 13 points apiece in the rematch.
Zach Blue added 10 points, Darrel Johnson had nine, Jackson Ford had eight and Tyler Stringer had six, helping Patriot make 19 of 37 field goals (51 percent). Johnson also had six rebounds with five each from Stringer, Nelson, Blue and Ellis Nayeri.
Nelson also had four assists while Blue and Nelson had two steals apiece. They helped the Pioneers build a 12-6 lead in the first quarter, a 29-21 advantage at halftime and a 44-38 lead entering the fourth period.
Colgan girls basketball 70, Wakefield 56
Alyssa Andrews scored a season-high 31 points Thursday to give the Colgan Sharks a 70-56 victory over Wakefield's girls basketball team at home in Manassas.
She boosted her season-scoring average to 21.7 points per game as Colgan improved its record to 10-5 overall and 5-2 in the Cardinal District. Andrews made 10 of 10 free throws to help the Sharks go 19-for-20 as a team, while Kennedy Fuller made 7 of 8 for 22 points and Josie Rodas had 12 points on four 3-pointers.
They helped Colgan compose a 36-24 run in the second half after entering halftime with only a 34-32 advantage.