Connor Knox kept Colgan in it, allowing just two runs while pitching into the fifth inning versus a powerful James Madison lineup.
Brett Renfrow got Colgan closer, smashing a solo homer to center field to bring the Sharks within one in the final inning.
But the Sharks (15-1) ultimately fell 2-1 to host James Madison (18-1) in the Class 6 state championship baseball game June 26, ending Colgan's magical season in tantalizing fashion.
The Sharks won their first Cardinal District title and had a truly memorable season. They defeated Battlefield 4-1 to win the Region B title then eliminated Cosby 11-1 in the state semis to advance to their first state final in their fifth year as a program. Their best previous season was 11-9 in 2019.
"It's tough," said Colgan head coach Mike Colangelo, the only head coach in Colgan's brief five-year history. "I hate losing. Speechless."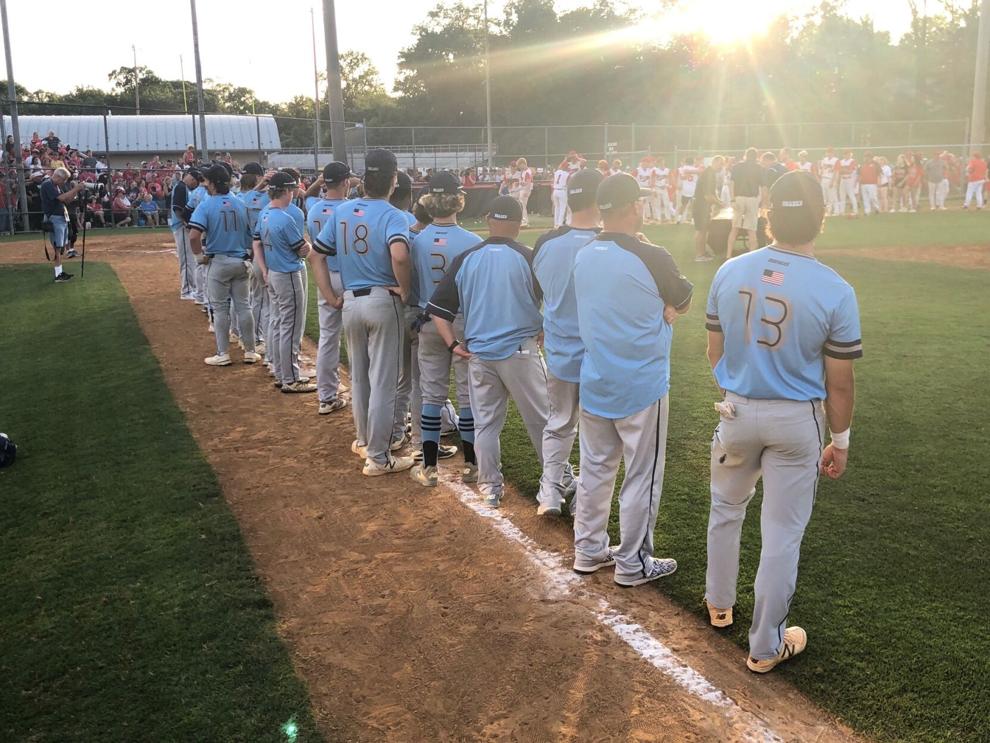 The star of the game was Warhawks' starting pitcher James Triantos,  a University of North Carolina recruit and expected high MLB draftee. Triantos retired the first 19 batters before Renfrow homered on  a high fastball with one out in the seventh.
At the plate, Triantos delivered what proved to be the deciding run in the third, homering over the fence in right-center for a 2-0 lead. Triantos had scored the Warhawks' run in the first, racing home on a Colin Tuft RBI single.
"I've known James since he was seven years old. He's a warrior, the best player in the state of Virginia. I knew we had our work cut out for us," Colangelo said. "But I have a team of 18 warriors. We ran out of innings, I think."
Playing before a large crowd of mostly red-clad Warhawks partisans, Colangelo's Sharks weren't intimidated by the program's first-ever state championship game.
Knox struck out five in 4.1 innings of work against a lineup featuring four future Division I hitters. The junior righty gave up two earned runs on four hits and one walk.
Colangelo limited Knox to a pitch count of 60.
After striking out a Warhawk looking to open the fifth, Knox left in favor of Renfrow. The tall sophomore proceeded to get into and out of a bases-loaded jam.
Renfrow ended with four strikeouts in 1.2 hitless innings.
C.J. Faulkenberry and Brody Pickette are Colgan's two starting seniors. An outfielder, Faulkenberry played his last game as a Shark before moving on to play for Longwood University.
"Yeah, we went 15-0, but that's what we're going to remember, that we were two runs away from finishing the job," Faulkenberry said.
When he returns to check out his old team, Faulkenberry said he expects "to see a lot of dogpiles."
"We've laid a good foundation for this program," he said. "These kids are going to be back here next year. They're going to win it next year, actually."
A sizable throng of blue-clad Colgan supporters gave the Sharks a rousing cheer as they accepted the runner-up trophy for their first ever appearance in a state championship game, a feat accomplished in the program's fifth year.
As for the head coach and the somber players, they were already thinking about year No. 6.
"We gotta go back to the drawing board," Colangelo said. "This team is hungry. We'll be back next year."