Twelve of Prince William's 15 public high schools have field hockey teams this year. Many rosters are populated with girls from lacrosse or softball or another sport.
The newbies are catching on fast, many coaches told the Prince William Times, with district races taking shape as the midseason approaches. 
Win-loss records are as of Sept. 21.
Battlefield Bobcats
Coach: Claire Gianelle (2nd season)
Record: 5-0
How's it going? The Bobcats are off to a hot start, outscoring opponents 24-1, including a 2-0 edging of rival Patriot on Tuesday, Sept. 21. 
"We have shut out every team in our district," Gianelle noted. "One goal against was from Colgan."
That stalwart defense is led by junior Erin Sweeney. "She steps up in corners to keep the ball in play," said the coach. "Big stops in the midfield and great at switching fields."
Rebecca Bartheld is Battlefield's senior captain, center forward and primary faceoff-taker who's tallied five goals so far. Fellow senior captain Ella Wild, with three goals and three assists, is "incredibly fast" with "great game sense," the coach said.
Sophomore Natalie Moul is a playmaker in the midfield, with three goals and six assists, including a four-assist outing. Freshman Hailey Hatfield, who brings "great stick skills," has four goals and four assists.
The Bobcats won the Cedar Run District title last season, then defeated Hylton in the regional tourney before losing 1-0 to eventual champ Colonial Forge.
"My expectations this season are to get another district title and then go farther in the regional playoffs than last year," Gianelle said.
Colgan Sharks
Coach: Kaitlyn Connolly (5th season)
Record: 3-3
How's it going? The Sharks' record is deceptive. They've challenged themselves with a tough schedule and outscored opponents 18-10.
Colgan won the Cardinal District title in 2018 and 2019. They opened up this campaign with a close victory over non-district Patriot.
"My expectation is that we do well in district play to defend our district titles and then move on to compete at the regional level," Connolly said.
Senior goalie Madison Huber, in her third season playing the sport, has made "some saves that really have helped us save in the game." She's credited with 36 so far.
Senior forward Alexis Andrews-Thompson has four goals to date. Several of her tallies put the Sharks ahead, including the game-winner against Patriot. Senior center left midfielder Carley Meyers is a veteran leader who specializes in creating opportunities for teammates around the net.
Forest Park Bruins
Coach: Nelmarie Bonilla-Rodriguez (2nd season)
Record: 1-4
How's it going: After losing their first four games, Forest Park notched an 8-0 victory over Potomac on Sept. 21. But the season's highlight so far, Bonilla-Rodriguez said, is "seeing the progression our team has had over the past month and a half."
A trio of seniors leads the Bruins, including goalie Rahma Elgazzar, a four-year varsity netminder. She's stopped 30 shots so far.
Issy Denevan and Susannah Dietrichson are four-year varsity players with high field hockey IQs. They've combined for five goals and two assists.
Dietrichson even recruited five friends to join her on the field hockey team this year.
"Overall, all three girls have great passion for this sport," Bonilla-Rodriguez said. "They are the girls the team can rely on."
Gainesville High Cardinals
Coach: William Willis (1st season)
Record: 3-2
How's it going? Who said a new program can't compete right away? The first-year Cardinals, featuring 13 freshman and no seniors, began the program with a 4-0 win over Gar-Field, the first of three shutouts so far.
The Cardinals have outscored opponents 11-7, and played tough in defeat.
"We lost to a strong, experienced Osbourn Park team in a heartbreaker toward the end of the fourth quarter," said Willis of a 1-0 setback Sept. 16. "This will appear as a loss on our record, but we consider it a big win for the program."
Junior captain Cheyenne Davidson commands the center midfield spot "with a powerful drive and fast free hits" that lead to goals, Willis said. She has three assists and one goal.
Sophomore captain Layla Taormina leads fast breaks and uses speed and stick skills to generate scoring chances. She owns two goals with three helpers.
The goalie is freshman Teagan DeDominicis, who's blocked 35 would-be goals this season.
"Teagan is new to field hockey, but you wouldn't know it from her outstanding performance this season in goal," Willis said. "She plays with a big heart and has multiple spectacular saves to her credit so far."
The coach said that athleticism and determination are primary assets for Gainesville's fledgling program. Nine different players have contributed to goals. "Each win this season against older, more experienced teams is a big accomplishment," he said.
Gar-Field Red Wolves
Coach: Amanda Cahow (2nd season)
Record: 0-5
How's it going? It's a slow but steady building phase for the Wolves, who last year won a game for the first time in four years. 
Cahow is in her third season as a Gar-Field coach, second at the helm. "We hope to get a win this coming week," she said. "We cannot wait to see how the season progresses!"
Half the roster is new to field hockey, but the other half brings plenty of experience.
Senior captain Umaiza Kashif has seen "her confidence blossom on the field" in helping teammates. Sophomores Pauleen Delarosa and Karla Marquez are promising young talents who've shown strong work ethics.
Goalie Rebecca Funes has stopped nearly 20 shots.
"All the athletes have been working hard and we are proud of their accomplishments so far," Cahow said.
Hylton Bulldogs
Coach: Brittany Walman (4th season)
Record: 1-5
How's it going? The Bulldogs' only win so far was a big one, a 6-0 defeat of rival Potomac.
As Hylton's highest scorer, left forward Hope Dutch is counted upon to put the ball in the net. Right center midfielder Abigail Garland is "very aggressive," Walman said, and has the speed to carry the ball up or prevent opposing ball carriers from an easy path. The defense is led by Grace Bittle
"Goal for the rest of the season is to give the best we got," Walman said.
Osbourn Eagles
Coach: Amanda Coombs (5th season)
Record: 1-6
How's it going? With the program in a rebuilding phase, Coombs is proud of that one victory so far: a 2-1 overtime decision over Hylton Sept. 15.
"We have a very committed and dedicated group of girls with a lot of heart," the coach said. "Our team has been working very hard to build our program and get better."
Senior goalie D.J. Holsclaw has averaged over 100 saves per season since she was installed as Osbourn's goalkeeper four years ago. She was voted the Cedar Run District's Goalie of the Year last season. "She has worked very hard to become the best she can be," Coombs said.
Sophomores Nina Nicoletti and Kaya Graham are standouts. Nicoletti, now a midfielder, began the sport last year and learned quickly enough to be a first-team all-district defender. Graham is new to field hockey, but "is very feisty and competitive."
Nicoletti and Graham notched the goals that gave Osbourn its lone win.
"My expectations are to keep growing as a team, building the passion we have for the sport," Coombs said.
Osbourn Park Yellow Jackets
Coach: Melanie Cisiewicz (4th season)
Record: 2-4
How's it going? Led by senior captain and two-time all-district center back Lily Stohlman, defense is a strong point. What the coach wants to see is better offense. "Improving ball movement and scoring goals," Cisiewicz said.
Stohlman's versatility lets her transition easily from defense to offense, sometimes stealing the ball herself. Junior center midfielder Lisa DeGroot uses her speed to get OP into offensive sets.
In addition to a 1-0 win over Gainesville and a 5-0 blanking of Osbourn, the Jackets have lost several close contests to district foes. Cisiewicz said that with "improved teamwork," those results can change.
Patriot Pioneers
Coach: Emily Ortiz (8th season)
Record: 5-2
How's it going? After losing 11 players to graduation and a few more to rezoning, only two varsity starters returned for Patriot this season.
"The highlight has been creating a completely new team that is just as strong and dynamic as the one we lost," Ortiz said. "We are developing a totally new style of play."
Senior forward and the district's Player of the Year Claudia Lenahan leads Cedar Run with 15 goals scored after tallying 23 in 13 games last season. "She consistently scores goals under double- and triple-team pressure," Ortiz said.
Midfielders Chloe Annibell and Brea DellaFave are in their second year in the sport, and their first as starters. Both are highly athletic, the coach said, and "together are going to be unstoppable." Junior defender Lexi Francis is also a new starter, continuing a line of all-district defenders for Patriot.
Last season the Pioneers made the Region B championship game. Despite a new look, they're still competing with Battlefield for the district lead.
"While we have placed first in the district several times, we look to win our first district tournament trophy and make our first state appearance this season," Ortiz said. "We have very high expectations for such a young team."
Potomac Panthers
Coach: Angie Strycharz (7th season)
Record: 0-4
How's it going? The Panthers are back on the field after not fielding a team last season. Veteran coach Strycharz, who's been with the program since it was a club team, has a roster stocked with athletes from other sports.
"Our team is brand new this year," the coach said. "No one has ever played before."
Sophomore Ariana Patterson is a softball catcher who "plays with heart and has a beautiful drive" as a forward. Jewel Keels runs cross-country, and now patrols Potomac's defense in front of goalie Maryam Akinlade. Nahil Lynob is a lacrosse player who's improving rapidly and "a great motivator."
"Learn something new daily," Strycharz said. "Even if we struggle during our games, find the positive!"
Woodbridge Vikings
Coach: Thomas Spavone (3rd season)
Record: 2-2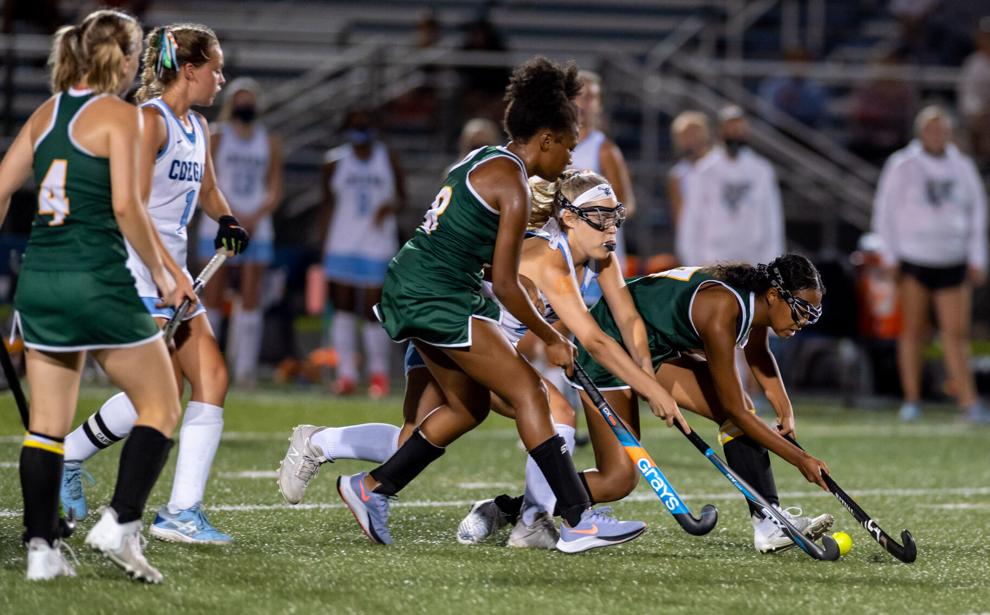 How's it going? The Vikings' program shows many signs of promise. Spavone is fielding a JV team for the first time since he took over, with 13 freshmen preparing for the next level.
Not that Woodbridge doesn't have talent on varsity. The forward tandem of Ella Pickup and Micki Ross combined for 10 goals in their first two games. That pair is a primary reason why Spavone said this year's squad is faster than previous editions.
"We can run. We got some athletes," he said. "It's a lot more fun to watch. These girls can go."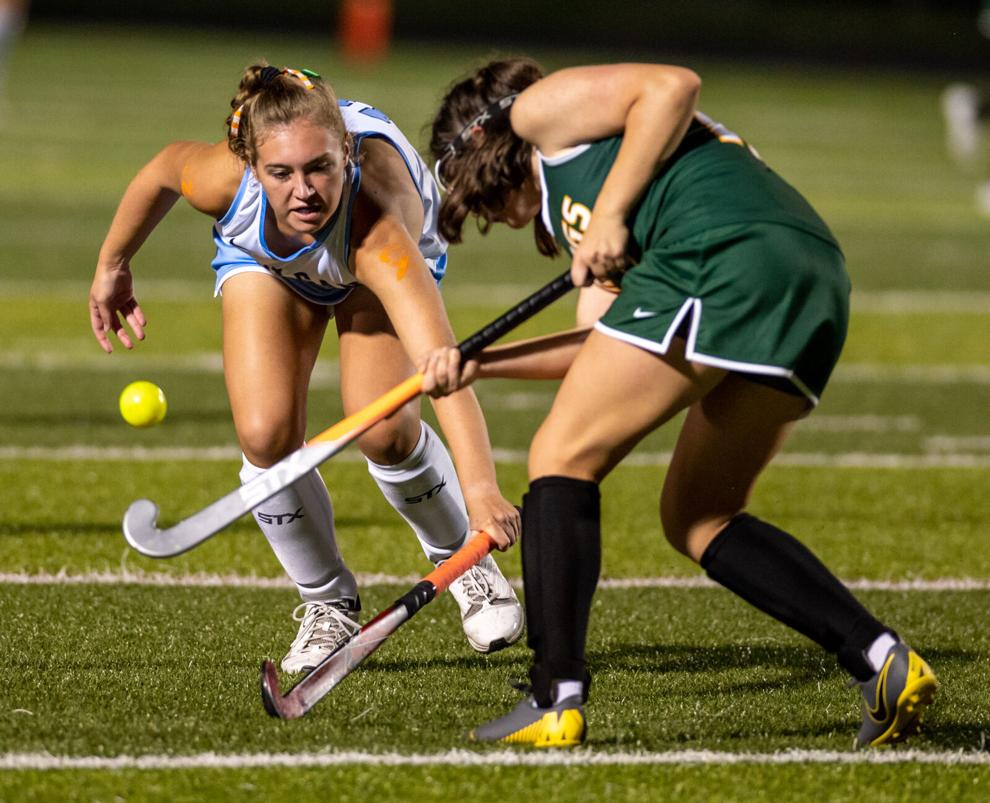 Senior captain midfielder Charlotte Murphy is the Vikings' vocal leader and a first-team all-Cardinal District selection, as was fellow midfielder Alicia Over. Senior Catie Brennan is a three-year starter and another all-district candidate.
On defense, senior Sophia Kralick and junior Chloe Sporysz are athletic defenders with "great field hockey skills," the coach said. Kralick earned all-district honors last season.
They're in front of goalie Valentina Baker, who has the "tough assignment" of playing field hockey for the first time.
The Woodbridge community is reeling from the news of the passing of math teacher and football coach Fred Moore, who died after collapsing on the gridiron during the Sept. 17 game.
Many Viking field hockey players took classes from Moore. Several were at the game.
"It's a very emotional time," Spavone said. "Our players and the entire school have to grieve."