The record book will remember it as a touchdown catch for Freedom receiver Jalen Hamlin.
But he really made more of a touchdown steal Friday.
After Battlefield defensive back Blaze Jones seemingly intercepted a pass near the corner of the end zone late in the first quarter, Hamlin reached over Jones and ripped the ball away. So the referees awarded Hamlin a touchdown, and the play also exemplified the dominance with which Freedom beat the Bobcats 47-0 on the road in Haymarket.
"I just needed the ball," Hamlin said. "It was money in the air. I had to go get it.
"I felt like Julio [Jones]," he said.
The touchdown gave Freedom an insurmountable 28-0 lead only 10 minutes, 34 seconds into the game, illustrating why the Eagles have a 4-0 record this season after going 13-2 as the Class 6 state runner-up in 2018.
Hamlin, a 6-foot-3, 185-pound junior, finished Friday against Battlefield (1-3) with 80 yards on four receptions, none more impressive than his steal-and-score play.
"To be honest, he should do that," Eagles coach Darryl Overton II said. "He's a big, physical receiver."
And Hamlin is only one of many talented Freedom receivers. Umari Hatcher finished Friday with 110 yards and a touchdown on five receptions, while Nijhere Johnson had 36 yards and a touchdown on four catches, Ahmad Dunbar had 17 yards on two receptions and Darryl Overton III caught a 12-yard touchdown pass.
"That's the best wide receiving corps I've ever seen in person on the field in high school football," Bobcats coach Scott Girolmo said. "And their quarterback is absolutely tremendous. He was dialed in tonight."
Quest Powell, the Eagles' quarterback, finished with 256 yards and four touchdowns on 17-for-28 passing. A 6-2, 190 senior, he showed no ill effects while playing without one of his usual starting receivers, Jason Hawkins, who missed the game while nursing a shoulder injury.
So, in his second season running Freedom's offense, Powell has impressed with the help of a deep receiving corps.
"Our quarterback can get the ball to everybody," Darryl Overton II said. "He does a good job making decisions. It allows us to be more explosive and aggressive [with] play calling than we have been in years past."
But Freedom isn't passing more often than last season, despite the loss of legendary running back Tyquan Brown, who graduated after setting Prince William County records for career and single-season yards rushing, at 6,745 and 2,446 respectively.
Against Battlefield, T.J. Edwards fared well in the starting running back role with 121 yards and a touchdown on only 12 carries, while Powell turned some potential run plays into passes thanks to Freedom's full embrace this season of the run-pass-option (RPO).
"He has full command of our offense," said Overton, whose team entered the game No. 9 in the latest Washington Post rankings and No. 1 in the MaxPreps Class 6 rankings.
Powell ended last season with 2,364 yards and 31 touchdowns on 159-for-267 passing. So far this fall he has completed more big plays en route to 1,021 yards and 16 touchdowns on 55-for-77 passing.
"I don't feel like there's a better quarterback in the area," Overton said. "He's got the arm strength to threaten the [whole] field. He overthrew a D-I [college recruit in Umari Hatcher] twice tonight" on deep routes.
He also threw a touchdown to Hatcher on an RPO play. Powell changed the play to throw a short slant to Hatcher, who outran a couple of defensive backs for the 59-yard score.
Hamlin, meanwhile, caught a pivotal fourth-down pass midway through the first quarter with the Eagles leading only 7-0. Battlefield's defense forced an incomplete pass by Powell on third-and-7 from 45-yard line, putting Freedom in a potential punting situation.
"Over Rated," the Bobcats' student section began chanting.
"Yeah, I noticed," Hamlin said. "Ain't let it get to me. You know we go ball regardless."
Rather than punt, Powell threw a 32-yard pass to Hamlin along the sideline for a first down. On the next play, Nijhere Johnson scored a 13-yard touchdown on the swing pass.
"I was fired up," said Hamlin, whose Eagles took a 14-0 lead en route to a 35-0 halftime advantage. "It's just a lot of fun. I love being out there."
Freedom's offense stagnated a bit in the second half, but its defense never faltered. So Battlefield finished with only 145 yards of offense.
It wasn't difficult for Girolmo to put a finger on what made Freedom's defense good.
"I could put my finger on it, but he'd probably break it [because] he's 6-foot-4 and he's 280 pounds," the Bobcats' coach said.
That's Eagles senior Vershon Lee, who anchored the defensive line with the likes of senior Kealey Davis and junior Isaiah Jennings.
"I was really focused on trying to get double teams on those three monsters up front," Girolmo said. "They just ran right through the two guys."
Girolmo said he also regretted using a conservative game plan in the first half. The Bobcats sometimes used a double-tight-end formation to try to burn clock and keep the ball away from Freedom's offense.
"But it's not our personality," Girolmo said. "As a play caller I can't be somebody else, and we've got to run our [normal] offense … so that they can play faster. I think it was my fault entirely."
So the Bobcats amassed only 57 yards in the first half.
Freedom's defense performed well despite missing a star defensive back in Hawkins and a starting linebacker in T.J. Mountain. So sophomore Jibreel Al-Amin stepped into the starting lineup as an outside linebacker and he improbably led the Eagles with four tackles-for-loss, including a sack and a forced fumble.
"At times it's a lot of pressure," he said of playing important minutes for the Eagles. "At first I was hesitant, but once I got used to it I was just balling.
"Just thinking, 'All gas, no breaks,'" the 6-1, 180 sophomore said. "I've just got to play aggressive."
Last season, Al-Amin played only junior varsity. Then, during the 2019 preseason, he played significant minutes during Freedom's first scrimmage against Highland Springs.
But he struggled.
"We kind of overreacted a little bit and got him out," Overton said. "Probably a little unfair to him.
"Tonight he did a great job showing his physicality and athleticism," the coach said. "He'll be a Division I football player with his size and athleticism."
Elsewhere, Lee and Marvin Hicks each had one tackle-for-loss while Jaylen Griffin recovered a fumble and Nick Newman returned an interception 51 yards for a touchdown.
So Freedom's defense has allowed only 10.3 points per game this season despite losing a pair of all-state players in Josh Fuga and Cortez Jackson following last season, when the Eagles allowed 16.9 points per game.
Naturally, the Eagles have high expectations now after losing in the 2018 state final to Manchester, 49-7.
"State champions," Hamlin said of their goal. "That's the only way."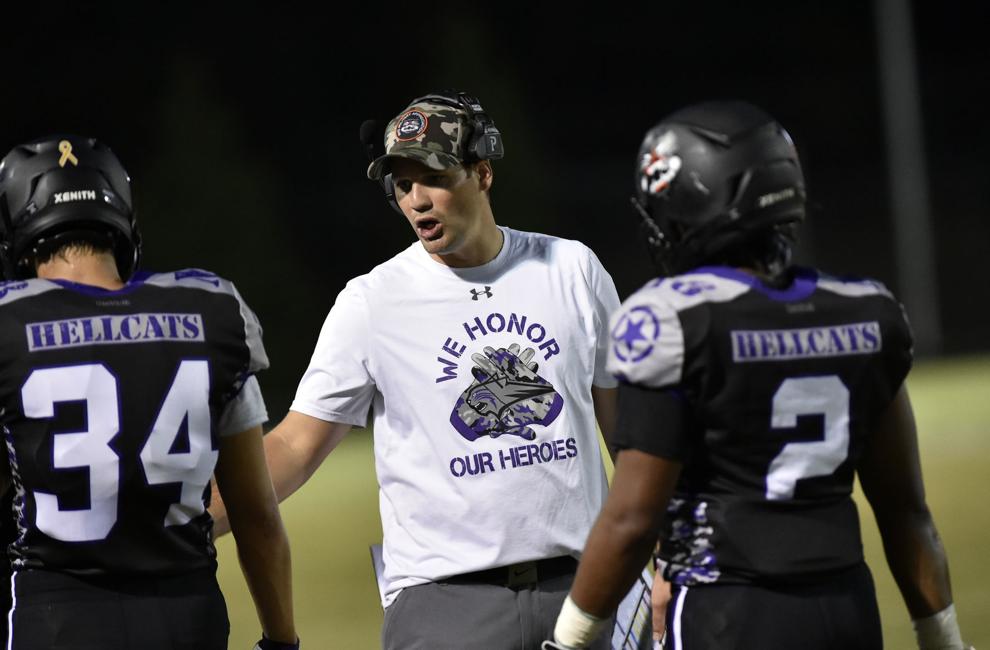 Battlefield's big crowd
Despite trailing by 41 points late in the fourth quarter, Battlefield's home crowd seemed relentlessly enthusiastic.
"The Den" student section largely filled one section of the bleachers and other fans left few seats unfilled during the school's first Military Appreciation night. The players wore special uniforms specifically honoring the 704th Tank Destroyer Battalion C Company and highlighting the M-18 Hellcat tank.
"You can't adequately describe the energy we got from The Den tonight," Girolmo said. "It was definitely something that I noticed, and I don't normally notice crowds as a coach.
"Second-to-none student section and community," he said. "I wish I could them give some [better results] that they could really latch on to. We're doing the best we can, and we'll continue to fight and scratch and claw to get better."
Backup quarterback Jonathan Walters led the Bobcats with 54 yards on 3-for-7 passing while Matt Binkowski had 42 yards on three receptions and 20 yards on eight carries.
"They've got talent," Girolmo said of the Bobcats. "We've got some kids with miles and miles of guts. I'm just not getting it all out of them now."