Like a fast-moving pitcher's duel, it feels like the 2021 high school softball season just started even though it's almost over.
As local teams grind through compressed schedules loaded with in-district foes, a few contenders have emerged atop the Cardinal, Cedar Run, and Northwestern districts.
District tournaments begin next week, then regionals start June 14 with the state tourney opener June 22. State champions will be decided June 26.
Here's what's going on with some of our local standout teams:
CEDAR RUN DISTRICT 
Osbourne park H.S.
Record: 6-0 district, 7-1 overall
Head coach: Patrick DeRosa
Team Twitter: @OsbournParkSB
Notable: In 2019, the Jackets made the regional semis with a roster including 10 freshmen.
How's it going? Two years ago (the last time a full softball season was played), Osbourn Park jumped out to a 16-0 record and won the Cedar Run tournament on the way to a 20-3 mark and a spot in the region's semi-final round, all with a roster featuring 10 freshmen.
Those frosh are now juniors, giving fourth-year head coach Patrick DeRosa plenty to work with.
"We only have one senior graduating this year [catcher Jessika Seader], and the rest of our team is filled out with three sophomores and four freshmen," said DeRosa, in his seventh year overall as a Jackets coach. "The girls on the team are experienced softball players with a desire to keep getting better and win as a team."
Osbourn Park has done just that in 2021. Headlined by junior pitcher Alena Hillyard, an Eastern Kentucky University commit, the Jackets have relied on solid pitching and an offense that puts pressure on opposing defenses.
"We are more of a contact-oriented team," DeRosa said. "We emphasize putting the ball in play and ... we coach aggressive runners."
With contributions throughout their balanced lineup, Osbourn Park has knocked 86 base hits through its first eight games, though just two have been homers.
Seader and juniors Cassie Mills and Makenna Archer are among OP's top hit-makers. Another junior, Charlotte Rudacille, clubbed a rare Jackets home run May 21 in a 13-5 win over Battlefield.
Hillyard owns a 5-1 record with a 3.67 ERA and 42 strikeouts in 38 innings, including a 15-strikeout performance in that victory versus the Bobcats.
DeRosa said Hillyard is at her best when games matter most.
"Alena brings a fierce attitude, with a strong desire to beat anyone she pitches against," he said.
Given the success already experienced by the core of the Jackets' team, the coach anticipates the program continuing on a positive trajectory.
"The OP softball program has been good for the last decade," DeRosa said. "We want to carry on the tradition and continue that run of success into the future."
CARDINAL DISTRICT
Colgan H.S.
Record: 5-1 district, 7-1 overall
Head coach: Scott Thomas
Team Twitter: @Colgan_softball
Notable: The Sharks' new head coach didn't meet his team until the week before spring tryouts.
How's it going? There's an old-fashioned pennant race brewing between the Woodbridge Vikings and the Colgan Sharks. Each has just one loss, coming at the hands of the other.
Colgan opened with a 9-6 loss at Woodbridge, a setback avenged May 14 with a 12-2 defeat of the Vikings. The rebound speaks to the focus that first-year head coach Scott Thomas has witnessed from his team.
"I didn't get to meet the girls in person until one week before tryout," said Thomas, who'd been called up for a month of duty in the Air Force Reserves. "Prior to that we weren't permitted, due to COVID, to conduct off-season workouts. Put in that situation, the girls really bought in and worked extremely hard."
The hard work has paid off. The Sharks, a program introduced in 2017, are contending for the Cardinal District title with a roster led by five seniors, all of whom are poised to play collegiately next spring.
Pitcher Morgan Thornton, a Howard University commit, is among them. Thornton owns a 6-1 record with a 1.66 ERA, holding hitters to a .216 batting average and striking out 68 in those appearances.
"She throws hard and has very good command and movement," said Thomas of Thornton, who's also a big bat in the Sharks' lineup.
Izzy Adame and Halee Hawkins are two more potent middle-of-the-order bats. Thomas noted that four Sharks are batting over .500 and two are slugging over 1.000.
"No slappers in the lineup. Our team hits the ball hard!" said Thomas.
Hawkins is slated to play for Virginia Wesleyan, while fellow seniors Bella Piacesi (Mt. Aloysius), Kendall Bentley (Christopher Newport), and Catie Hopkins (Virginia Tech) are also bound for the college ranks.
Thomas is an experienced head coach, following a five-year stint leading Riverbend's program before taking the reins at Colgan. He said the Sharks expect to compete for a state championship.
"With their leadership mixed with young talent, it makes us a very strong and deep team," Thomas said.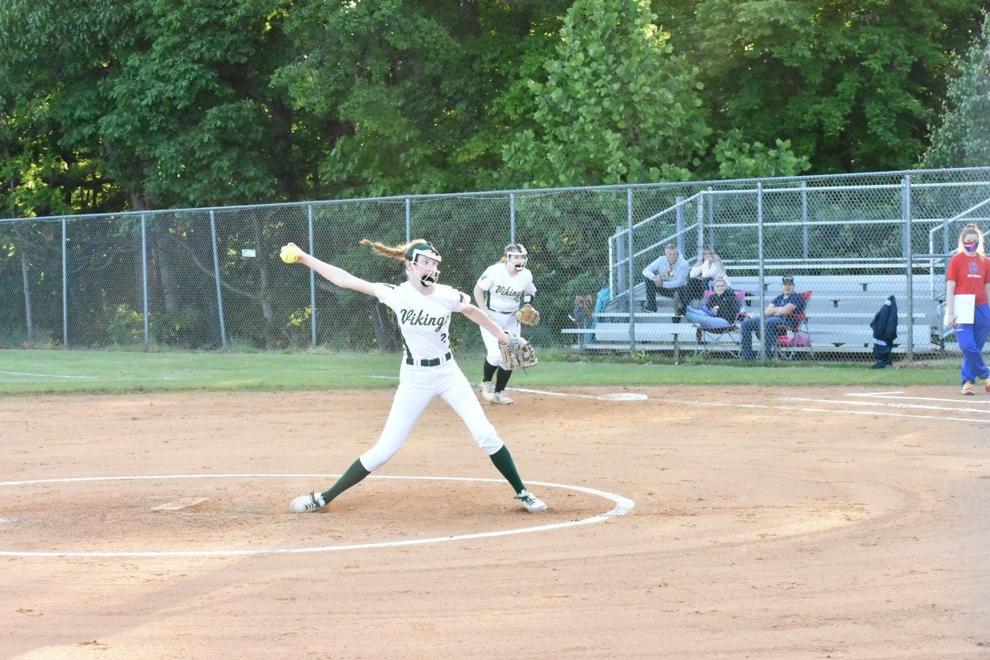 Woodbridge Senior H.S.
Record: 7-1 district, 8-1 overall
Head coach: Nicole Belk
Team Twitter: @WSHSVikingSB
Notable: The Vikings took two straight from Forest Park on May 21 and May 24, both in comeback fashion.
How's it going? Not many high school softball teams can boast the sheer power of the Woodbridge Vikings.
It's not just that they're averaging 12.8 runs per game, or that they've tallied at least nine runs in each of their victories so far. It's that Woodbridge pounds the ball out of the park.
"Offensively, the Lady Vikings have been on fire this season," third-year head coach Nicole Belk said.
The Vikings have 100 hits through their first nine games, including eight home runs by five different hitters. As a team, Woodbridge amassed 76 RBIs in eight contests.
Junior catcher Sarah Medellin, a Shenandoah University recruit, has  three homers, including a pair of game-deciding grand slams against Colgan and Forest Park.
Freshman Hailey Johnson owns two home runs, while fellow freshmen Kylie Barbier and Jada Holt and sophomore Grace Clary have homered once each. Junior Ryleigh Moore, sophomore Lexi Beach, and senior Tatum Gregory, a Greensboro College commit, round out the lineup.
Clary is the right-handed side of Woodbridge's left-right pitching tandem, paired with lefty Arianna Prymak, a senior committed to Randolph Macon. Prymak is the steady starter, while Clary is the strikeout artist with 39 whiffs in limited innings.
They're helped by batterymate Medellin, who's nabbed three would-be base stealers and picked off another from the catcher's spot.
"This season's team is one of a kind," Belk assessed. "The relationship they have with each other is one I've never seen in my 10 years of coaching."
Belk saw the fruits of that relationship on display in back-to-back come-from-behind victories over Forest Park.
"Our biggest accomplishment was being down 9-1 in the fourth inning, and scoring 10 runs," she said of her team's 17-12 win May 21.
That was before Medellin delivered a grand slam May 24 to pull out a 7-3 victory over those same Bruins.
"The word 'team' is an understatement," Belk said. "They are truly a family."
NORTHWESTERN DISTRICT
Brentsville District H.S. 
Record: 5-2 district
Head coach: Mike Post
Team Twitter: @BDHSsoftball
Notable: After opening 0-2, the Tigers have reeled off five straight wins.
How's it going? As soon as they climbed over .500 to atone for two early losses, Brentsville faced first place Skyline on May 18.
After five innings, Brentsville walked away with a 12-2 run-rule victory over the Hawks and kept alive their chance at a regular season crown. That chance grew even more May 21 when the Tigers nipped Monroe 9-8 on the road, surviving a late comeback attempt to run their win-streak to five.
Freshman Téa Cornett has been one of Brentsville's brightest stars, both in the batter's box and the pitcher's circle. She tossed an 11-strikeout perfect game April 30 versus Mason, and smashed a tone-setting first-inning grand slam to beat Skyline.
Sophomore catcher Natalie Quinlan, junior Ellie Post, and senior Mara Brooks supply much of the power for the Tigers' lineup, backed by the strong bats of Lexie Reid, Rachel Edwards, and Sierra Tannheiser. Quinlan, Post, and Cornett have all homered for the Tigers' offense, with Post going deep multiple times.
Another freshman, Kirstyn Baker, forms a formidable duo with Cornett in the circle.