It's just one week into the high school football season in Prince William County. We've already seen a major upset, a long streak of futility halted, and a game that just won't end.
The Lions of Unity Reed handed a rare home loss to Westfield, while the Osbourn Park Yellow Jackets snapped a 15-game losing skid, and the Gar-Field Red Wolves hope the third time's the charm as they're still trying to decide things with North Stafford.
Thunderstorms wreaked havoc on Friday night, forcing most games to be finished on Saturday.
Meanwhile, Week Two is already upon us with a host of contests held Thursday, setting the stage for Friday's rivalry showdown between Battlefield and Patriot.
We offer more in our Week One recap and Week Two preview:
Unity Reed 20, Westfield 14
It didn't take long to get our first contender for upset of the year. The Lions went up to Chantilly and came out with a victory over the five-time state champs at Westfield.
Quarterbacks Blake Moore and Nyeem Greene each threw a touchdown pass to Dashaun Gibson, who caught six passes for 124 yards. Freshman Marcus Ferguson Jr. ran for a score as part of his 75 yards rushing.
The feat was made more impressive by reports that much of Unity Reed's roster was unable to practice due to COVID-19 protocols.
The schedule doesn't get much easier as the Lions hit the road again to take on Colonial Forge, a perennial 10-game winner.
Osbourn Park 35, Colgan 28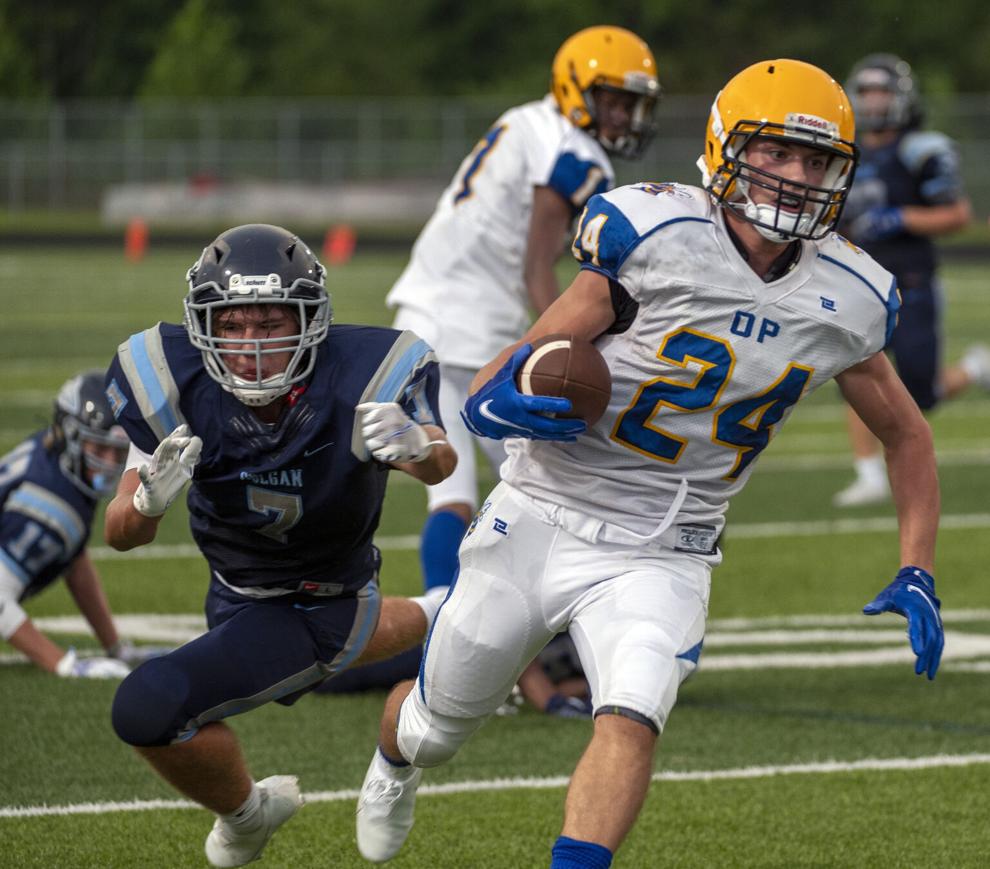 It'd been nearly two years since the Yellow Jackets tasted sweet victory, but they earned a spot in the win column for the first time since Sept. 6, 2019.
"Colgan had a bad snap which led to a defensive safety late in the fourth quarter," Osbourn Park coach Reggie Scott said. "You felt the momentum shift back our way from there." 
Junior running back Thomas Pullen was the Jackets' "bell cow," rushing for three touchdowns and 189 yards on 20 carries.
"Huge credit to our offensive line," Scott said.
Quarterback Ryan Westhoff threw a pair of scores to Wyatt Hurley, one of them a 70-yard strike. Hurley ended with three catches for 111 yards.
Defensively, the Jackets were led by seven tackles apiece by Kavon Moxley and Andrew Arthur-Humphrey. Westhoff picked off a pass.
Osbourn Park can revel in their win for an extra week, thanks to a bye before facing Osbourn in Week Three.
"I'm excited for the challenge," Scott said. "Osbourn will be a tougher test as they are a legitimate district title contender but will also serve as a good barometer for us as a program."
Battlefield 23, Potomac 12
The heat and humidity blogged the game down, but a pair of defensive scores propelled the Bobcats to a road victory.
"It was a difficult game filled with difficult situations, and we responded," Battlefield's new coach Greg Hatfield said. "I thought we played with grit and toughness."
Battlefield led 16-12 with 10:12 left in the third quarter when lightning forced the game's suspension.
A pick-six by Kehler Hamilton and a returned fumble by Connor Sealock made the difference for the Bobcats.
Patriot 42, Hylton 6
By the time storms came to dampen Friday night's lights with 7:58 left in the third, the Pioneers had already decided things against the Bulldogs, so the game was ruled complete.
Running back Keith Jenkins was a big reason why it was over. The senior ran for five touchdowns and 225 yards on 13 carries.
"Happy with the way the team executed and battled through the hot night," Patriot coach Sean Finnerty said. "The running game being so effective on offense and the way the defense responded after their first score."
Gar-Field 7, North Stafford 7 (3rd)
They say lightning never strikes twice, but don't tell that to the Red Wolves. Their game at North Stafford was postponed in the third quarter Aug. 27, then postponed again Aug. 28, both times due to thunderstorms.
They'll try to complete it on Tuesday, Sept. 7 at 5 p.m.
Before then, the Wolves have a Week Two date at Mountain View, which already has a 35-6 win over Forest Park on its ledger.