Trajon Richards ran for a 3-yard run touchdown in double overtime Friday to break the Battlefield Bobcat's four-game losing steak with a 35-28 victory over John Champe's football team at home in Haymarket.
The Knights entered the night ranked No. 6 in the latest VHSL Class 6 Region B rankings, but No. 12 Battlefield upset them to improve the Bobcats' record to 2-5 while dropping Champe to 5-3.
The Bobcats trailed 21-18 entering the fourth period, but Vadin Bruot made a 34-yard field goal to force overtime. In the first overtime period, Champe took a 28-21 lead with a 10-yard touchdown pass by Zach Jackson, but Battlefield responded with a 14-yard touchdown pass from Eddie Ostrander to Ryan Gessner, setting up Richards' winning run in double overtime.
Richards finished with 55 yards and two touchdowns on five carries after helping the Bobcats build an early 12-0 lead. Matt Binkowski added 125 yards and a touchdown on 12 carries while Sean McCarthy had 45 yards and a touchdown on seven rushes.
Ostrander ended with 59 yards and on 5-for-10 passing while McCarthy had 28 yards on two receptions.
Richards also had a fourth-quarter fumble recovery while T.J. Haywood recovered one in the first period.
Freedom football 45, Woodbridge 7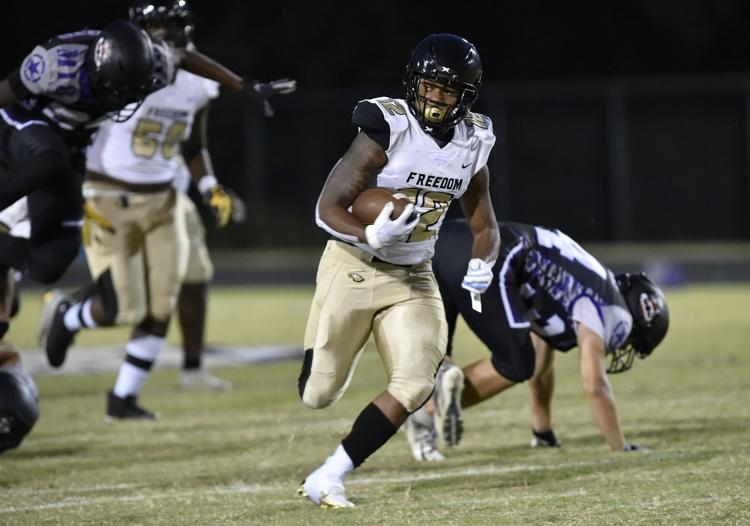 Another prolific performance by quarterback Quest Powell gave the Freedom Eagles a 45-7 victory over Woodbridge's football team Friday on the road.
He threw for 491 yards and four touchdowns to keep Freedom undefeated at 7-0 while dropping the Vikings to 3-4. So Powell already has 2,104 yards passing this season (300.6 per game) and 27 touchdowns (3.9 per) while completing a phenomenal 74 percent of this passes. He completed 18 of 22 passes Friday to give the Eagles four consecutive victories over Woodbridge after ending the Vikings' 11-game winning streak in the rivalry during 2016. 
In fact, since the start of 2016 Freedom has amassed a 34-3 overall record during the regular season.
Against Woodbridge, four Eagles receivers finished with more than 65 yards each. Umari Hatcher led them with 203 yards and a touchdown on seven receptions while Jason Hawkins had 122 yards and two touchdowns on five catches. Jalen Hamlin added 81 yards and a touchdown on two receptions while Nijhere Johnson caught four passes for 67 yards.
Running back J.T. Edwards also had a phenomenal performance, finishing with 166 yards and three touchdowns on 17 carries. So he averages 8.1 yards per carry this season (96 rushes, 776 yards) for 12 touchdowns.
Defensively, Johnson had two interceptions while Hatcher returned one interception 81 yards. Plus, Hawkins blocked a Woodbridge field goal.