Bishop Fitzgerald had a hand in five touchdowns Friday to give the Gar-Field Indians a 49-12 victory over Osbourn on the road in Manassas and match their most wins in a season since 2011. 
He threw for three touchdowns and ran for two as Gar-Field boosted its record to 3-2 while dropping the Eagles to 2-3. The Indians have won three games in a season only three other times over eight seasons, finishing 3-7 in 2018, 2014 and 2012.
So they seem poised to finish 2019 with their best record since going 9-3 in 2011. In fact, Gar-Field is off to its best start since that season, in which the Indians began 4-1 en route to a rare playoff berth.
Gar-Field also continued its recent dominance over the Eagles, who have lost 11 of the past 15 games in the rivalry.
Fitzgerald threw for 217 yards on 7-for-14 passing (one interception) while rushing for 113 yards on only seven carries.
"What separates him is his ability to run," Indians coach Tony Keiling said earlier this season.
Running back Xavier Coltrane and receiver Abdul Kaloko also each eclipsed 100 yards Friday. Kaloko caught three passes for two touchdowns and 116 yards on three catches while Coltrane carried the ball 14 times for 105 yards and a touchdown. DeAvohn Bumbrey added 45 yards and a touchdown on three carries, while Curt Hamlin had a 22-yard touchdown run.
Kicker Jason Soto also proved to be a weapon, going 7-for-7 on extra points while averaging 45 yards per kickoff. He added two punts with a 35-yard average.
Linebackers Mason Woods, Jaiden Carter and Debo Dumbrey lea Gar-Field's defense.
"Playing all the run and pass lanes," Keiling said. "For a young team learning to play together, they are learning to execute the game on offense, defense and special teams."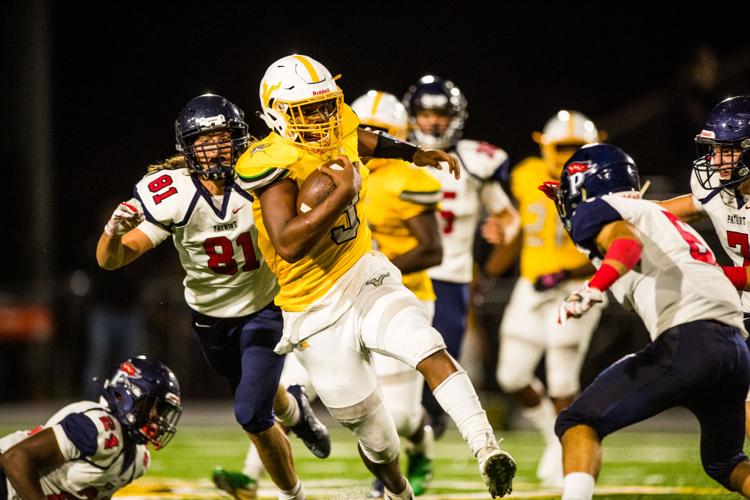 Woodbridge football 23, Potomac 13
With Woodbridge trailing by four points early in the fourth quarter, quarterback Nazir Armstrong ran for a pair of touchdowns to help the Vikings rally for a 23-13 victory over Potomac's football team on the road in Dumfries.
So Woodbridge bumped its record to 3-2 with a three-game winning streak while the Panthers' three-game losing streak dropped them to 1-4. The Vikings also improved to 11-4 in the rivalry since 2003. 
Armstrong finished with three touchdowns. His 9-yard touchdown run in the second quarter gave the Vikings a 9-0 lead after they began the game with a safety. Potomac responded with an 11-yard touchdown pass from Pete Woolfrey to Keathan McAllister in the third quarter.
Then the Panthers took a 13-9 lead in the fourth period with an 80-yard touchdown pass from Woolfrey to James Kabba. Woodbridge, however, regained the advantage with a 1-yard touchdown run by Armstrong, who later added a 5-yard touchdown run.
Yet Armstrong finished with only 21 yards on six carries as Potomac limited the Vikings to only 116 yards of offense. Kai Bowers and Musa Tama tied as Woodbridge's second-leading rushers with 20 yards each on nine and four carries, respectively.
Jadon Hendley led Potomac's defense with 15 tackles while Jalen Johnson had 14. They also had one sack each while John Crawford finished with eight tackles and Risan Garland had seven.
Woodbridge's defense also played well with interceptions by Antoine Sampah and Delontae Harris as the Vikings won the turnover battle 3-1 with a fumble recovery by Josh Ramirez. Sampah also had 10 tackles and a sack while Reuben Adams Jr. had five tackles and two sacks. Josh Schaaphok Jr. added seven tackles and Ramirez had six while Yakub Nabie and Angelo Jewell each had two tackles-for-loss.
Plus, Carter Gilley's eight punts averaged 39 yards apiece with two inside Potomac's 20-yard line.
For Potomac, Woolfrey finished with 247 yards and two touchdowns on 17-for-36 passing while Rakim Lamarre had 122 yards on seven receptions. Kabba added 89 yards on six catches while Woolfrey ran for 24 yards on four carries.
Centreville football 21, Battlefield 12
Despite taking a five-point lead early in the fourth quarter, the Battlefield Bobcats lost to Centreville's football team 21-12 Friday on the road. 
The Wildcats (3-2) recovered a fumble in the end zone for a defensive touchdown that gave them the lead for good at 14-12 and dropped the Bobcats' record to 1-4 with a three-game losing streak.
In the second quarter, Centreville took a 7-0 lead, but Battlefield cut that to 7-6 with a 59-yard touchdown pass from Jonathan Walters to Matt Binkowski in the third quarter. Then, in the fourth, Trajon Richards ran for a 26-yard touchdown and a 12-7 lead.
Binkowski finished with 81 yards on two receptions and 44 yards on eight carries, while Sean McCarthy had 73 yards on 18 carries and Richards had 35 yards on four runs. Walters added 126 yards on 6-for-18 passing (one interception), but the Bobcats had four fumbles in the game.
Defensively, Justin Bennin made two interceptions for Battlefield while Isaac Duck had one.