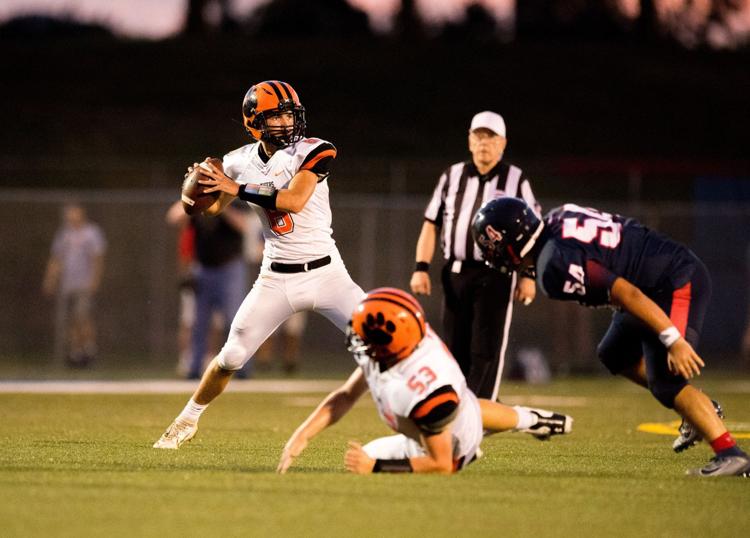 Guy Hayes threw a screen pass to Travis Stanley for a 66-yard touchdown with about 4 minutes remaining in the fourth quarter Friday to complete the Brentsville Tigers' victory rally from a 10-point deficit.
So they beat William Monroe 13-10 on the road in Standardsville.
"A gutsy performance," said Brentsville coach Joe Mullinax, whose record improved to 3-3. "Our kids never doubted; didn't hang their heads. They continued to compete, and we outlasted them."
William Monroe's final possession ended with Tyler Talavera intercepting a Dragons' pass on fourth-and-17 with about 2 minutes remaining to give Brentsville a five-game winning streak in the rivalry.
Earlier, the Tigers fell behind 7-0 in the first quarter and 10-0 by halftime, but then they composed a 90-yard drive in the third period with Kyler Cornwell running for a touchdown. Cornwell finished with 12 yards on five carries while Brady Hoad had 79 on 12 and Hayes had 54 on 15.
Hayes also had 116 yards on 5-for-13 passing while Stanley had 95 yards on two receptions. Yuri Smaltz added 21 yards on three catches.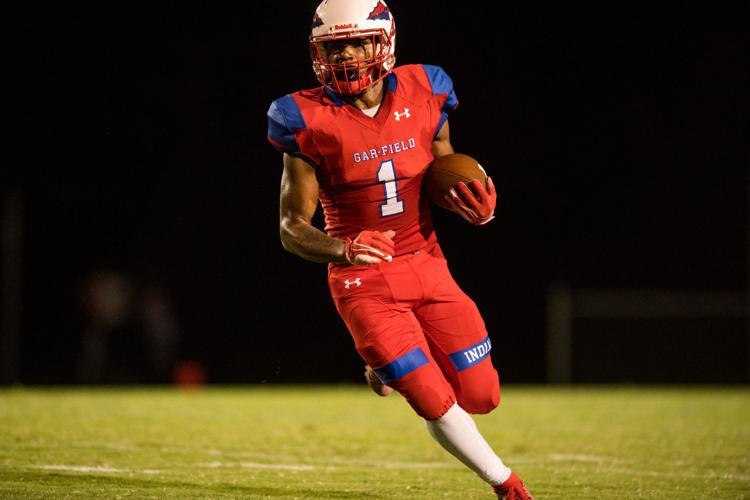 Gar-Field football 51, Potomac 7
Barely halfway through this football season, the Gar-Field Indians already have their best record since 2011. 
After allowing the first touchdown of the game Friday, the Indians scored 51 unanswered points to beat Potomac 51-7 at home in Woodbridge and improve their record to 4-2. They last won that many games eight years ago during a 9-3 season.
Midway through the first quarter Friday, Xavier Coltrane scored consecutive touchdowns – including a 40-yarder – to give Gar-Field the lead for good at 14-7 with 5 minutes, 25 seconds remaining. So the Indians earned their third consecutive victory while the Panthers fell to 1-5 with a four-game losing streak.
Coltrane finished with 165 yards and three touchdowns on 19 carries, scoring for the third time on a 4-yard run in the second quarter to give Gar-Field a 21-7 halftime lead. Abdul Kaloko then returned the opening kickoff of the second half for a touchdown. He finished with 120 yards on two kick returns.
Gar-Field's defense added a safety with 5:10 remaining in the third quarter before quarterback Bishop Fitzgerald threw a 27-yard touchdown pass for a 37-7 advantage. Fitzgerald finished with three touchdowns, including two passes and an interception return as a defensive back. He intercepted two passes for 60 yards while throwing for 210 yards on 8-for-13 passing.
Jedaiah Dancy finished with 70 yards and a touchdown on three receptions while Curt Hamiln caught a 15-yard touchdown pass.
Defensively, Mason Woods had 13 tackles, including four tackles-for-loss, while Deavohn Bumbrey had three tackles-for-loss for 10 tackles. Jaiden Carter added eight tackles and helped the Indians' defense allow only 47 rushing yards on 19 carries.
For Potomac, quarterback Pete Woolfrey finished with 273 yards and a touchdown on 9-for-24 passing while Rakim Lamarre had 163 yards on four receptions. Devin Queen added 62 yards and a touchdown on two catches while James Kabba had 19 yards on five carries.
Defensively, Jadon Hendley had 11 tackles and a sack while Jalen Johnson had two sacks and nine tackles. Adding seven tackles each were Risan Garland and John Crawford.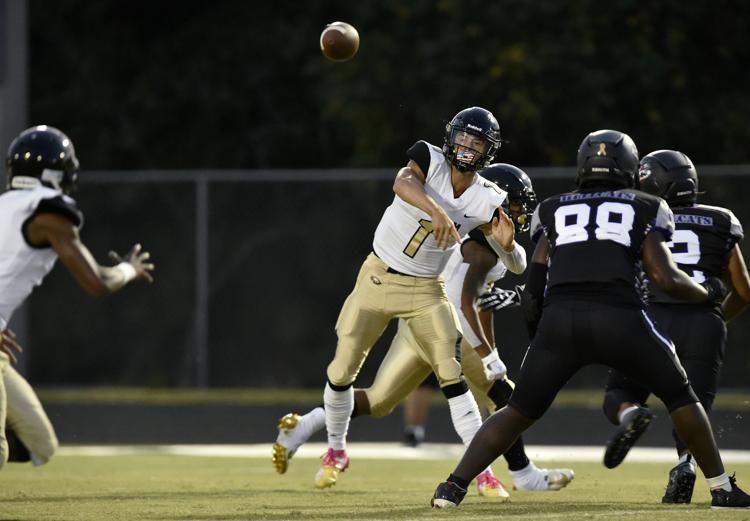 Freedom football 42, Hylton 6
Freedom quarterback Quest Powell continued his phenomenal start to the 2019 football season by throwing for 285 yards and three touchdowns en route to a 42-6 victory over the Hylton Bulldogs at home in Woodbridge.
He completed 20 of 29 passes (69 percent) to keep the Eagles undefeated at 6-0 while dropping Hylton to 4-3. So Freedom has a recent 5-1 run in its rivalry with the Bulldogs after going 0-11 between 2005 and 2015. In fact, the Eagles have outscored Hylton 131-26 over the past three seasons. 
After Powell's performance Friday, he has an incredible 1,573 yards and 23 touchdowns on 91-for-126 (72 percent) passing this season. He threw two touchdown passes Friday to Umari Hatcher, who finished with 167 yards on nine receptions. Nijhere Johnson added 62 yards and a touchdown on five catches while Jalen Hamlin had 39 on four.
Running back Julian Edwards finished with 103 yards and three touchdowns on 15 carries while Powell ran three times for 41 yards.