The Patriot Pioneers clinched the Cedar Run District championship for the fourth consecutive football season Friday by beating Battlefield 35-0 on the road in Haymarket. 
In fact, the Pioneers haven't lost a district game since Nov. 6, 2015, when the Bobcats beat them 34-19. So they improved to 27-6 all-time in Cedar Run play with a 17-game winning streak in the district.
Playoff-bound Patriot also improved its 2019 record to 9-1 with an eight-game winning streak while breaking Battlefield's three-game winning streak and ending the Bobcats' season at 4-6. So first-year coach Sean Finntery led the Pioneers to their best regular season record in program history.
Tim Baldwin ran for 172 yards and three touchdowns Friday while Cody Rogers threw for 155 yards and two touchdowns on 6-for-11 passing. So the Pioneers averaged an efficient 7 yards per play as a team.
Gabe Bigbee led Patriot's receivers with 60 yards and a touchdown on two catches while Justin Harris caught two passes for 35 yards and Baldwin caught one for 32.
So the Pioneers improved to 5-3 all-time against Battlefield after building a 21-0 lead in the fist quarter and a 28-0 halftime advantage.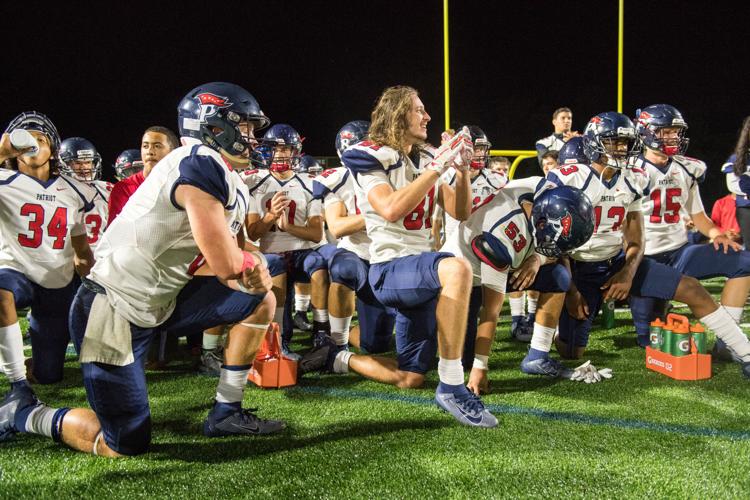 Brentsville football 34, George Mason 21
Guy Hayes had a hand in 379 of the Brentsville Tigers' 481 yards of offense Friday, as well as all five of their touchdowns, en route to a 34-21 victory over George Mason's football team on the road in Fairfax.
He ran for 194 yards and two touchdowns on 14 carries to help the Tigers finish the regular season on a 5-0 run for a 7-3 record. Hayes also had 185 yards and three touchdown passes on 7-for-17 passing, adding a two-point conversion pass to T.J. Stanley.
So Brentsville will likely enter the Region 3B tournament as the No. 3 seed after clinching a playoff berth last week with a 34-28 win over Skyline.
Against Mason, the Tigers took a lead as large as 34-14 after entering halftime with a 21-14 advantage. Aidan Lawhead finished with 124 yards and two touchdowns on three receptions while Kevin Peterson caught two balls for 53 yards and a touchdown.
Brady Hoad added 42 yards on eight carries while Peterson had 25 on two and Yuri Smaltz had 20 on three.
Forest Park football 24, Hylton 12
The Forest Park Bruins ended a 13-game losing streak to Hylton's football team Friday by beating the Bulldogs 24-12 at home.
A 67-yard kickoff return for a touchdown by Tyee Fears broke a 6-6 tie in the first quarter and sparked the victory in a rivalry that the Bruins hadn't won since 2007, when they beat Hylton 27-18. The Bulldogs then went 13-0 run against Forest park over the next 11 seasons, outscoring the Bruins 424-121 with five shutouts.
In fact, the 2019 Bruins beat Hylton for only the second time since Forest Park High opened in 2000. They entered Friday with a 1-24 record against the Bulldogs with a cumulative score of 832-203.
The upset victory finished a resurgent second half of the season for Forest Park, which ended with a 4-6 record thanks to a 3-1 run after a 1-5 start. Forest Park's defense allowed only 13.8 points per game over the Bruins' final four contests.
The Bulldogs' loss dropped their record to 5-5, but they will still likely still qualify for the Region 6B playoffs while Forest Park will likely fall short.
On Friday, Justice San Agustin led the Bruins with 116 yards on 12 carries, including a 47-yard run, while Matt Talbert used five carries to run for 30 yards and a touchdown. Talbert also threw for 63 yards and a touchdown on 6-for-12 passing (one interception).
Areeb Rashid caught a 19-yard touchdown pass from Talbert to finish with 35 yards on three receptions.
Manassas Park football 48, Park View 22
Payton Simmons ran for five touchdowns Friday to give Manassas Park a 48-22 victory at home over Park View's football team in the season finale for both teams.
It was a battle between teams that both canceled their 2019 schedules due to low player turnout, and Manassas Park showed the most resiliency as a program by dominating Park View (0-10) to end 2019 with a winning record at 5-4.
Simmons finished Friday with 224 yards on 18 carries, adding a two-point conversion run, while Andre Kidd ran for 111 yards and a touchdown on 11 carries. So Simmons and Kidd each ended the season as 1,000-yard rushers.
Kidd amassed 1,090 yards and 14 touchdowns as a runner while Simmons ended with 1,031 yards and 14 touchdowns.
On Friday, Kidd also threw for 53 yards on 3-for-3 passing while Cameron Dixon had 76 yards and a touchdown on nine carries.