Jason Eldredge shows up at work each day to witness miracles growing at his job site.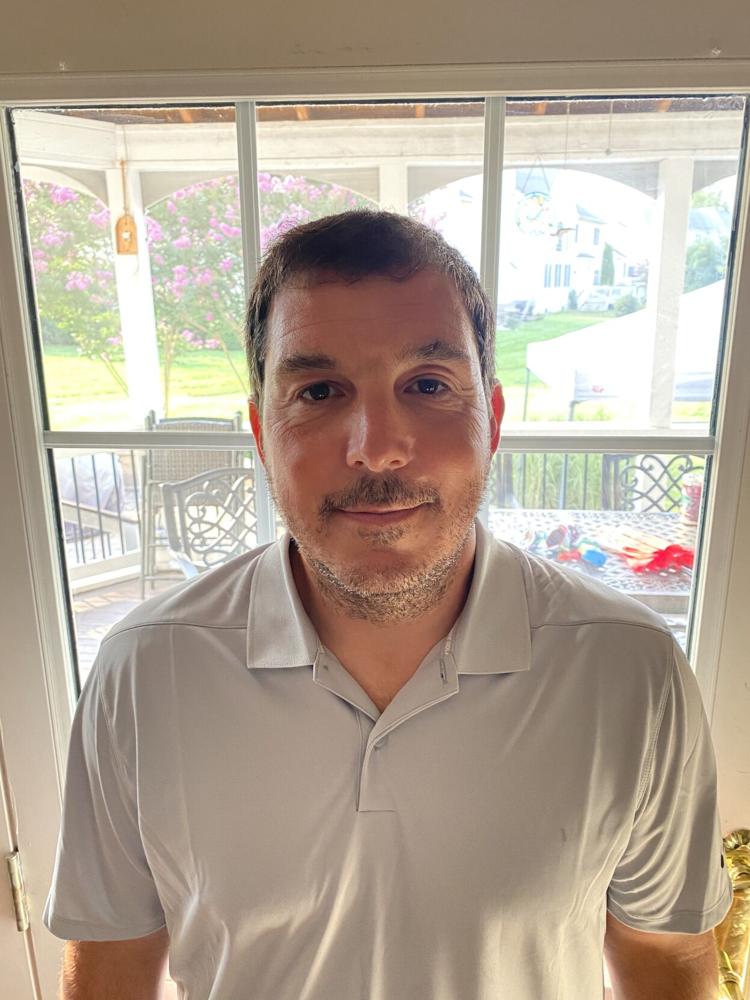 The director of student activities at Gainesville High is part of a small team of full-time employees setting up for the school's grand launch in the fall of 2021.
Much of the campus, located near Jiffy Lube Live arena, is completed, but much work has to be done. The former activities director at Woodbridge High and a state champion-winning coach took questions last week.
Hi Jason, you were just activities director at Woodbridge High. What was your biggest accomplishment there?
"We were able to build capacity and enrollment in our programs as well as expand program opportunities for kids. An example is the re-establishment of the gymnastics program and providing expansion in the lower level competition areas like a variety of JV teams. It really speaks to the students, staff and surrounding community in how well they came together to not only perform at a high level and demonstrate success but also how willing everyone was to work to look after one another for a common goal of making Woodbridge Senior High School a much more collaborative environment."
It's got to be exciting to be part of a new school opening. Tell me what some of the things you're doing right now. 
"Right now, the team is working through construction and building design in conjunction with putting together a master list of equipment and necessities to outfit the school to be ready for the fall of 2021. Those items include anything from furniture, to technology to program operation necessities that will be needed while working within our allocated budget for purchasing." 
The new school consists of 80 acres. How are the sports fields looking right now? What else has to be constructed? 
"The footprint for the outdoor campus is in place. The stadium facility is about 50% completed with the turf going in as we speak. The surrounding fields do not yet have infrastructure in place, but are cleared for the beginning stages of implementation, including baseball, softball, practice field, tennis courts, miscellaneous field spaces. Grading of the grounds is the stage currently underway."
What is the timeline for selecting a mascot? Any names being considered you can share?
"We sent out a survey in early August. The data on that came back with Cardinals, Red Fox, Wolves, Black Bear, Grizzly Bear, Gators, Gorillas. Those are the big ones. We also received a handful of other suggestions like the Griffin, and the Gladiator."
You've got to hire some sports coaches. What is the timetable for that and what are you looking for in your coaches?
"We will begin the HR hiring process for program heads around January 2021. I am looking for individuals that are passionate about working with young people, committed, and dedicated to their craft, and want to be a part of our community. Establishing a positive culture in the beginning stages of operation is priority number one."
You've got a coaching background, winning two state titles as girls basketball coach at Freedom-South Riding, and also coaching football and boys basketball at West Springfield. Will that help hiring coaches?
"I believe my experience over the last 18 years will provide a great deal of benefit to my role. I have coached in this area for 17 of those years, 14 as a head coach in two different counties (Loudoun and Fairfax), and have the experience of running programs for boys, and girls in multiple high-profile settings (girls basketball, boys basketball and football).
Additionally, I have had the experience of opening a new school (Freedom-South Riding) as a teacher, head coach and varsity assistant coach, which will play a key role in mentoring program heads while starting programs from the ground up."
This pandemic has been hard on everyone. How do you feel high school athletes are handling things?
"I think this is a case-by-case scenario given the variety of factors that each athlete is working through. I do believe, athletes and coaches really want to get back to work, as it presents a sense of normalcy that we are all trying to work to get back to."
Hopefully the pandemic will be over by the time you open.
"I would never hope for anything else. So yes, we plan for a normal opening in the fall of 2021."
Do you have any thoughts on what it will be like to integrate athletes from Patriot, Battlefield and Unity Reed onto your teams?  
"Establishing a team environment where everyone feels like they matter and are a part of a bigger community is the first step to creating this culture in our school. It's exciting to have such an eclectic group of students and community come together and the biggest piece to this is having strong foundations in our relationships with all of our students, no matter what they wish to accomplish and be involved in."
All Gainesville High sports will play a varsity schedule the first year except for football.
What are your goals for the first year? History has shown that it's possible to be competitive pretty fast. 
"Success early stems from the fortune of having talented students from the jump. We may or may not have the luxury of that kind of fortune, but either way, winning and losing will not be the priority of our programming. Doing things the right way, setting up norms for the programs, work ethic, year-to-year program operations, community collaboration and support for one another, as well as a passion for being dedicated to the school and its community, are the priority."
Reach Peter Brewington at pbrewington@fauquier.com