The first time Haymarket resident and Olympic Games hopeful Camille Spink swam in a race, she didn't care if she won or lost. The 6-year-old was happy just having fun with friends in the Piedmont Tsunamis' developmental program.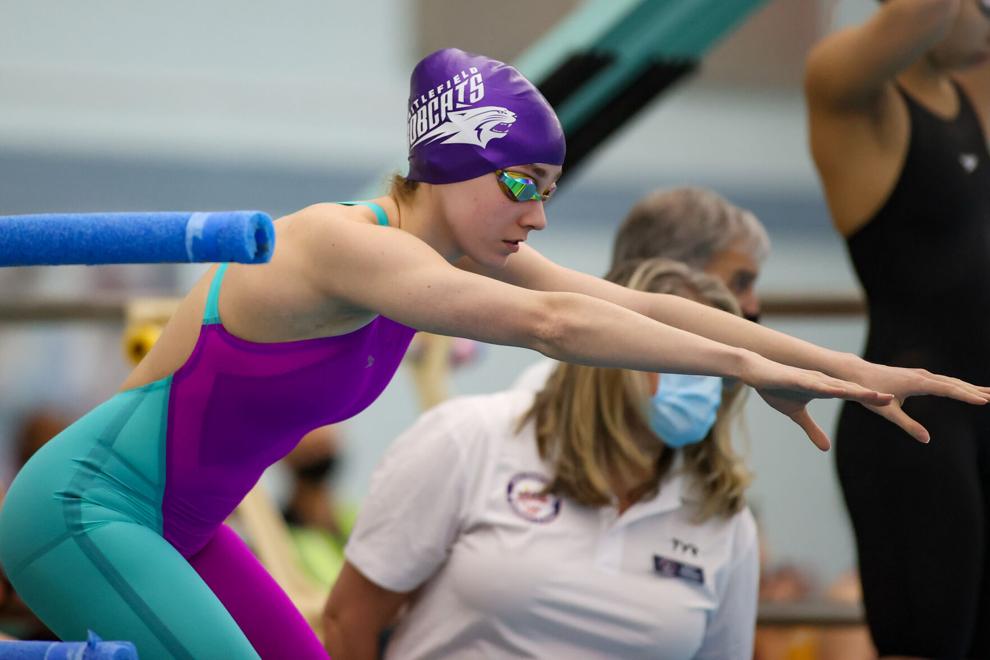 Then, she got her first taste of sweet victory.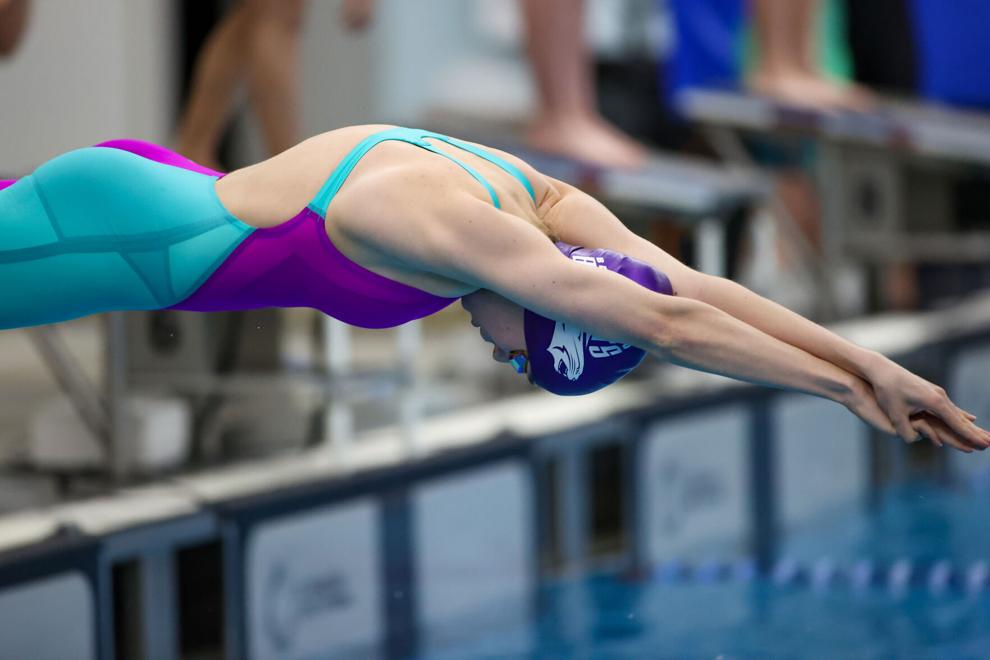 "At first I didn't want to compete at all. I just didn't like it," said Spink, now 16. "But I won one race, and the ribbon they give you can be turned into the concession stand for some candy.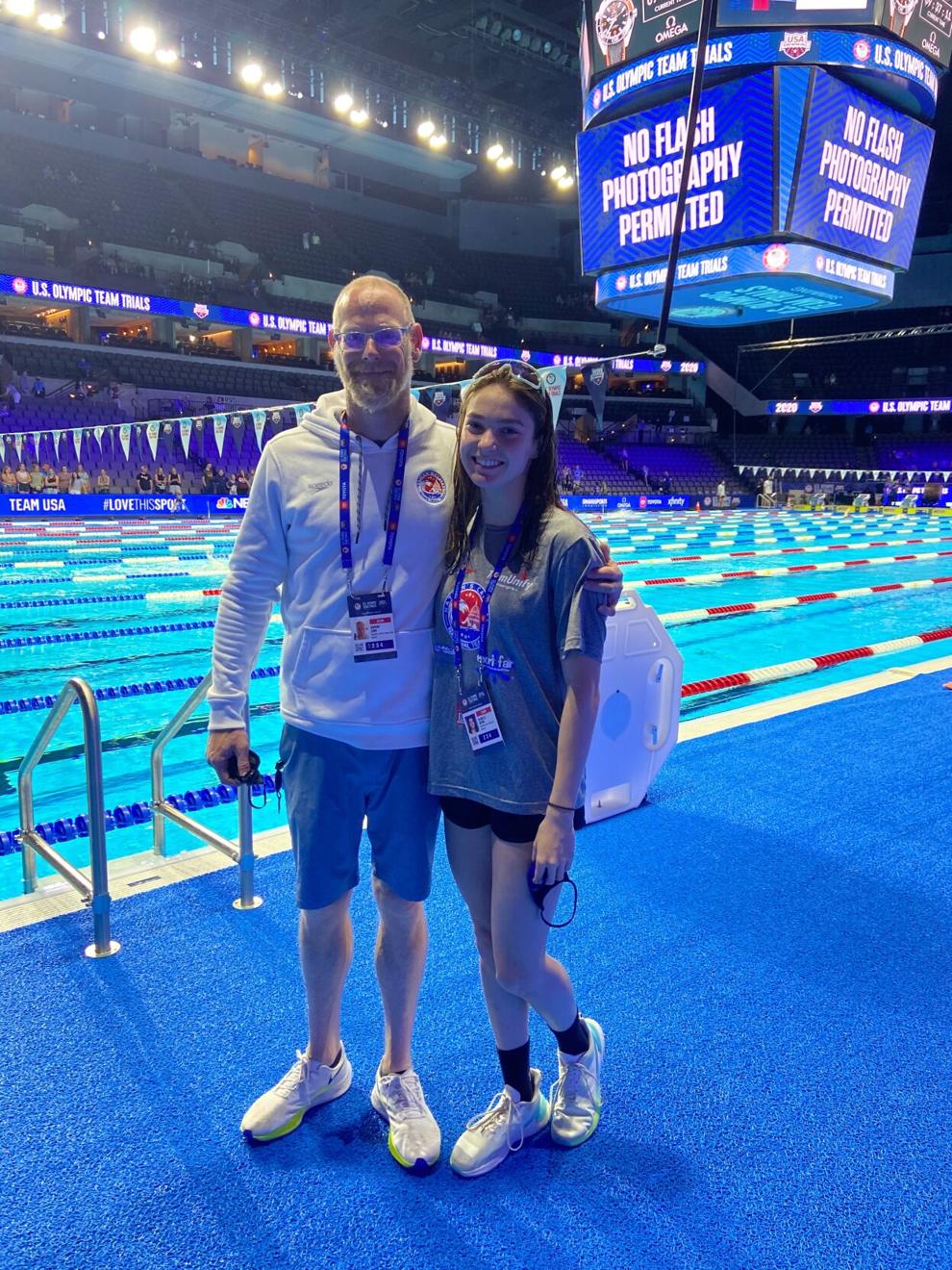 "So that was my motivation to keep winning when I was 7. Candy."
By age 8, she was serious about swimming and setting team records. She's done a lot of winning since, earning rewards much sweeter than candy.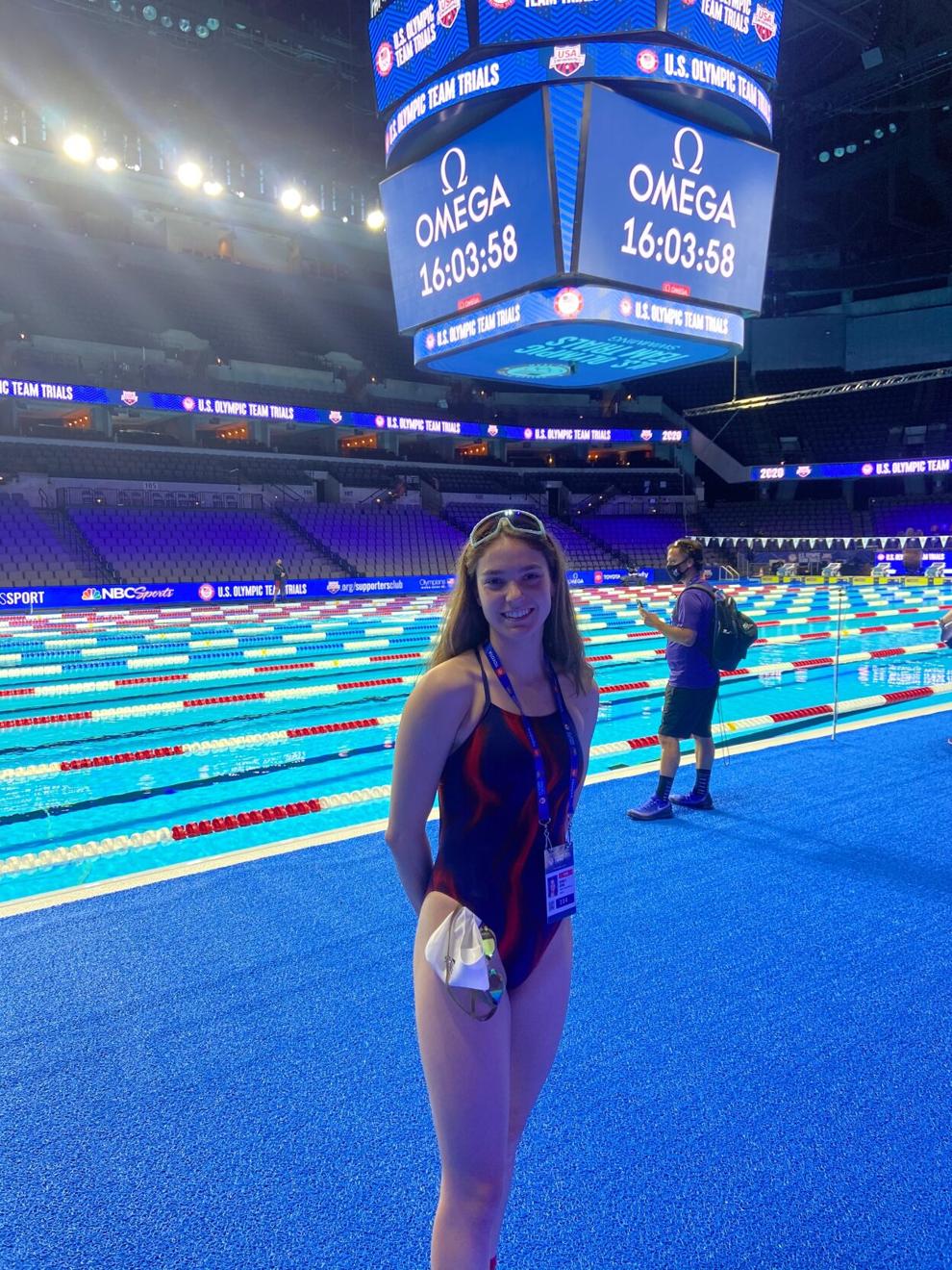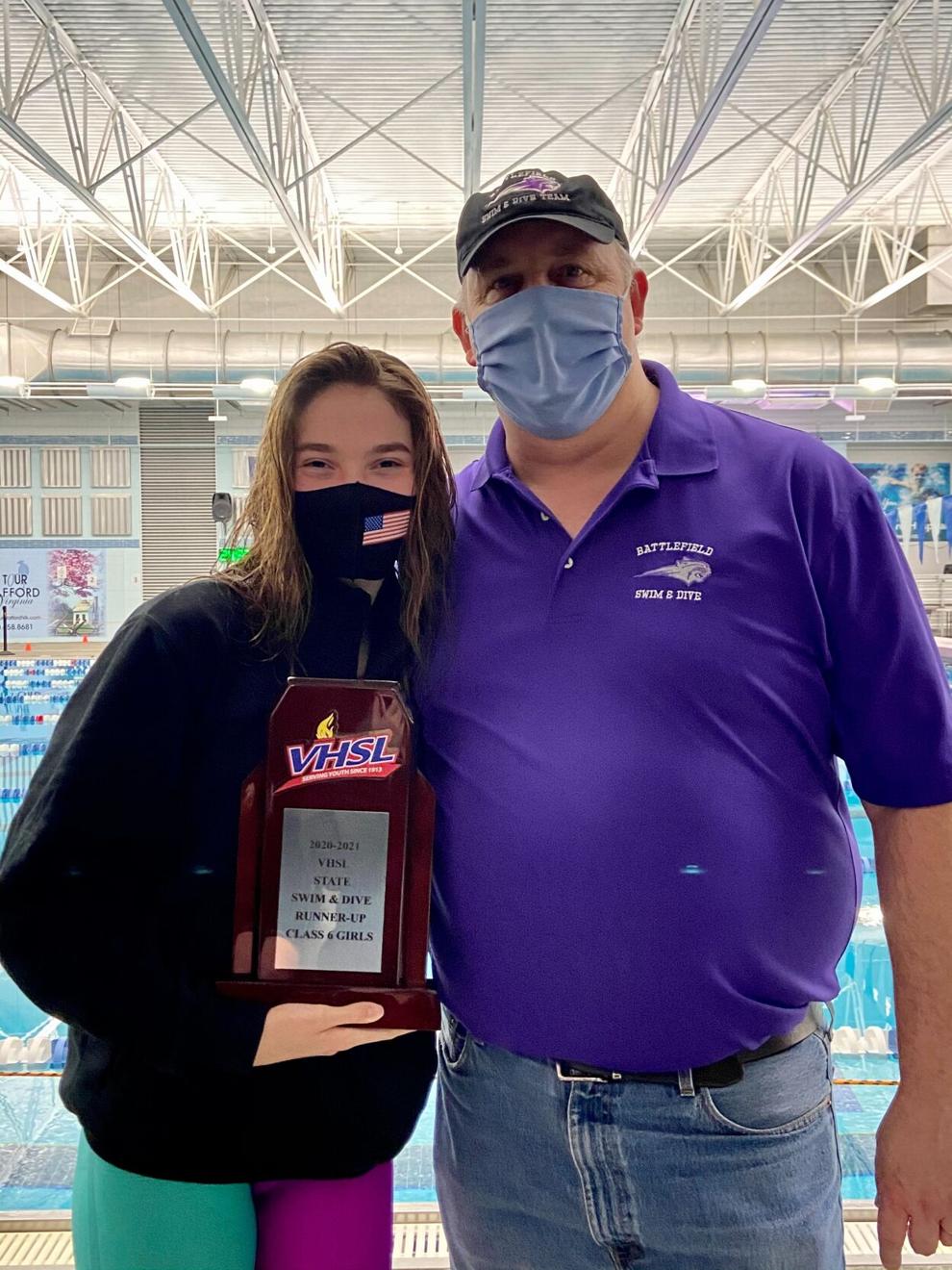 At age 14, she showed off her promise by making her first Olympic trials cut. This February, she reaffirmed her high school dominance for Battlefield, winning Class 6 state titles in the 50- and 100-yard freestyle races. 
She's fielding an array of offers from major NCAA Division I college programs and took part in the Olympic swimming trials in June in Omaha, Nebraska, where she won the 100-meter freestyle and earned a spot on the national junior team.
Despite world-class ambitions, which include making the 2024 Summer Olympics in Paris,  Spink loves hanging out with her friends on the Bobcats' swim team.
"I love high school swim," Spink said. "I love going to states. I love swimming on relays. It's just really fun."
When not swimming laps herself, Spink coaches 13- and 14-year-olds for the Tsunamis of the Prince William Swim League, the team that introduced her to her favorite sport.
"I love giving back to my summer swim team. They started me out. They got me to love the sport," said Spink, a proud Tsunami every year since age 6, before she'd ever won her first piece of candy.
"I just love being a part of Battlefield and a part of Piedmont," said Spink, who's coached by Jay Thorpe on both teams. "Coach Jay is so much fun to swim for. Both those teams are families to me."
Opening Olympic trials in style
On June 4 in Omaha, Spink came in first in the event's opening race, swimming the 100-meter freestyle in a personal-best 55.25 seconds.
"Being the first winner at an Olympic trials meet, it was everything I could have wanted," she said. "I'd been waiting for this moment, especially since it got delayed a year."
Her victory in Wave I put her into a media spotlight, as she faced a throng of cameras and microphones for the first time.
"I was so happy to stand there and answer the questions and get the experience of being up there with all the lights on me," she said, recalling how her post-race interview was broadcast throughout the arena.
"I loved the experience of winning at such a high-level meet."
That performance put her into the second stage of timed trials, called Wave II. She placed 22nd in the 100-meter freestyle, but her 15th-place finish in the 50-meter freestyle in a personal best 25.45 seconds was enough to put her on the National Junior Competition Team.
Though Spink's two weeks in Omaha didn't result in a ticket to Tokyo, she doesn't expect it will be her last shot at Olympic glory.
"I got a bit of a visual as to where I was after trials. I had time to process that I was actually in the semifinals of the Olympic trials," she said. "I want to go all the way. In three years I'll be a lot stronger. That's the plan.
"I'm just really excited for how far I'm going to take this."
Getting her feet wet overseas
Spink will travel with the National Junior Competition Team to Berlin, Germany and Budapest, Hungary to swim in a pair of three-day meets in early October, marking her first international experiences in the sport.
She looks forward to swimming in a "big meet" atmosphere.
"I'm really excited about it. I know a lot of the girls going on the trip from a national training camp a couple years ago," she said. "I'm excited because it'll get me mentally prepared for big meets where a lot is on the line."
The life of an Olympic hopeful
Spink puts in some 25 hours in the pool each week, including a double-session every Wednesday. That doesn't include weight training and conditioning, plus her coaching duties.
"I have a pretty busy schedule during the summer," she said.
Adding to her to-do list, college coaches are calling for Spink's services. She's narrowed her possibilities down below 15, but is taking her time with that decision.
Meanwhile, the meets go on. She swam in the Potomac Valley Senior Championships in Sterling in mid-July and will swim in the USA Swimming Futures Championships in Richmond starting July 29.
"I'm trying to get a 54 [seconds] in the 100 free," Spink declared. "I think I just want to keep going faster. I mean, that's always the goal."
She thinks being at home during the COVID-19 pandemic helped her.
"I had another year to focus on other things that could help my swimming, like some running and weight training, things I wouldn't have done so soon if I hadn't been out of the water for that long," Spink said. "I was thankful for another year to get stronger."
Competitiveness is a trait Spink has possessed since she first realized candy was at stake.
"It's not so much that I love to win, I just really don't like to lose. And I think that has kept me going for a really long time."