The Colgan Sharks baseball team closed out the regular season 11-0, outscored opponents 98-9, stole 80 bases and pitched seven shutouts.
But it's not the present that excites head coach Mike Colangelo the most. It's the future.
"From 2020 to 2023, Colgan High School will be the most dominant baseball program we've seen in the last 25 years in this county," predicted Colangelo, whose Sharks open Class 6 Region B playoffs Monday with a home game against Champe.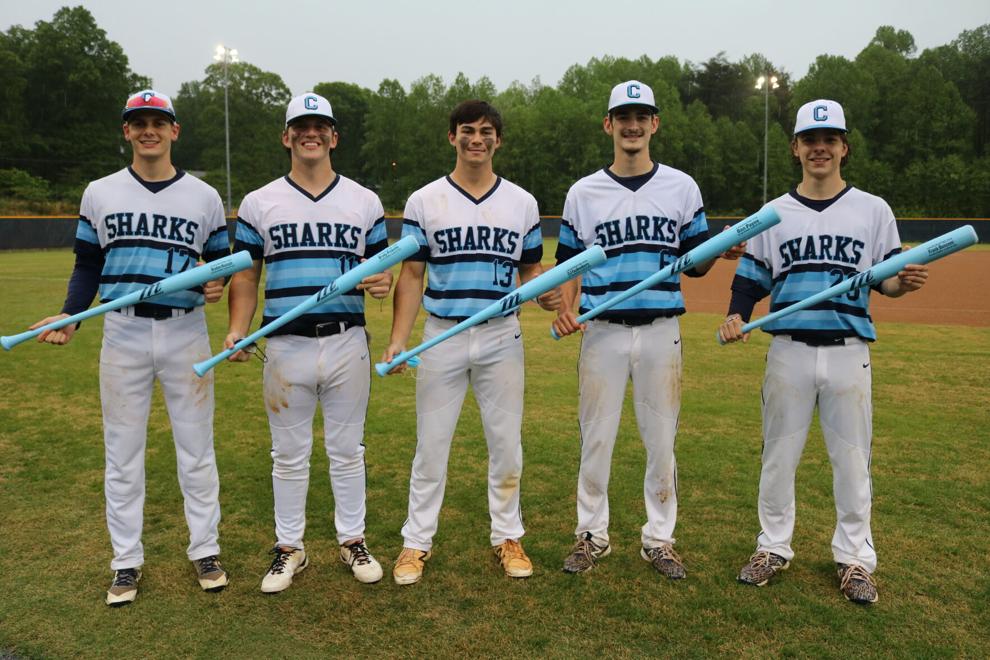 Fueled by hardworking kids now capturing the attention of college coaches, the 2021 season has been a coming-out party for Colgan's program, which won its first Cardinal District title and has dreams of one day winning the state championship. Colgan has three Virginia Tech recruits on its roster and another going to Longwood.
Remember, Colgan only played its first game just four springs ago.
Colangelo, a Hylton High grad and former Major League Baseball player with the Angels, Padres and Athletics, has been the Sharks' head coach from the start.
The philosophy he intended to instill since that inaugural year is the one he sees manifest in his team today.
"It's kind of been in the workings from Day One," said Colangelo, who preaches excellence on the field and in the classroom. "We have great families with great players who want to work to get better."
What a difference a year makes
Doing things the right way is a big deal for Colangelo. Part of that is putting the work in, even when no one's watching.
During their extensive time apart, the Colgan players took it upon themselves to improve their skills on the diamond. When Colangelo saw them next, the advancement was noticeable.
"The last time we met as a program was March 12. The next time was April 12, 13 months later," he said. "That's what I'm most proud of. They didn't choose to come back with excuses for why they didn't get better. My players chose to come back as better ballplayers. As a coach, I respect that a ton."
Asked why the sudden leap into the Cardinal District lead, Colangelo jokes that he wishes the credit were his to take.
"I can't stress enough: All this is because of the kids," he said. "They give the coaching staff two hours of joy every day"
Winning the arms race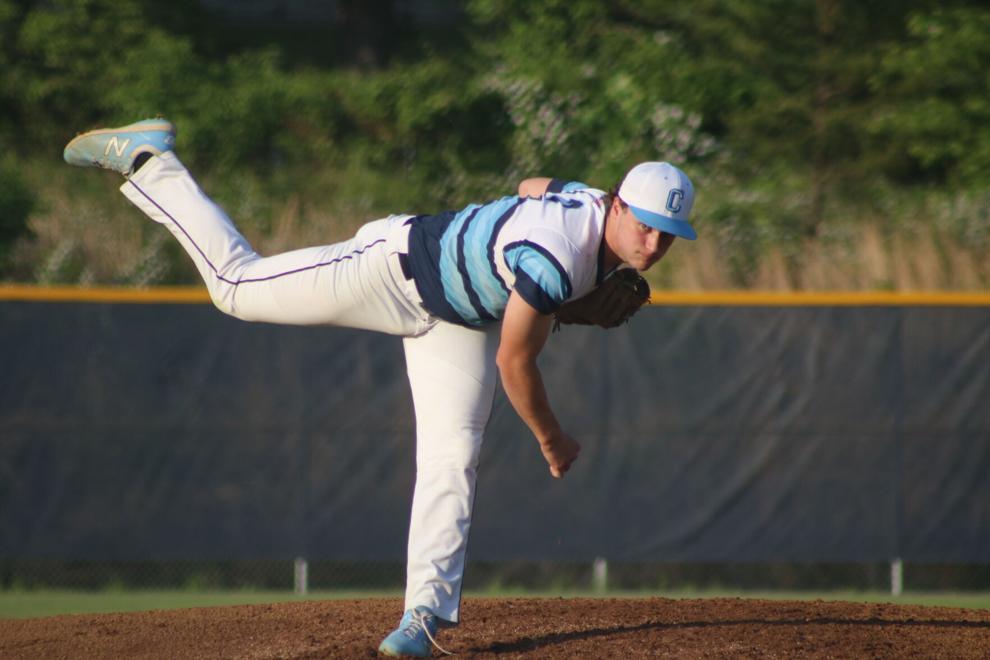 Colgan is not a devastating offensive juggernaut, although they can score runs as evidenced by their 23-0 win May 24 over Gar-Field, plus three other double-digit victories.
But five Shark triumphs have been by five runs or fewer. Pitching rules the day for Colgan.
Junior Connor Knox owns three mound wins. With a mid- to high-80s fastball and a slider, he's a strike-thrower, whiffing nearly two per inning while walking just two batters all year.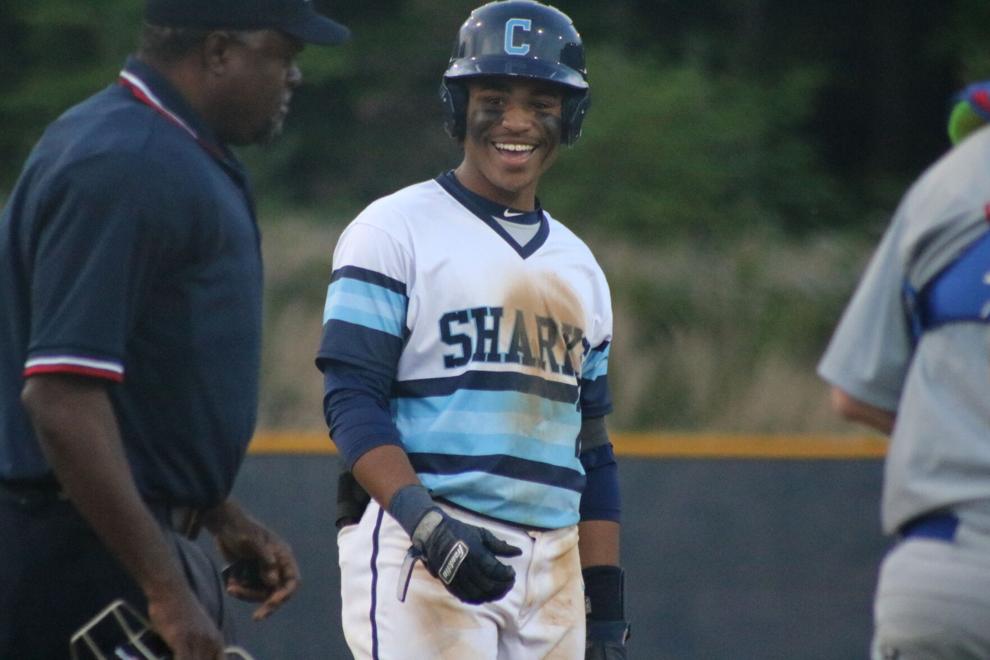 Another junior, Ryan Kennedy, is a 6-foot-4 right-hander bringing a fastball that reaches 92 miles per hour. Kennedy and fellow pitchers Matthew Weseley and sophomore Brett Renfrow are committed to play for Virginia Tech.
Renfrow has racked up eight strikeouts in just three innings on the strength of a 91-mile-per-hour fastball. Brandon Cassedy, the son of pitching coach Keith Cassedy, has surrendered just one hit in 19 innings of work.
"He's 83 to 87, slider, changeup, hits his spots, attacks the strike zone early," Colangelo said of Cassedy. "He's just a bulldog."
As a staff, the Sharks have allowed just 24 hits and 16 walks in 69 innings. Opposing batters manage to hit just .104 while striking out 115 times.
"They throw strikes, they hit their spots, they make it easy to compete every day," senior catcher Brody Pickette said. "It's really nice when you don't have to bounce all over the place."
With five underclassman pitchers throwing strikes and attracting collegiate interest, Colangelo sees a bright future for Colgan on the mound.
Sharks with legs
In a normal season, Colgan steals between 110 and 140 bases. With this year's compressed schedule, they've swiped just 80.
"I'm gonna run," Colangelo said. "Even if you're not fast, you're gonna run. We spend a lot of time on baserunning. That's a key to winning games."
Senior C.J. Faulkenberry, a Longwood commit, paces the Sharks with 17 stolen bases, three home runs and 18 RBIs. Pickette, who's bound to play for Shenandoah, is batting .357 and reaching base at a .654 clip while holding down starting catcher duties.
"Absolutely amazing leadership qualities," said Colangelo of Pickette.
Playing in the field when not pitching, Knox, Cassedy and Renfrow are all batting above .389. Cassedy supplies more speed from the lead-off position, while Knox mans the cleanup spot.
Farming for talent
Being a product of professional baseball's tiered developmental system, Colangelo believes in utilizing his junior varsity club like a farm team.
Colangelo said his JV squad amassed a 30-1 record over its first three seasons, winning the unofficial JV district championship each year. "There are no banners in the gymnasium for them, but I tell my JV program they're as important as the varsity team," he said.
Coach Vince Natale leads the JV Sharks, assisted by Brent Perdue.
"They work tirelessly to get guys ready for us," Colangelo said. "For me, being a former Major Leaguer, that's how baseball's set up. You're only as good as your farm system."
Colangelo praises the work of his assistants for demonstrating the work ethic needed to succeed. Varsity pitching coach Keith Cassedy, varsity defensive coach Will Frazier, and statistician and analyst Brandon Carter assist Colangelo in getting the Sharks ready.
Frazier, like Cassedy and Natale, have been on the staff since the program began. "At a time when it's hard to find coaches, we're able to keep our staff intact," Colangelo said. "That's important for stability. Kids know what they're getting."
They use some advanced methods to prepare their players. The Colgan staff has brought a few charting techniques to the high school level, such as pitch charts and spray charts, to provide an extra edge.
In response, the players have used the information to their advantage. "They're so professional," said Colangelo of his players. "They lift after practice, they hit together on weekends, they're constantly pushing each other."
How to build a program
Colangelo raves about his team's desire to become better.
"They love each other, they play hard for each other, they know their roles," he said. "It's a special group."
That group is led by a class of five seniors, including Pickette and Faulkenberry. "Every year we become better and better because of our senior class being role models. That's how you build a program."
Pickette is a four-year varsity player. Three years ago he didn't expect Colgan to put together an undefeated regular season, but he's no longer surprised.
"It's how we act as a team. After every game we're going out to eat together, just to be together," Pickette said. "We all have the same mentality about where we want to be at the end of the year, so everyone knows that it's all in."
Colangelo gets a kick out of the number of former Colgan players who've shown support for their old team. "We've had 15, 18 guys come back to watch us the past few weeks," the coach said.
The promise of the postseason
It's all still fairly new for Colgan. The program has won just one regional tournament game in its brief history, so the milestones could come quickly this spring.
"We're rolling, and we're enjoying it right now," Colangelo said.
As optimistic as he is about the next couple years, Colangelo isn't so certain about the immediate future. 
"Not sure we're there yet. Could we get there this year? I don't know. Ask me in another two weeks," the coach said. "But I know these kids are going to give the same effort every day."
Colangelo proclaims that "Colgan is here to stay. This program's gonna be what you see right now, each and every year," he said. "This is going to be the most dominant program in the county."