The Woodbridge Vikings entered Monday without a girls basketball loss since Dec. 22, 2018. 
Stonewall Jackson changed with a triple-double by Hannah Williams. She led the Raiders to a 44-37 victory on the road in Woodbridge to end the Vikings' 21-game winning streak, which included the Class 6 state championship.
Williams finished with 26 points, 13 rebounds and 12 steals to improve Stonewall's record this season to 3-1 while dropping the Vikings to 1-1. Woodbridge, which finished 23-5 last season, lost four starters and its head coach following that title run.
The Raiders began this season with Williams as one of three returning starters after they went 20-7 last season with a loss in the quarterfinals of the 6D Region tournament.
On Monday, Maryan Yusuf had six points while Anita Umana and Zoe Kanti had five each. Kanti made 5 of 6 free throws while Williams made a pair of 3-pointers.
Toyah Goines finished with five rebounds while Amanie Bonchu-Stokes had four and Yusuf had three. Adding two assists apiece were Kanti and Yusuf.
Potomac boys basketball 54, Osbourn 46
Manny White scored 25 points on 4-for-7 3-point shooting Monday to give the Potomac Panthers a 54-46 victory over Osbourn's boys basketball team on the road in Manassas.
He helped the Panthers make 7 of 15 3-pointers as a team (46.7 percent) and boost their record to 2-1 while dropping the Eagles to 1-2. Kyle Honore added 12 points on 3-for-5 3-point shooting while Tyrell Harris had 10 points with no other Potomac player scoring more than two.
White's first 3-pointer of the game gave the Panthers an 8-0 lead en route to a 29-17 advantage at halftime. The Eagles did tie the score at 8-8, but they never led in the game, falling behind by as much as 47-30 early in the fourth period.
Harris also led Potomac with 11 rebounds, three assists, three steals and one block. Adding three assists each were Lorin Hall and Caleb Satchell while White had five rebounds with four each from Kwandro Opoku and Rakim Lamarre.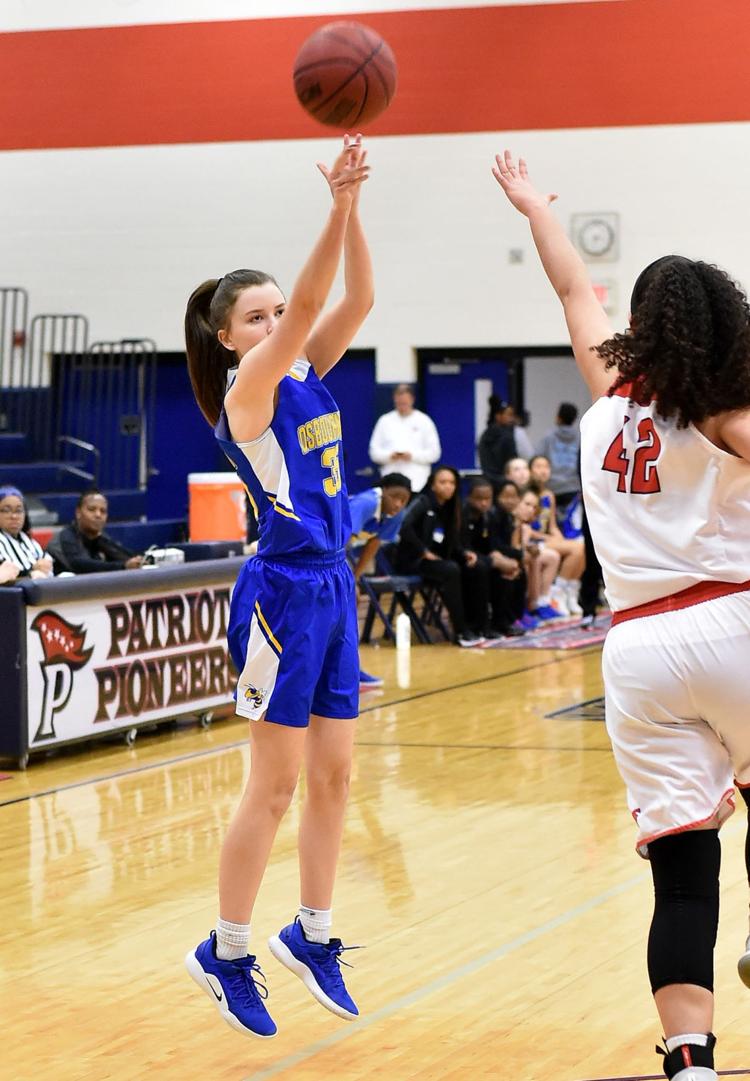 Osbourn Park girls basketball 60, South County 46
The Osbourn Park Yellow Jackets held South County's girls basketball team to 18 points in the second half en route to a 60-46 victory Monday on the road in Lorton.
Alex Harju led the Yellow Jackets with 14 points as they boosted their record to 2-1. Maddie Scarborough added 13 points and Jo Raflo had 10, helping OP build a 37-28 lead by halftime.
Brentsville girls basketball 73, Independence 50
Three Brentsville players scored more than 16 points each to give the Tigers a 73-50 victory over Independence's girls basketball team Monday on the road in Manassas.
Alden Yergey made three 3-pointers and finished with 25 points to keep Brentsville undefeated at 4-0, while Cai Smith scored 18 points with 10-for-14 free-throw shooting. Gabby Garrison added 17 points on 6-for-8 free throws and Cara Vollmer had eight points during one of the Tigers' highest-scoring games in years.
They led only 33-26 at halftime but finished the second half on a 40-24 run.
St. John Paul the Great girls basketball 60, Potomac School 48
With 20 steals and 19 assists Saturday, the St. John Paul the Great Wolves won the Potomac School 2019 Tournament girls basketball championship by beating Potomac 60-48 in the final.
Reina Washington finished with nine steals and six assists to help improve the Wolves' record to 4-1. So she and Mary Caiafa made the tournament's all-star team.
Caiafa had seven assists and four steals Saturday while Brianna Wydajewski had four steals and Alissa Turner had four assists. Wydajewski and Sophia Ofosu also had 14 points apiece while Caiafa had nine with eight each from Washington and Katie Bochonok.
Adding eight rebounds apiece were Wydajewski and Bochonok, while Caiafa had seven, Washington had six and Alissa Turner had four.
Previously, Friday, John Paul the Great beat Mercersburg (Pennsylvania) 51-42 in the tournament semifinals. Ofosu and Bochonok each had nine points while Washington and Turner had eight apiece with five each from Wydajewski and Kayla Cusumano.
Wydajewski added 10 rebounds while Bochonok had nine, Kathryn Oylear had eight and Ofosu had four, as did Cusumano. Washington also had nine steals while Cusumano had three. Turner added two blocks and matched Ofosu with three assists apiece.