The high school football season is at its midpoint. Time for the playoff push.
With non-district play over, the 4-0 Battlefield Bobcats own the strongest start in Prince William, while fellow Cedar Run District foes Unity Reed and Osbourn both opened at 3-0 before suffering consecutive setbacks.
Meanwhile, Freedom of the Cardinal District and Brentsvlle of the Class 3 Northwestern District are both 3-2, notching some impressive wins and appear playoff bound.
The Virginia High School League announced that due to the number of COVID-related postponements, the first set of power point rankings will be available after Week 7 games.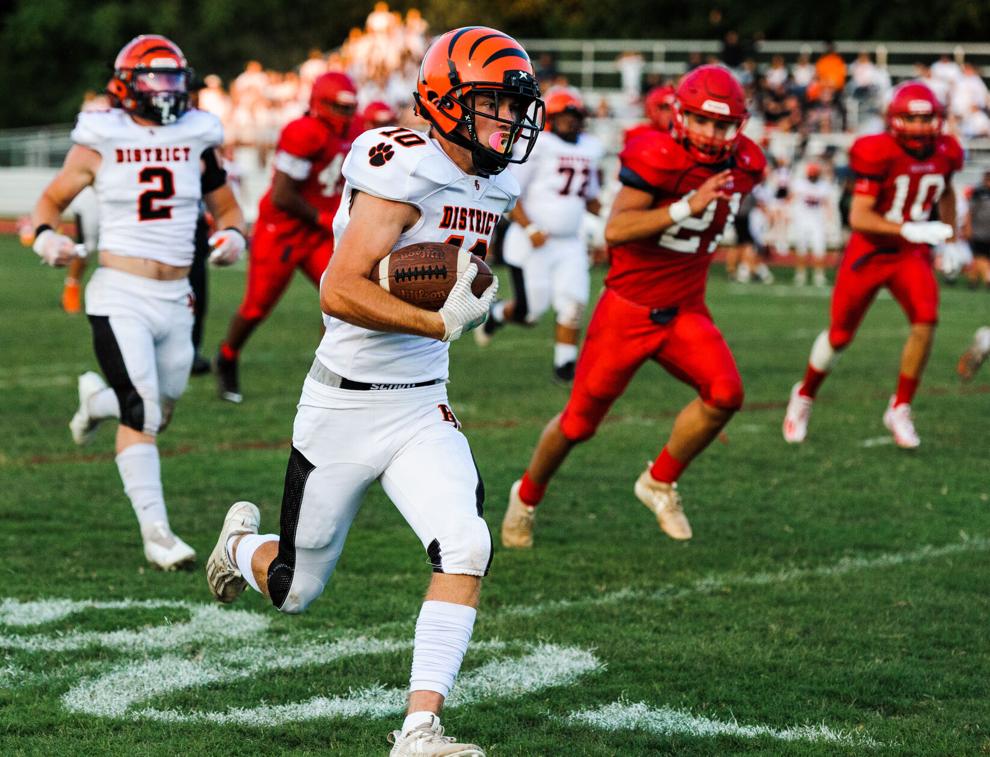 Brentsville Tigers
Record: 3-2 (1-0 Northwestern District)
Last game: Beat Meridian 23-20
Next game: Oct. 1 vs. Warren County
How's it going? It was Loren White's dream to be a head football coach. He's living that dream this season.
"It means so much to be at the helm at Brentsville District," said the Gar-Field graduate and former staffer at Osbourn, Osbourn Park, Patriot, and Gainesville high schools. "We all have dreams and goals in life. Mine was to be a head coach, but makes it even better was to be the head coach here."
White has led the Class 3 Tigers to a 3-2 start, including blowout wins over Class 4 opponents Liberty (39-13) and Fauquier (23-8).
Sophomore quarterback Caleb Alexander has grown into the leader of the Tigers' pack. He's thrown for six touchdowns and run for five more. 
"He shows the versatility every game," said White of Alexander. "We see it in a ball he throws that hits our receiver in stride or when he tucks it and cuts through the defense."
Brentsville's defense is led by senior lineman Ryan Stevens and sophomore linebacker Langston White, the coach's son. They've combined for 57 tackles, six sacks and two forced fumbles.
Junior defensive back Will Johnson leads the secondary with four interceptions, including three in the win over Fauquier.
Brentsville enters the season's second half seeking its seventh straight postseason berth.
"This season just shows alone how big this community is and how they support all that are a part of it," White said.
Gainesville Cardinals JV
Record: 0-3
Last game: Lost to Westfield JV 48-18
Next game: Oct. 1 vs. Patriot 
How's it going? History will be made Friday when Gainesville High School hosts the first football game in school history.
Throw out the records so far. It's the Cardinals' first season as a football program, so veteran head coach Dan Bruton is setting different goals.
"We are treating these young men like varsity players," Bruton said of his junior varsity squad with no seniors. "We are setting the standard for what to expect here as a football player. We have put a lot on them and they have accepted the challenge."
Bruton said he wants players to "make the routine plays routinely" while taking on leadership roles. He's already seeing that in his freshman team, which has started off 3-0 including a 39-14 win at Independence.
The coach is looking forward to seeing his team play in front of their families and classmates for the first time. 
"It will be awesome to see our students getting to enjoy Friday Night Lights," Bruton said. "This will be the foundation for our school spirit and I hope our student section brings it!"
"I want it to be loud and vibrant," director of student activities Jason Eldredge said. "A positive vibe to the stadium atmosphere will tell me what I need to know about the success of the event!"
Woodbridge Vikings
Record: 1-3 (1-0 Cardinal District)
Last game: Lost to South County 35-14
Next game: Oct. 8 at Forest Park
How's it going? The tragic passing of defensive coordinator Fred Moore during the Sept. 17 game versus Massaponax has left a hole in the Vikings' family that won't be filled.
Woodbridge head coach Jimmy Longerbeam made Moore his first hire when he took the job after last season. Moore's position on the staff will remain open for the remainder of the season, Longerbeam said.
"He's one of those guys who's got the 'it' factor," said Longerbeam of Moore. "I don't think the impact he had was just with the football team. I can see it throughout the student body.
"He was a really good football coach, but he was a really, really good person."
Longerbeam said it's now "a special season" because of Moore's impact. "In fact, we still hold our meetings in his classroom," the head coach said. "He's certainly going to be missed."
Woodbridge's offensive line features three sophomores and a freshman, flanked by a sophomore tight end. They're all protecting senior quarterback Quadir Thomas.
"We're playing a lot of young kids, especially on offense. We're gonna have to play really good defense and make plays on special teams," Longerbeam said. "If we get all three phases working, we'll have a chance."
That formula got the Vikings off on the right foot in their Cardinal District schedule.
Woodbridge blocked two punts and held Hylton to 25 rushing yards in a 22-8 victory Sept. 24. Longerbeam noted his young offense committed just one turnover.
"These kids are coachable," Longerbeam said. "They do exactly what we ask them to do."
He pointed to senior defensive end Gabe Kenner and senior linebacker Eddie Wilkerson as emerging standouts.
Circumstances have wreaked havoc on the Vikings' schedule. They played a rare Tuesday game Sept. 28 versus South County, making up the Aug. 27 contest postponed by a positive COVID test.
The Massaponax game will be completed on Nov. 2 - another Tuesday - with Woodbridge leading 21-14 with 6:39 left in the third quarter.
Unity Reed Lions
Record: 3-2 (0-1 Cedar Run District)
Last game: Lost to Champe 21-14
Next game: Oct. 1 at Osbourn
How's it going? The Lions opened the season with a bang, upending stalwart Westfield 20-14 before reeling off 22-7 and 28-7 wins over Colonial Forge and Woodbridge. Two straight defeats have followed.
Led by running back DaShaun Gibson's 22 yards per rush, and a loaded defense featuring stud linebackers Amare Campbell, Shane Eller, and Alabama commit Shawn Murphy, the Lions look to earn their first Cedar Run win Friday at Osbourn.
Osbourn Eagles
Record: 3-2 (0-1 Cedar Run District)
Last game: Lost to Battlefield 16-0
Next game: Oct. 1 vs. Unity Reed
How's it going? The Eagles' "O" logo is appropriate. All five of their games have been shutouts - three for, two against.
Osbourn opened with a 56-0 win over Manassas Park and a 52-0 decision over Colgan before handling rival Osbourn Park 35-0. But setbacks of 12-0 and 16-0 to Potomac and Battlefield followed.
Senior quarterback Jakari Lewis, a converted running back, continues to be the Eagles' top rushing threat, averaging over 15 yards per carry.
Osbourn seeks consecutive winning seasons for the first time since 2010-'11.
Battlefield Bobcats
Record: 4-0 (1-0 Cedar Run District)
Last game: Beat Osbourn 16-0
Next game: Oct. 1 at Freedom-South Riding
How's it going? It's hard to win when a team can't score, and Battlefield's opponents have found that true all season. The Bobcats have given up 12, 6, 2, and 0 points in wins over Potomac, Patriot, Hylton, and Osbourn.
Senior defensive back Dominic Taylor is a leader in the secondary, while the offense is run by senior Jonathan Walters. Graham Jones and Jelon Johnson are the top rushing threats.
The annual season-ending showdown with rival Patriot will count in the Cedar Run District standings.
Patriot Pioneers
Record: 3-2 (1-0 Cedar Run District)
Last game: Beat Osbourn Park 48-0
Next game: Oct. 8 at Unity Reed 
How's it going? The Pioneers have alternated wins and losses since opening with a 42-6 victory over Hylton, then succumbing to rival Battlefield 27-6. Patriot survived 29-28 against Forest Park before falling 21-13 at Gar-Field.
Senior running back Keith Jenkins Jr. leads the Pioneers with 616 yards and eight touchdowns on the ground.
Osbourn Park Yellow Jackets
Record: 2-2 (0-1 Cedar Run District)
Last game: Lost to Patriot 48-0
Next game: Oct. 1 vs. Champe
How's it going? It's been a roller coaster so far for OP. The Jackets earned their first win in nearly two years with a 35-28 season-opening decision over Colgan. 
Junior running back Thomas Pullen is OP's workhorse, taking the ball 53 times for an average of eight yards per tote.
Freedom Eagles
Record: 3-2 (0-1 Cardinal District)
Last game: Lost to Gar-Field 20-16
Next game: Oct. 1 at Forest Park
How's it going? The Eagles have three blowout wins and two narrow losses. Prior to their setback against Gar-Field, Freedom was averaging over 45 points per game.
Senior quarterback Davis Bryson has been efficient running Freedom's offense, throwing 11 touchdowns to just one interception while completing 67% of his passes.
He has a bevy of talented receivers in Kam Courtney, Siyah Smith, E.J. Reid, and Carleton "JuJu" Preston.
Potomac Panthers
Record: 1-3 (0-1 Cardinal District)
Last game: Lost to Forest Park 25-22
Next game: Oct. 1 at Hylton
How's it going? The Panthers are better than that record. They lost 23-12 to undefeated Battlefield, then suffered a 34-33 heartbreaker at Brooke Point.
Potomac dealt Osbourn its first loss in Week 4 with a 12-0 shutout, then fell in two overtimes to Forest Park.
Senior quarterback Pete Woolfrey, who's completing 60% of his passes, has connected with wideout Elijah Williams 10 times for two touchdowns, and Sebastian Medina nine times for one TD.
Gar-Field Red Wolves
Record: 2-2 (1-0 Cardinal District)
Last game: Beat Freedom 20-16
Next game: Oct. 1 vs. Colgan
How's it going? With raised expectations following a 6-1 spring season, the Wolves had a slow start to the fall campaign. But after opening with two losses, Gar-Field is on a two-game win streak.
Forest Park Bruins
Record: 2-3 (1-0 Cardinal District)
Last game: Beat Potomac 25-22
Next game: Oct. 1 vs. Freedom
How's it going? If the Bruins go on to have a winning season, they can point to Gilbert Tongrongou's 25-yard field goal to knock off Potomac and put Forest Park at 1-0 in the Cardinal District.
Tongrongou, once a soccer player, is bound for Boston College as a defensive lineman. Offensively, quarterback Quinton Pulley looks for top target Thyhiem Simmons. 
Four of FP's five games have been decided by seven points or fewer.
Hylton Bulldogs
Record: 1-3 (0-1 Cardinal District)
Last game: Lost to Woodbridge 22-8
Next game: Oct. 1 vs. Potomac
How's it going? Outside of a 34-22 win over Briar Woods, it's been tough for the Bulldogs. They've managed a combined 16 points in their other three games. Quarterback Tyler Rekdal and wide receiver Dylan Wright are a potent senior combo for Hylton.
Colgan Sharks
Record: 0-4 (0-0 Cardinal District)
Last game: Lost to Champe 62-20
Next game: Oct. 1 at Gar-Field
How's it going? The Sharks had a bye week to prepare for their Cardinal District opener Friday at Gar-Field, so they'll look to keep the Red Wolves' offense at bay. Colgan has allowed over 50 points in each of its last three outings.