Trevor Bounds made three 3-pointers in the third quarter to help the Battlefield Bobcats pull away for a 63-52 victory over West Springfield's boys basketball team on the road.
The Bobcats entered halftime with only a 27-23 lead after going ahead 18-12 in the first quarter, but they scored 24 points in the third to enter the fourth with a 51-33 advantage en route to boosting their record to 5-1 with a three-game winning streak.
Bounds finished with 18 points while Jordan Radford had 14, Tristan Olds had 10 (6-for-7 free-throw shooting), Grant Svenson had nine and David Delacruz had seven.
Osbourn Park girls basketball 65, Gwynn Park 39
The Osbourn Park Yellow Jackets extended their winning streak to three game Friday by beating the Gwynn Park (Maryland) girls basketball team 65-39 at The St. James Complex in Springfield during the She Got Game Classic.
Jo Raflo led them with 26 points to give them a 5-1 record. She made 5 of 9 3-pointers, while Katie Lemanski scored 12 points and Alex Harju had eight.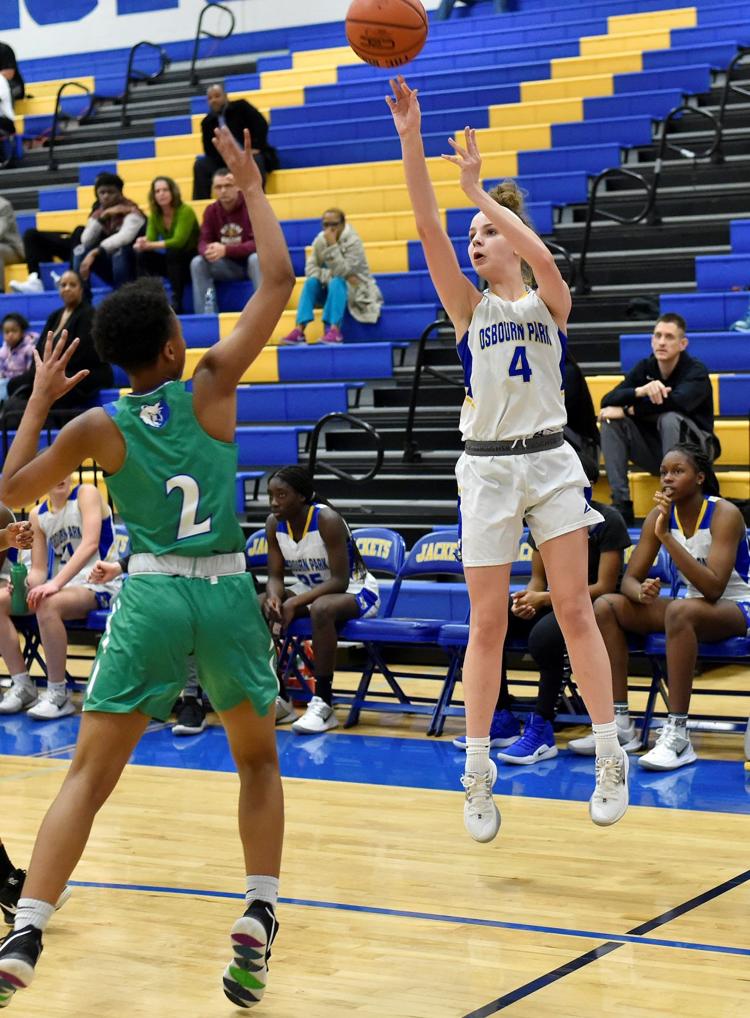 Osbourn girls basketball 62, Gar-Field 16
Fantasia Payne's unusual double-double helped give the Osbourn Eagles a 62-16 victory Friday over Gar-Field's girls basketball team on the road in Woodbridge.
She finished with 10 steals and 19 points on 2-for-2 3-point shooting as Osbourn improved its record to 4-1 while the Indians fell to 0-5. Love Delaney added 20 points with 6-for-6 free-throw shooting while Amiyanna Williams had eight points and Maia Williams had seven.
Williams also had four steals and Delaney had three, while Delaney had eight rebounds and Williams had seven.
Osbourn boys basketball 51, Gar-Field 38
Manny Ojo made five field goals and assisted six others Friday to help the Osbourn Eagles beat Gar-Field's boys basketball team 51-38 at home in Manassas.
He finished with 13 points on 5-for-10 field-goal shooting as Osbourn improved its record to 3-3 while dropping the Indians to 1-5. Isaiah Breeding also had 13 points, Hugh Massey had 11 and Josh Newland had six, helping the Eagles take a 16-9 lead in the first quarter, a 29-14 advantage at halftime and a 38-24 lead entering the fourth period.
Massey and Breeding added five rebounds each. For Gar-Field, Marcus Young had 11 points on 5-for-9 field-goal shooting while Cory Wilson had eight points and Jerome Warrick had seven. Wilson also had six rebounds.
Patriot boys basketball 69, Hylton 58
Tyler Stringer scored 18 points on 8-for-11 field-goal shooting to lead the Patriot Pioneers to a 69-58 victory over Hylton's boys basketball team at home in Nokesville.
He also had four blocks and eight rebounds as Patriot improved its record to 4-2 while dropping the Bulldogs to 1-4 after the Pioneers took a 14-11 lead in the first quarter. They built a 38-21 advantage by halftime before entering the fourth period ahead 46-39.
Adding 12 points each were Trey Nelson and Jackson Ford while Zack Blue had 10, Chad Watson had seven and Allen Davis had six. Ford and Blue each made 4 of 5 field goals, helping Patriot go 25-for-46 (54 percent) as a team.
Blue also had seven rebounds with four each from Ellis Nayeri, Allen Davis and Darrel Johnson, while Nelson had three assists.
Patriot girls basketball 73, Hylton 22
The Patriot Pioneers held Hylton under 10 points in each quarter Friday en route to a 73-22 victory on the road in Woodbrdige to rebound from their first loss of the girls basketball season.
The Pioneers took a 26-4 lead in the first quarter, a 47-13 advantage by halftime and a 60-18 lead entering the fourth period en route to boosting their record to 4-1 while dropping the Bulldogs to 0-4. Patriot made 6 of 12 3-pointers with Elena Bertrand making 2 of 4 for 13 points.
Lauryn Moore also had 13 points, Briana Griffin had 11 and Taylor Booker had eight with six each from Emily Casey and Kayla Amoah. Addisyn Banks added six assists and Kiley Smith had four, while Moore had five rebounds. Smith and Bertand also had four steals apiece while Casey had three.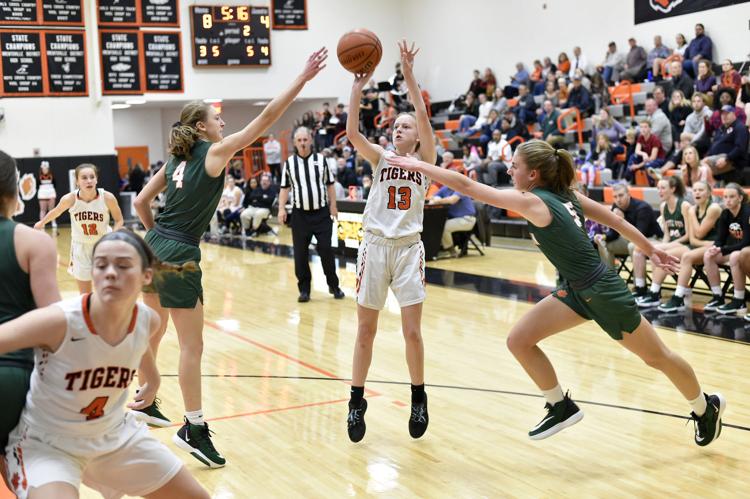 Brentsville girls basketball 49, Seton 47
Despite trailing by 14 points in the second half, the Brentsville Tigers rallied to beat Seton's girls basketball team 49-47 in overtime Friday at home in Nokesville.
Cara Vollmer led them with 24 points, including five 3-pointers, to keep Brentsville undefeated at 5-0 while dropping the Conquistadors to 4-2. Cai Smith added eight points, all in the second half after the Tigers trailed 28-15 at halftime. Adding seven points each in the game were Gabby Garrison and Alden Yergey.
So Brentsville won despite Seton's 12 3-pointers, including four each by Brigid Burgess and Ailish Heilser. Burgess finished with 15 points while Mary Pennefather had 13 and Heilser had 12.
Brentsville boys basketball 47, Park View 32
The Brentsville Tigers earned their first win of the boys basketball season Thursday by beating Park View's boys basketball team 47-32 at home in Nokesville.
Bronco Deeds led them with 16 points to give Brentsville a 1-2 record.
"I couldn't be more proud of the fight our guys showed," Tigers coach Evan Greening said. "They never gave up, came together and found a way to win, which is a testament to their character and resiliency."
Brandon Forst added 12 points and Jordan Perper had 10, while Deeds had six steals. Forst also had three steals and three assists while Perper had four rebounds.