Third-year Unity Reed field hockey coach Bill Strakosch feels like a lucky Lion.
After his squad made regionals earlier this year, he didn't have to say goodbye to many players, or wait too long to compete again.
The delayed 2020 season ended in April. Less than four months later he welcomed back seven seniors and six juniors on a 19-player roster, and they're out to repeat their region run.
Unity Reed opened 4-0 and have settled into their Cedar Run District season at 6-4 and 7-4 overall.
Last season Unity Reed went on an eight-game winning streak to make the Class 6 Region B semifinals and Strakosch knows they can do it again.
"They always bring their best effort, and that's why it's been such a joy to coach them the past few years," he said. "We continue to get better year to year."
In his third season with this veteran group, not much surprises the coach about his team. But he is impressed by "how quickly they've grown together."
"It's been a thrill to watch them get better together," he said. "This year it seems like they're really getting better every single day."
The Lions' offense is led by versatile senior playmaker Devyn Sweeney and her fellow captain, junior Hailey Annibell, a "dangerous outside shooter."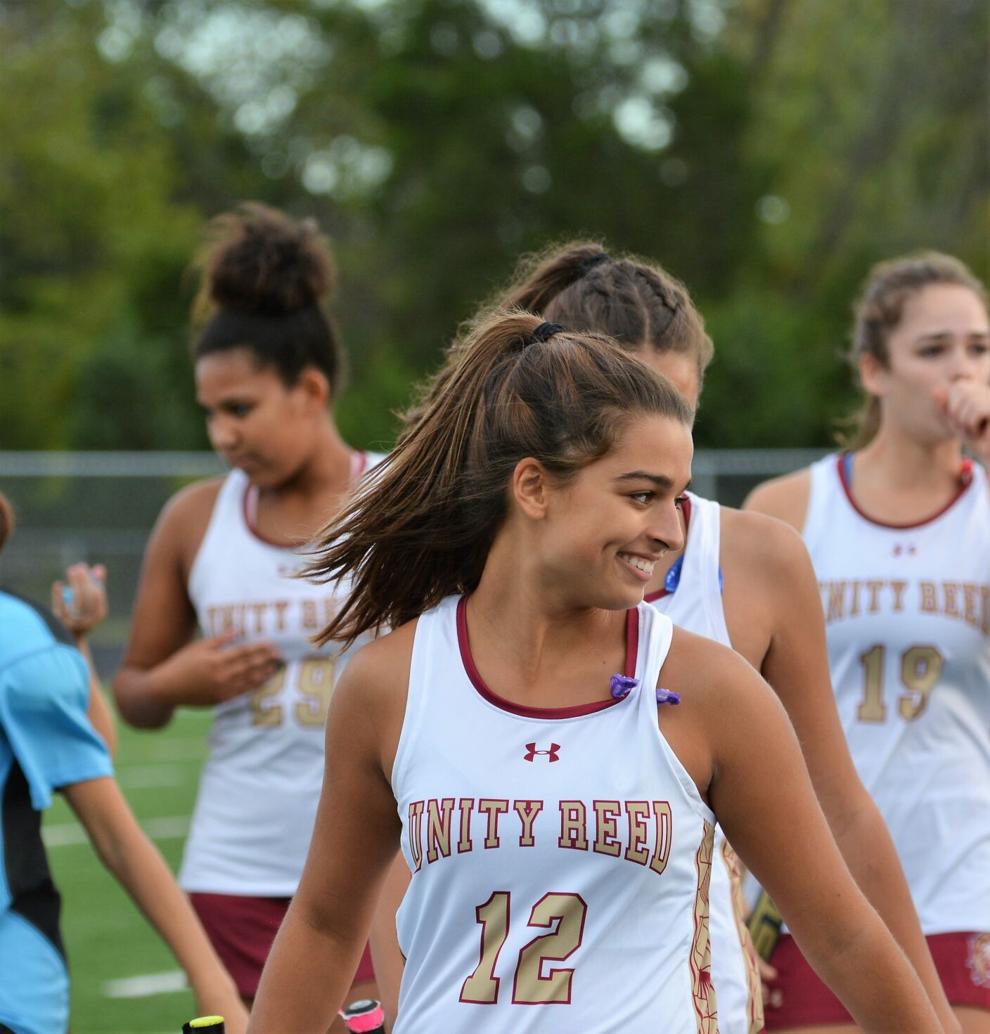 Annibell scored all of Unity Reed's goals in a 4-0 win over Champe.
"Both of them are having phenomenal years," Strakosch said. Sweeney has authored three goals and six assists, setting up several of Annibell's team-high 11 goals.
The assistant captains are defensive-minded midfielders Zoei Turner and Sam Santiago, a first-team all-Cedar Run pick last season. Santiago is assigned to each opponent's best offensive player.
"She continues to impress," the coach said. "She's like an iron curtain in the middle of the field."
The goalie tandem is senior Ana Deledi and junior Tica Jones.
Outside of three lopsided wins, the Lions have been in narrowly decided contests, including an overtime win over OP in which Turner scored the clincher.
One of the Lions' best collective efforts this season came in a 2-1 loss to Freedom-South Riding on Sept. 29. Unity Reed was down a player for nearly 15 minutes, but scored with a minute left to make it even closer.
"It was one of those losses that said more about the team than a typical win would, with the heart and the pride they carried themselves with," Strakosch said. "That makes coaching easier."
He hopes that tenacity through adversity continues down the stretch and into the postseason.
"We keep it day to day and expect to be as competitive as we can every single game," Strakosch said. "But considering last year, it'd be an injustice to them to expect anything less than the regional tournament again … and maybe a little run at states, we'll see."