As simply a spectator last fall, Gina Butler watched her daughter play golf for the state-qualifying Brentsville Tigers. 
Now she's coaching her daughter, as well as one of the best teams in Prince William County.
Barrett Butler joined Brentsville teammates Isabel Bae, Tony Collier and Mickey Haynes to post a strong team score of 307 Thursday and win the Prince William Cup at the Prince William Golf Club.
"I'm really impressed," Gina Butler said. "I think we're going to be a really strong team, not only this year but for years to come."
Her impressive six-player starting lineup features five underclassmen, including junior No. 1 Isabel Bae, who shot a 68 Thursday for individual medalists honors. Senior No. 2 Tony Collier followed closely as the runner-up with a 69.
"Tony is really on her heals," Butler said. "And Isabel is really fighting to keep that spot. One of the cool things you get to see as a coach is they're constantly pushing each other to get better."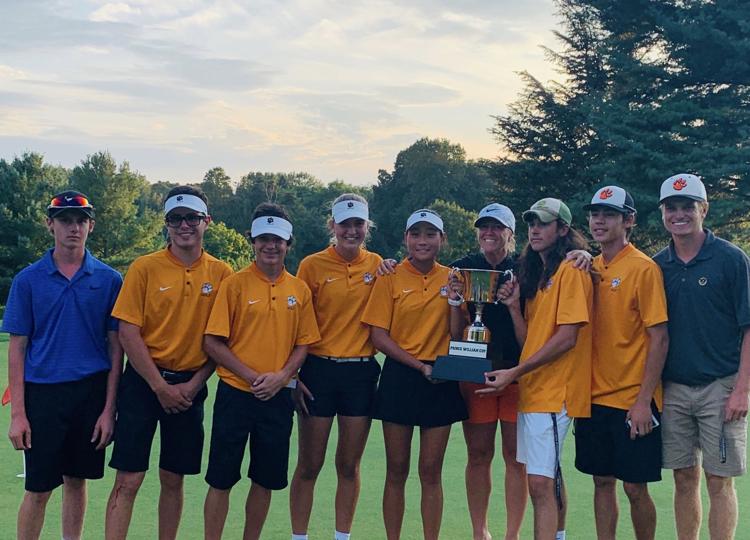 Mickey Haynes and Barrett Butler have a similarly close rivalry for the No. 3 spot in Brentsville's lineup, and they posted respective scores of 82 and 88 Thursday to round out the Tigers' team score. So Brentsville convincingly defeated runner-up Patriot (324) and third-place Battlefield (338), which did not play with a complete lineup that features defending Class 6 state champion Bryce Corbett. Colgan added a fifth-place finish (357) with Osbourn Park sixth (402), Woodbridge seventh (417), Stonewall eighth (422) and Potomac ninth (478).
Caden Biendl, Mikaela Mertz and Stephen Cobb led the Pioneers individually by placing third (77), fourth (78) and sixth (81), respectively, while the Bobcats' Tate Corbett shot 82 to finish tied for eighth with Haynes from Brentsville.
"If we continue to make progress and are hitting fairways in regulation, and hitting greens in regulation, I think we can bring some of those numbers down," Gina Butler said of the Tigers' scores. "I think we have a great chance to return to states."
Last season, Brentsville placed seventh at the Class 3 state meet, and four starters returned this fall. Bae finished sixth individually with a 73 while Collier took 28th with an 88.
The Tigers began this season with a runner-up finish during the first Class 3 Northwestern District mini tournament at Greene Hills Country Club. William Monroe won, but Brentsville played without Bae.
Brentsville then placed eighth out of 26 teams in the Curly Licklider tournament, an event at Shenandoah Golf Club that favors larger teams as six golfers count toward the team score instead of the usual four.
"I knew we had a lot of potential" in 2019, Butler said. "I was really excited to see they had put in hard work in the offseason."