Travis Buzzo and Dylan Bailey made their varsity football debuts Friday, intrinsically tied together as Liberty's first-year head coach and first-year starting quarterback.
But they made that grand entrance with a faceplant through the doorway. Bailey fumbled on the Eagles' first offensive snap and the Brentsville Tigers returned the ball for a touchdown. Then Liberty lost a fumble on each of its next two possessions, giving the Eagles three turnovers in less than four minutes.
So their tenure together couldn't have begun much worse, but that created the perfect contrast for the next 44 minutes, which were nothing less than exquisite. Bailey accounted for five touchdowns and the Eagles' defense amassed six turnovers to give Buzzo his first head coaching victory in emphatic fashion, 55-15 over Brentsville at home in Bealeton.
"Hey, we're 1-0. Can't be any happier," Buzzo said. "I was pretty nervous just because it's Game One as head coach."
Bailey felt similar, but he played phenomenally after his initial fumble. The junior quarterback completed seven of his first eight passes en route to finishing with 211 yards and four touchdowns, all in the first half. He ended 10-for-18 while also running for 14 yards and a touchdown on four carries.
"It feels great," Bailey said. "I was expecting a good game, but not that good."
He threw his first touchdown pass to Wyatt Hicks, a 24-yard play against a Brentsville blitz with 3 minutes, 26 seconds remaining in the first quarter. That cut the Eagles' deficit to 7-6 after a failed two-point conversion. Then Bailey gave Liberty the lead for good with a 31-yard touchdown pass on a slant to Tre'Von White with 1:23 remaining in the first.
So Bailey impressed in his first varsity action after serving as the Eagles' junior varsity quarterback last season.
"I've been nervous. I'm not going to lie," Bailey said. "But all summer I've just been working, working, working.
"Even when we're not at practice, we're practicing," he said. "It's just knowing defenses; studying up on other teams."
Bailey's physical stature has also helped him improve. He went from a 6-foot-1, 165-pound sophomore to a 6-3, 177 junior.
"So God helped him out a little bit, and some hard work helped him out," Buzzo said. "He's got longer arms and he's gotten 20 pounds bigger, so he can throw the ball further. … His offseason was phenomenal."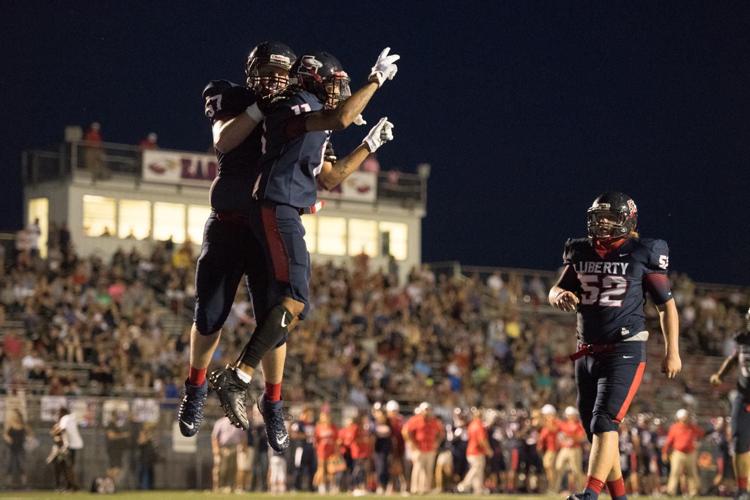 Bailey is one of only three new starters on Liberty's offense, so he played Friday surrounded by experienced players, including three returning starters at wide receiver. White led the Eagles with 92 yards and two touchdowns on three receptions before earning an ejection early in the second quarter. Hicks added 84 yards and a touchdown on three catches while Justin Lawson caught an 18-yard touchdown pass.
"Senior wide receivers, and athletic people, is very nice to have as a quarterback, especially with how [well] the O-line blocked tonight," Bailey said. "I couldn't ask for anything better."
Liberty's offensive line features the likes of Colby Lewis, Jordan Woodson, Jon Kuhler, Josh James and Austin Shutt, who is the lone new starter among that group. With them, Bailey threw accurate passes on all levels of the field Friday, causing problems for Brentsville's secondary.
"He was taking advantage of broken coverages," Tigers head coach Joe Mullinax said. "It was mental busts on our end. But that kid has a good arm."
Bailey and the Eagles sometimes exploited Brentsville's defense by using run-pass-option plays.
"That's what we're working with him on the most – throwing the ball on a run play," Buzzo said. "Pulling it and throwing it, and not really having to set your feet. He can throw from multiple arm angles."
Bailey didn't have the chance to throw during Liberty's first offensive play of the game. He tried to roll out of the pocket, by design, but ran directly into a blitzing Brentsville linebacker. Yuri Smaltz stripped the ball from Bailey's hand for a sack before returning it 12 yards for a touchdown.
So the Eagles trailed 7-0 only 16 seconds into the game.
"I definitely should have kept two hands on the ball. One hundred percent a mistake by me," Bailey said. "I was like, 'Dude, I just really messed up.'"
He wasn't alone. Lawson muffed the ensuing kickoff to give Brentsville possession on Liberty's 18-yard line. The Eagles' defense, however, made four consecutive stops on its 3-yard line to force a turnover on downs with a fourth-down tackle by senior linebacker Fred Harris, who finished with two tackles-for-loss and a fumble recovery.
But then running back Markkel Newman lost a fumble to end the Eagles' next possession on their 12-yard line.
"We had a lot of glazed eyes at that point," said Buzzo, who only a few years ago played at Liberty as a lineman, with his father, Tommy, as head coach. "I think everyone was just too uptight to start the game."
Nonetheless, Liberty's defense soon made another fourth-down stop. White intercepted a pass at the 14-yard line to keep the Tigers' lead at 7-0, which led to a 55-0 run for the Eagles.
"We had them on the ropes there," Mullinax said of Liberty's three early fumbles. "Had them a little shocked, and we weren't able to take advantage. There's a lot of opportunity lost there."
The Eagles held Brentsville to only 150 yards of total offense in the game, 75 of which came on the Tigers' final drive, when they already trailed 55-7. Liberty's defense amassed four interceptions and two fumble recoveries. White had one interception and one fumble recovery, while Keegan Shipe had two tackles-for-loss, and he returned an interception 31 yards for a touchdown.
Lawson and Saud Ismael added one interception each, while Michael Baldwin had two tackles-for-loss.
"We knew we had potential; that our defense was really good," said Hicks, a junior defensive back. "I have to give credit to our linebackers and our linemen. They did really well. They're great at filling gaps and doing their stunts."
For Brentsville's defense, Jakob Morgan and Smaltz each had one tackle-for-loss and one fumble recovery.
Regardless, the Tigers' loss gave Liberty a 14-1 all-time record in the rivalry. Last season, the Eagles won the matchup only 29-8 en route to a 5-5 record, while Brentsville finished 6-6.
Liberty began this fall with returning starters at 13 of 22 positions while the Tigers had 18 returning starters. That significant experience on Brentsville's roster left Mullinax somewhat disappointed Friday.
"We're better than what we showed tonight," he said. "We have a lot of improving to do in a lot of different ways."