High school sports are already underway, with a series of golf tournaments getting the schedule started.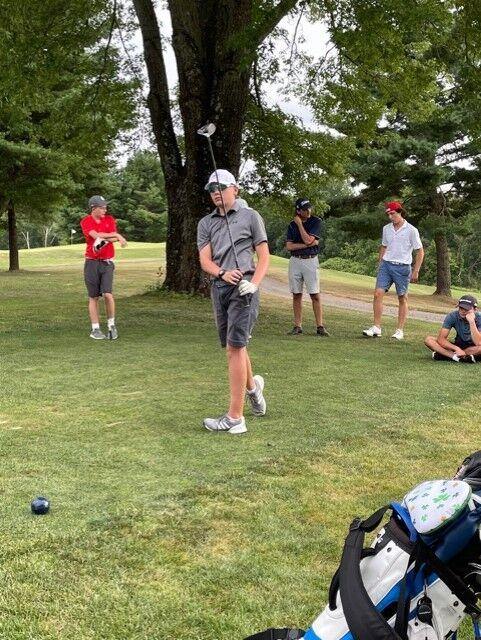 Across Prince William County, young golfers are seeking to sharpen their swings and lower their scores, with one new school is taking its initial hacks on the links.
Here's a look at some of the golf teams we'll be watching:
Battlefield Bobcats
The Bobcats wasted no time announcing their intention to defend their Region B championship last season. On Aug. 5, Battlefield won the Prince William Cup, shooting a 289 to mark its lowest team score in six seasons.
That feat came on the heels of a quad victory Aug. 4 at Bull Run Golf Course, and a runner-up finish Aug. 2 in the Riverbend Invitational at Fawn Lake.
"The season is off to a great start," fifth-year head coach Russ Fricke said. "The team this year is as deep a team as I've coached while at Battlefield."
Senior Dylan Grace, the region's individual champion last season and a top-10 finisher at states, is the Bobcats' "true leader," Fricke said. But a core of seniors including Tate Corbett, Nick Grzejka, Gavin Furlong, and Will Harley will take turns leading the team.
Like that senior crop, junior Colby Burnett and sophomore Paxton Ihm are both capable of shooting in the 70s on a regular basis.
"[They] have improved significantly over summer through regional junior competition and added to the overall depth of the team," Fricke said.
For the Bobcats to break through and capture an elusive state title, they must outshoot the Langley Saxons, current five-time defending state champs.
"With six kids capable of shooting under par on a given day, we will have to play our best to stay with Langley," Fricke said. "We have been chasing Langley every year as they are a model of success. Every year the kids want to be the team that knocks them off their pedestal. This group expects to be that team and so do I."
Patriot Pioneers
Veteran head coach Darin Snoots likes the early returns his golfers are bringing in.
"Every player matched or bettered their qualifying scores," he said shortly after his top-6 players shot a collective 325 in a quad match Aug. 4 versus Gainesville and Freedom of South Riding.
Senior Hunter Holyfield led the Pioneers with a round of 74.
Snoots, in his sixth season at Patriot after an eight-year stint at Woodbridge, is seeing some new faces on his roster. 
Five freshmen join a team of eight returners competing for the top 6.
Seniors Brady Sullivan and Will Brandenburg, plus junior Evan Song and sophomore Matt Santee comprise "the core of the Patriot golf team," Snoots said. Most of those players were part of the Pioneers' state tournament squad of 2019.
A pair of freshmen, Conner Power and Gavin McGregor, are on the rise.
In an intra-squad duel for the team's final spot in the team's top 6,  Power and McGregor found themselves locked in a 54-hole showdown that went to a two-hole playoff. Power ultimately prevailed in a testament to sportsmanship.
"After 56 holes [they] took their hats off to one another, fist-bumped, and showed 100% respect for one another after that grueling qualifier," Snoots said.
Woodbridge Vikings
Experience at the top of the lineup will determine the Vikings' season. Eighth-year head coach Mark Chmelko will look to seniors Cade Martin and Kyle Huston along with junior Jacob Steifel to provide stability.
"Their past match history will hopefully set the example for the others on the team," Chmelko said.
The Vikings return their top 6 from a year ago, allowing Chmelko to set his expectations a little higher.
"My goal is for the team to contend for the regular season district title and the district tournament," he said. "Ultimately qualify as a team for the regional tournament."
Colgan Sharks
Head coach Brian Beaty will look to sophomore Christopher Wittman to lead a young team of Sharks. As a freshman last year, Wittman tied for first in the individual category of the district tournament.
"The biggest thing we need to do is to learn from our first match … and continue to grow," Beaty said.
Forest Park Bruins
Like Colgan, the Bruins are a young team that figures to be led by sophomore Tyler Greenleaf.
Greenleaf is a returner who first-year head coach Kip Whitney expects to be Forest Park's most competitive golfer.
"Kids are trying hard, having fun. This year will be a developing year with such a young team," Whitney said.
Gainesville Cardinals
The Cardinals may be in their first-ever season, but at least they have plenty of high-caliber experience at the helm.
Scott King was the men's golf coach at George Mason University for 14 seasons until 2019, and he's the PGA Teaching Professional for Prince William Golf.
"I'm hoping as a new coach to be able to have my players trust my experience and past success working with junior golfers," he said. "Not many high school players have the opportunity to work with a career college coach."
King assumes the reins of Gainesville's brand new program, which is heavy on sophomores, but he already knows a few golfers he can count on.
"Freshman Jack Schimler has been the standout so far," the coach said. "All of his competitive rounds have been career bests."
He noted Cassie Peterman and Zoe Heaton as golfers with previous experience. More roster spots may be filled in with interested players, he indicated.
"I was hired late, [so] I haven't had much time to evaluate or work with the players," King said. "The kids have been great, understanding where we are and that there will be some bumps along the road."
King said a few individual Cardinals could swing and putt their way into the postseason, "if they dedicate themselves to the process," he said.