There may have been a special element in the air of Brentsville's gym last week. 
Two competition cheer teams practiced there Tuesday. Then they both won state championships Saturday at Virginia Commonwealth University's Siegel Center in Richmond.
The Battlefield Bobcats practiced on Brentsville's mats because an election polling place took over their own gym in Haymarket for the day, but that displacement didn't keep them from winning the first state title in program history by beating runner-up Chantilly 264.5-252 in the Class 6 competition. And the Tigers, naturally, practiced in their own Nokesville gym before winning the third state championship in program history by beating runner-up Cave Springs 264-259.5 in the Class 3 competition.
So two Prince William County teams pulled off the rare feat of each winning a title on the same day.
"Being able to share this with them was amazing," Brentsville coach Taryn Witt said of the Bobcats. "It's awesome getting to cheer each other on. … We were just so super excited for them."
Witt is actually a good friend of Battlefield coach Robin Burkhart. So they got a nice moment to celebrate together Saturday.
"Taryn's amazing," Burkhart said. "She has an outstanding program.
"To represent Prince William County with two teams is pretty impressive," Burkhart said. "We've always supported each other."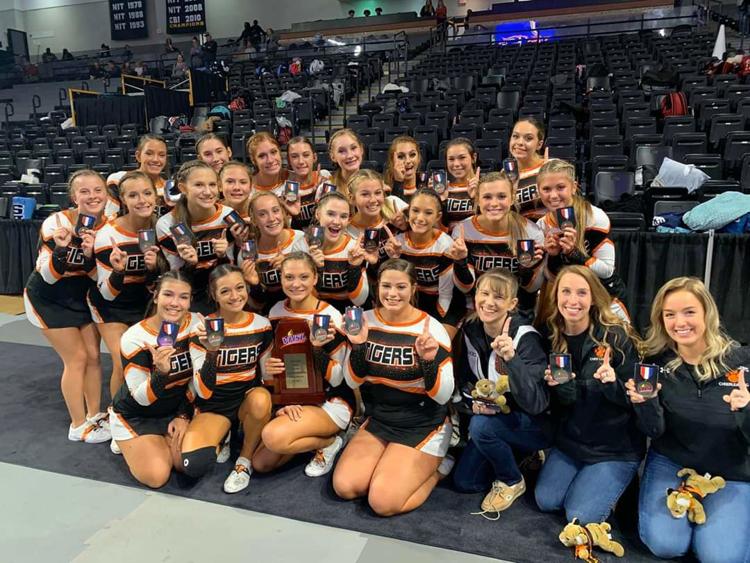 Brentsville won the Class 3 title by avenging a 2018 loss to Cave Springs. The Knights won the state championship last season by a mere one point over the runner-up Tigers, 273.5-272.5.
"From the day after that state [meet] they were determined to come back and win it," Witt said. "We had a theme this year of 'Plus One' because we just wanted that one extra point."
They got it, and more. Brentsville won by 4.5 points Saturday after losing only a few seniors to graduation following last season.
"Cave Springs is a super-talented team," Witt said. "We respect each other completely."
The Tigers have made a habit of winning a state title every six years. They last won the Class 3A championship in 2013 after winning the 2007 Group AA state championship.
"An amazing feeling," Witt said. "It's just an honor.
"It's a lot of hard work," she said. "You see these kids' dedication every day, so being able to show their talents and be rewarded in the end is just really gratifying."
Battlefield similarly won Saturday after coming tantalizingly close to the title in 2018. The Bobcats fell short by only 1.5 points last season, finishing third in Class 6 behind champion Grassfield.
"That really had them focused on this year," Burkhart said. "They put in a lot of effort; a lot of time.
"It's really special; really proud of [them]," she said. "They did a fantastic job."
With 11 seniors on their roster, the Bobcats advanced to the finals Saturday by dominating the first round by nearly 25 points.
"Pretty impressive," Burkhart said. "A lot of senior leadership was huge – girls that have been in the program for a long time."
Last week, Battlefield won the Region 6B championship, beating runner-up Patriot 260-249 after previously claiming the 2018 Region 6D title. The Bobcats also finished first in the 2019 Cedar Run District, giving them six conference-level championships in their history.
Similarly, Brentsville won the fourth region championship in program history (2014, 2007), beating Independence 267.5-261 in the Region 3B meet. Plus, earlier in October, the Tigers won their seventh consecutive conference-level title at the Class 3 Northwestern District meet.