Nine years ago, Nick Mayhugh lay in bed at home in Gainesville, unable to move and convinced he was going to die. 
Then he blacked out and bit through his tongue.
Mayhugh soon regained consciousness but only to end up lying in a hospital bed in Manassas, listening to a doctor say he may never play soccer again thanks to the grand mal seizure he had experienced. Before that day, he had envisioned going from playing for the D.C. United Academy team to playing for an NCAA Division I team to playing for the U.S. Men's National Team, but that path disintegrated in his mind after the seizure.
Nonetheless, just last month, Mayhugh lay in a bed in Seville, Spain, reflecting on his five-goal performance for the U.S. Paralympic National Team that caught the attention of one of America's most beloved soccer players, Alex Morgan, who gave him a shout out on Twitter.
"It's been a wild ride," Mayhugh, a 2014 Patriot High graduate, said. "I remember growing up and always wanting to play for my country. It's a dream come true.
"I'm just in awe that I'm actually playing," said Mayhugh, who graduated from Radford University in 2018 after playing for its men's soccer team despite learning in 2010 that he had a debilitating golf-ball-sized dead spot in his brain. "It's been amazing."
While in Spain for two weeks, Mayhugh helped the U.S. Para 7-A-Side National Team place sixth in the 2019 International Federation of Cerebral Palsy Football World Cup, setting an American record with 11 goals in the tournament. Mayhugh, 23, scored a team-record five of those goals July 10 during a 13-0 win over Finland as the U.S. played its way to first place in the Group B pool.
About a month earlier, Morgan and the U.S. Women's National Team had an eerily similar showing June 11 during their World Cup. Morgan scored five goals as the Americans defeated Thailand 13-0 and grabbed international headlines for the rout.
After Mayhugh mimicked that performance against Finland, Morgan's Twitter account celebrated his feat. The ensuing social media favorites, retweets and comments sent a couple thousand notifications through Mayhugh's phone.
"That was a moment of 'Holy cow, I can't believe it. That's crazy,'" Mayhugh said of Morgan's shout out. "My phone actually was bugging out and wasn't working for hours after that.
"But it was a good problem to have," said Mayhugh, who has played in 22 matches with the national team since joining the U.S. in 2017.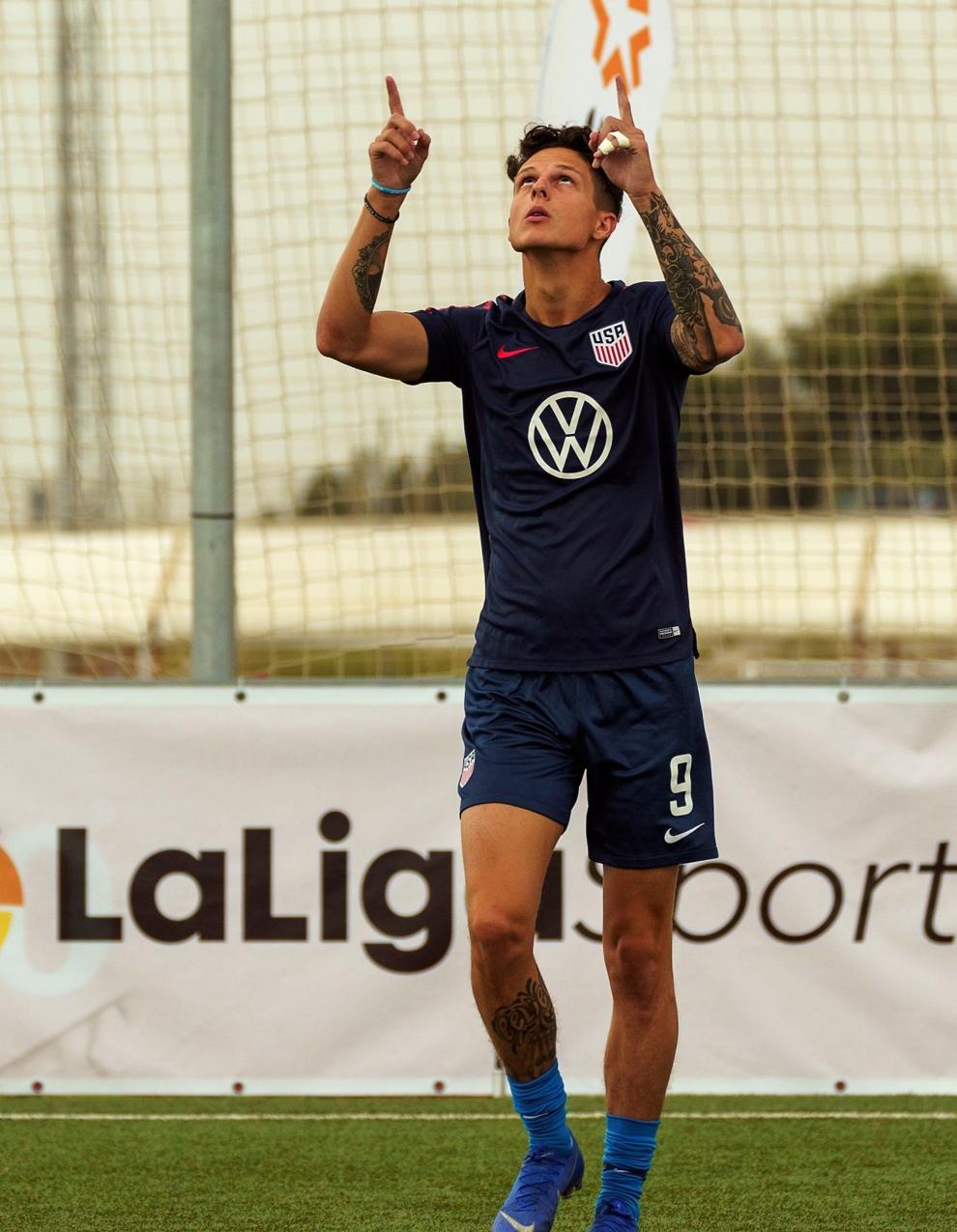 Left frustrated
Nick Mayhugh realized at a young age that he didn't have the same control and feeling in the left side of his body as in the right side. 
But he didn't receive an accurate diagnosis until after suffering that grand mal seizure in 2010. So, for a long string of frustrating years, coaches often assumed he was just a right-dominant player who didn't work hard enough to improve his left-side skills.
"I remember failing at it miserably, trying to use my left foot," Mayhugh said. "I remember crying on the ride home in the car."
His doctors didn't have any answers and his parents, Stephnee Peer and Scott Mayhugh, didn't seem to understand.
So Nick Mayhugh spent years devoting extra time to practicing with his left foot, often doing drills with his older brother, Thomas, until the sun set. He also had to work on perfecting every-day tasks as he grew up. He would close his bedroom door, for example, and teach himself to walk with less of a limp.
"And teaching myself how to tie my shoes because I couldn't feel the fingers on my left hand," Mayhugh said. "And to not fall over getting dressed.
"I developed such strong coping mechanisms trying to make things look as fluid as possible," he said.
In elementary school, Mayhugh tried to learn to play the recorder, a flute-like instrument, but he struggled without much feeling in his left hand. The circular holes of the recorder would actually imprint on his fingers, so he could see proof that he was at least trying to play certain notes.
"I said to the teacher, 'You can see the circle, but I can't feel that," Mayhugh said, trying to justify his struggles. "That actually got me in trouble. Nobody really took it seriously. They just thought I was the class clown."
In reality, Mayhugh had a form of cerebral palsy, which his 2010 seizure finally revealed, albeit not in the most pleasant way.
"I was scared and convinced I was going to die," Mayhugh said of the seizure that caused him to bite through his tongue and left him unconscious. "In the ambulance, I was waking up with dried blood all down my chin and T-shirt."
Later, his neurologist said Mayhugh likely had a stroke inutero, which damaged some brain cells responsible for muscle control and movement. That explained the differences between the left and right sides of his body.
"I remember feeling a sense of relief and a weight off my shoulders," Mayhugh said of finally receiving a diagnosis. "I looked at my mom and dad and was like, 'You guys believe me now?'
"But then, in the next couple words, my neurologist said I was never going to play soccer again," he said. "It was a rough couple of months and definitely the darkest part of my life."
Mayhugh did not play soccer for about six months and lost his spot on his D.C. United Academy club team, but his doctor eventually cleared him to play again as concern over continued seizures abated. So Mayhugh has taken medication almost every morning and evening for nine years to avoid another incident, and he has played plenty of soccer in that time.
"To represent my country and travel the world is amazing," he said. "It's a once-in-a-lifetime opportunity."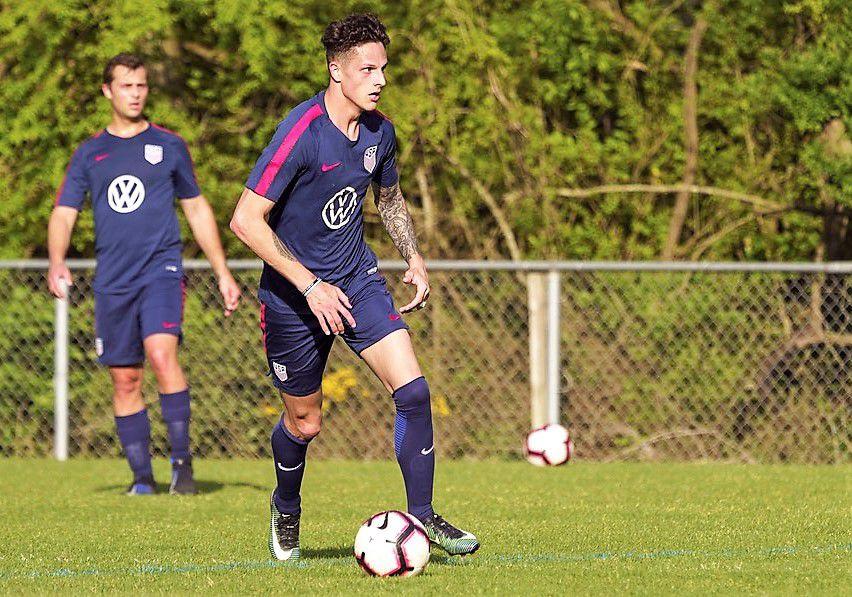 Enjoying opportunity 
Nick Mayhugh told very few people about the physical challenges he faced.
Not during his youth soccer days, or in his time playing for Patriot, or during his first two seasons with an NCAA Division I men's soccer team at Radford University.
"I didn't want to be looked at any different or held to a different standard," he said, "because I knew the type of player I was" regardless.
But then Mayhugh earned a spot on the U.S. Paralympic National Team, making his diagnosis effectively impossible to keep secret, especially after Radford's Big South Conference produced a video interview with Mayhugh about the challenges he's overcome. So now Mayhugh embraces chances to talk about his journey.
He didn't even realize playing for the Paralympic team was an option until he saw an Instagram post that advertised the U.S. team's tryouts during June 2017, leading up to his junior year at Radford. After seeing that the qualifications included having either a traumatic brain injury, a stroke or cerebral palsy, Mayhugh expressed his interest, and U.S. coach Stuart Sharp then reached out to him.
Sharp invited Mayhugh to a national team camp in Chicago, where they conducted classification testing. Mayhugh earned a spot on the team and only a few weeks later he made his international playing debut for the U.S. in Santiago, Chile.
"I was kind of overcome by the moment," he said. "I blacked out a little bit on the field. I had to shake myself back into it."
This year, Mayhugh began the IFCPF World Cup by scoring the winning goal in a 3-2 victory over Iran.
"Was an ultimate high for me," he said. "I've just been trying to ride off that confidence."
The U.S. finished 3-2-1 in group play before ending the tournament with a 4-3 loss in overtime to Iran during the fifth-place match. Regardless, Mayhugh enjoyed his opportunity to play in Spain after previous trips with the national team to San Luis and Buenos Aires, Argentina.
"I get to travel the world and play the game I love," he said. "But the most interesting and greatest people I've met are on the team.
"It's such a unique experience just being in a room with all my teammates," he said. "Each of us have been through a setback or tragic events. We all have that story, but as soon as we get in a room, those stories [disappear] and it's just a group of elite athletes."
Yet they don't draw the same attention as other U.S. national teams, such as the men's, women's and youth squads. So Mayhugh has also begun to do some public speaking as he tries to raise awareness about the U.S. Paralympics team.
"I spent 21 years without knowing the team was a thing," he said. "I was completely unaware.
"It's just getting the word out there that this entire world exists for people who have physical disabilities," he said. "But I wouldn't consider any of the guys on the team to be quote-unquote disabled."