Republican gubernatorial candidate Glenn Youngkin visited Warrenton Thursday afternoon to hold a campaign rally at Eva Walker Memorial Park. With polls showing a narrow race, Youngkin has been extensively touring the commonwealth to drum up support.
Taking the stage before a crowd of around 300 supporters, Youngkin stressed the differences between himself and his opponent, former governor Terry McAuliffe, decrying the Democratic candidate's plans for "big government" as well as the years of "liberal leadership" in Richmond.
"It's no longer Republicans against Democrats," Youngkin said of the upcoming election. "It's Virginians standing up to this liberal, left-leaning agenda."
During a roughly 20-minute speech, Youngkin emphasized his "day one" plans for Virginia, including lowering taxes, supporting law enforcement and remaking the education system.
"Day one, we're going to cut the cost of living by cutting everyone's income tax," said Youngkin, calling his proposed policy "the largest tax refund in Virginia's history."
At the same time, he said, his plan would raise salaries for law enforcement officers and protect qualified immunity.
Youngkin's plan calls for several changes to Virginia's public schools, most prominently, perhaps, the expansion of charter schools. Investing in charter schools, he said, would "give parents a choice" in how their children are educated.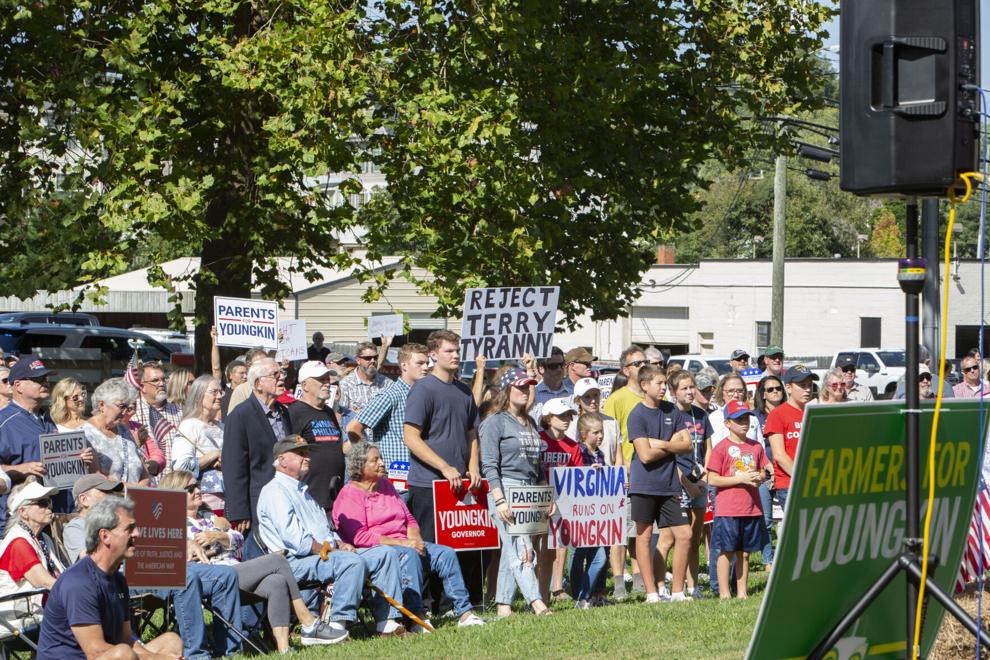 Youngkin also proposed banning "critical race theory" from school curricula, quoting Martin Luther King Jr.'s famous line about not judging others by the color of their skin. CRT is a graduate-level legal theory that is not currently taught in Virginia schools.
Most of Youngkin's proposals, including cutting taxes and raising law enforcement salaries, would require support from the General Assembly.
"I loved every part of it," Dave Norden, one of the rally's attendees, said of Youngkin's speech.
The school systems, said Norden, are one of his primary concerns. "This whole new 'Critical Race Theory' is about dividing people by skin color," he said. "I don't know why we're reversing course and making everything about skin color."
The rally was billed as a "parents matter rally," and lots of families seemed on board with the idea that parents should have a bigger role in determining the curriculum in public schools.
Bella Suddarth, 12, was at the rally with her mom, Macaria Suddarth. Bella said, "I feel like my family should have a say in what we learn, instead of them [the government] deciding what we should learn."
The Auburn Middle School student gave as a simple example the stickers that students are given to recognize good work or behavior.
"There were stickers that said, 'I love God,' but we were told we couldn't have those because they might be offensive to someone. But 'Love is love' stickers were allowed,'" she said.
She added that a video students were shown reflected a romance between two girls. "They allow some controversial topics, but not others," she said.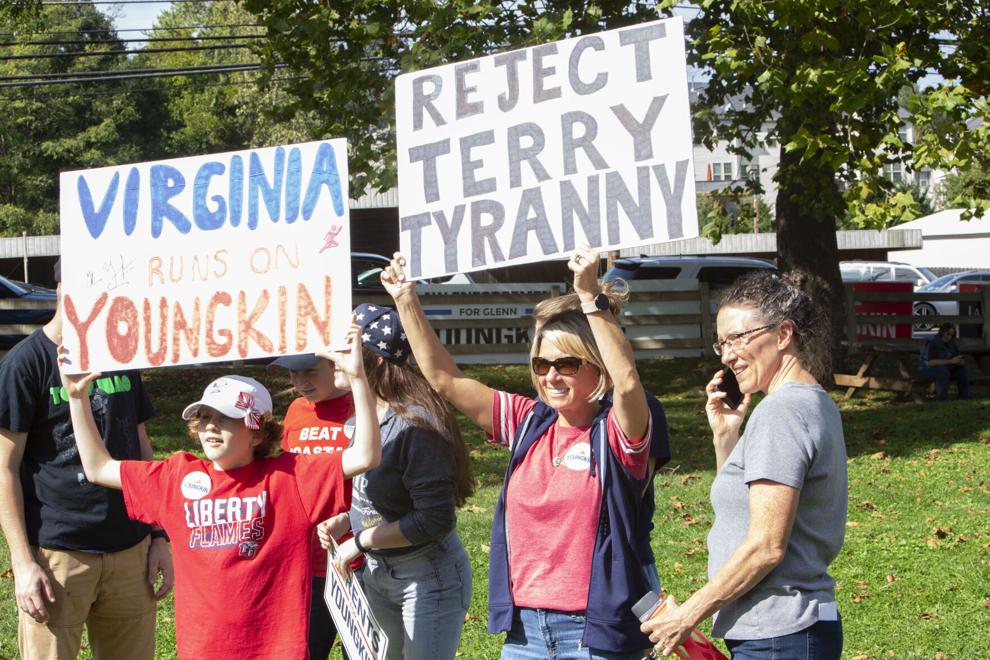 Macaria Suddarth said she thought that anyone who cares about personal liberty and freedom would find Youngkin's platform appealing. When asked whether she felt abortion was an example of a personal choice, she said, "I don't see abortion as a personal choice. It's like saying it's OK to kill your child. A life is a life."
She said that she does have some concerns about the death penalty. "I know that some innocent people have been killed. I value those lives, too."
Glenn Hourahan was at the rally with his wife Laurie Hourahan. "We are here to support the governor," he said. When asked if he thought Youngkin would win the governor's race, he said, "I hope so. If he doesn't, we'll have to move."
Hourahan said he is in favor of less government, more fiscal responsibility and added he appreciated Youngkin's support of "personal freedom."
He listed restrictions on guns and vaccine mandates as examples of the infringement of government on personal freedoms. He added, "And parents should have a say in what gets taught in schools."
Carol Andrews of Warrenton admired Youngkin's public speaking. "He's an excellent speaker. What he's saying sounds really good to me."
When speaking with reporters, Youngkin distanced himself from a rally held a day earlier n Richmond in support of the GOP ticket, during which attendees pledged allegiance to a flag that had allegedly been flown at the Jan. 6 insurrection at the U.S. Capitol. Youngkin did not attend the event.
"I wasn't involved so I don't know," Youngkin said. "But if that was the case, then we shouldn't pledge allegiance to that flag. There is no place for violence in America today."
In a statement released later that afternoon, Youngkin said that it was "weird and wrong to pledge allegiance to a flag connected to Jan. 6."
Youngkin also disputed the claims of widespread fraud in the 2020 election made during the Richmond rally, which featured former president Donald Trump—who spoke over the phone—and his former advisor, Stephen Bannon.
"I've been very, very clear from the beginning that I don't think there was massive fraud in Virginia and that Joe Biden was legitimately elected our president," Youngkin said.
Trump has endorsed Youngkin. But when asked whether he would like to have Trump come campaign in Virginia, Youngkin said, "The only chief surrogate for Glenn Youngkin is Glenn Youngkin."