Angel Romero said he was in elementary school when he first learned that some of his classmates' parents had been detained and eventually deported after run-ins with local police. That was about 11 years ago, Romero said, when he was 10 years old and his family lived in Dumfries. 
"Eventually, I started feeling scared that my parents might be gone when I came home from school," Romero, now 21, said Friday. "That's when my parents decided it wasn't safe for us to live in Prince William County." 
Romero's family moved to Stafford County, where they remain today. He said he retained a subconscious fear, over the years, that his parents might still be deported but felt "slightly more safe" in Stafford because the county does not have a 287(g) agreement with U.S. Immigration and Customs Enforcement like Prince William County.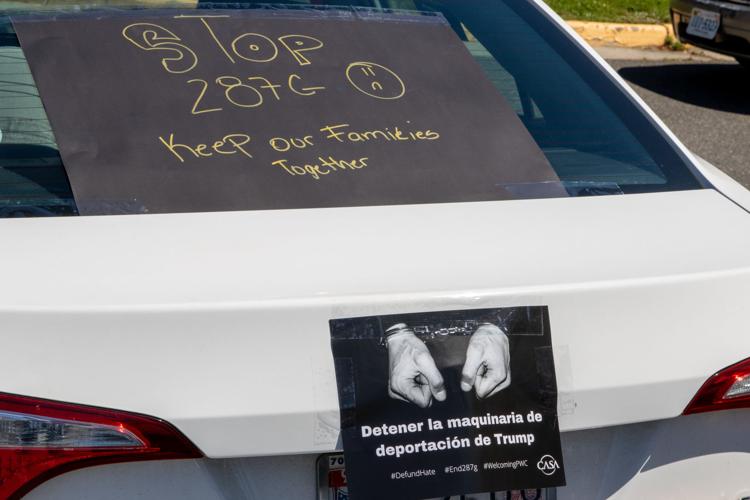 Romero was back in Prince William on Friday, however, to join about two dozen CASA activists in a protest outside the Prince William courthouse and jail.
Carrying signs saying: "Defund Hate" and "Stop Trump's deportation machine," the group staged a car rally and then circled Lee Avenue in front of the courthouse on foot, chanting their opposition to the jail's 287(g) agreement with ICE in both Spanish and English.
CASA activists staged the Friday, June 12, protest because the jail board is scheduled to decide Wednesday, June 17, whether to extend the county's 13-year-old agreement with ICE or let it expire. The protesters are pushing for the latter.
"If we as a community don't speak up for ourselves, we can't expect that anyone else will speak up for us," Romero said.
The Prince William Manassas Regional Adult Detention Center has maintained a 287(g) memorandum of understanding with ICE since 2007. Under the agreement, which gets its name from section 287(g) of the Immigration and Nationality Act, local sheriff's deputies in the jail work as ICE agents, effectively giving ICE direct access to local inmates.
Using federal ICE databases, the ICE-trained officers investigate inmates' immigration status, report their presence to ICE and agree to hold inmates for up to 48 hours past their release dates so ICE can pick them up and detain them in ICE facilities if the agency issues a "detainer" for that purpose.
Prince William and Culpeper counties are the only two jurisdictions in Virginia that maintain such agreements with ICE. Between 2011 and 2019, 6,503 inmates have been transferred to ICE custody from the local jail, according to jail records obtained through a Freedom of Information Act request. 
Prince William County and Manassas, which fund the jail, pay the salaries of the jail officers trained to work as ICE agents inside the facility. The program cost $6.3 million from 2011 to 2019, of which $3.9 million was reimbursed by the federal government. The rest, about $2.4 million – or an average of about $350,000 a year -- has been paid by Prince William and Manassas tax dollars.
Wednesday's vote could be a turning point. On the campaign trail last fall, several members of the now Democratic-majority Prince William Board of County Supervisors said they did not support 287(g). 
After a marathon May 19 meeting that stretched into the early morning hours on May 20, Prince William supervisors appointed three new members to the 11-member jail board, including Del. Elizabeth Guzman, D-31st, a critic of 287(g) program who has said she will "definitely vote to let it expire." 
The other new members -- local NAACP President Cozy Bailey and Tracey Lenox, a longtime defense attorney recently picked to lead the county's new public defenders' office -- declined to say whether they would vote against the agreement in the wake of the supervisors' vote. The supervisors themselves are split along party lines on 287(g). The board's three Republican supervisors voted against the new appointees, saying they feared they would vote to end the county's 287(g) program. 
Sheriff Glen Hill, a Republican, and jail Superintendent Pete Meletis spoke favorably of the ICE agreement during the supervisors' May 19-20 meeting, saying it allows insight into inmates' criminal records in their native countries.
Hill has been a supporter of the ICE agreement since he signed onto the program and says it helps local law enforcement investigate criminal activity in the county.
Hill is chairman of the jail board. The agenda for the jail board's June 17 meeting contains a resolution to extend the 287(g) MOU – not let it expire – in part because neither the Prince William Board of County Supervisors nor the Manassas City Council has passed resolutions calling for the program to end, the resolution says.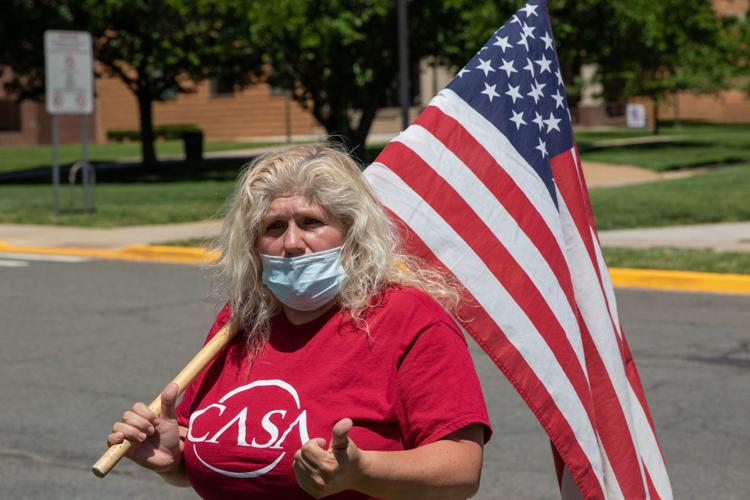 The uncertainty about what the jail board will ultimately decide this week prompted the CASA protest, said Ivania Castillo, a member of the group who lives in Lake Ridge.
Castillo carried an American flag to the rally and said she is tired of seeing her friends in the local Latino community targeted by 287(g), which she called a "racist" program left over from former county board chairman Corey Stewart.
Castillo said the aim of the protest was to send a message to Hill and the jail board.
"Our brothers and sisters have come to this jail here, and they've never come out. They put them inside this jail here, and then they deport them, separating them from their families," Castillo said, as protesters circled the courthouse parking lot in their cars.
"It's pain and suffering that Corey Stewart and Sheriff Glen Hill have caused to our community. They don't understand that our community, every day that they go out, they live in fear. 
"Around the country, it is well known that [Prince William County] is racist. And our community is not racist … but now we still have in power Sheriff Glen Hill," she added. "He needs to understand that enough is enough, we don't need 287(g)."
Castillo said 287(g) has "separated" the Latino community from police and that people are afraid to interact with police because they fear they or family members could be arrested, detained and ultimately deported because of the 287(g) agreement.
It's not clear how many of the 6,503 local inmates transferred to ICE custody over the last eight years have been deported. ICE refuses to release that information about the people it takes into custody for immigration violations because the violations are civil – not criminal – and therefore the detainees' names, criminal charges and immigration statuses are not a matter of public record, agency officials say.
Castillo said fears of deportation have even affected whether members of the Latino community have sought COVID-19 tests, even though the pandemic has disproportionately affected local Hispanic residents. People are afraid to be tested because they have to show identification, Castillo said.
Castillo said CASA believes Guzman will vote to end the 287(g) agreement, but they are not sure about the rest of the jail board members. She said CASA members plan to have a presence at the jail board meeting – whether inside or outside the jail building – to urge board members to reject the agreement.
The jail board's agenda, released later Friday, said the meeting will be conducted via Zoom, however, because of the ongoing state of emergency. Public comments must be submitted by writing via email to adccomment@pwcgov.org by 5 p.m. today, Monday, June 15.
"We want to send a message to Sheriff Glen Hill that we are here in Prince William County and we are not going nowhere," Castillo said. "This is our home. This is where we live. We are staying here, and we want them to remove 287(g)."
Reach Jill Palermo at jpalermo@fauquier.com