After significant design changes and multiple delays over the years, construction on the long-awaited Rollins Ford Regional Park, located in western Prince William, is finally underway. And it promises many exciting amenities.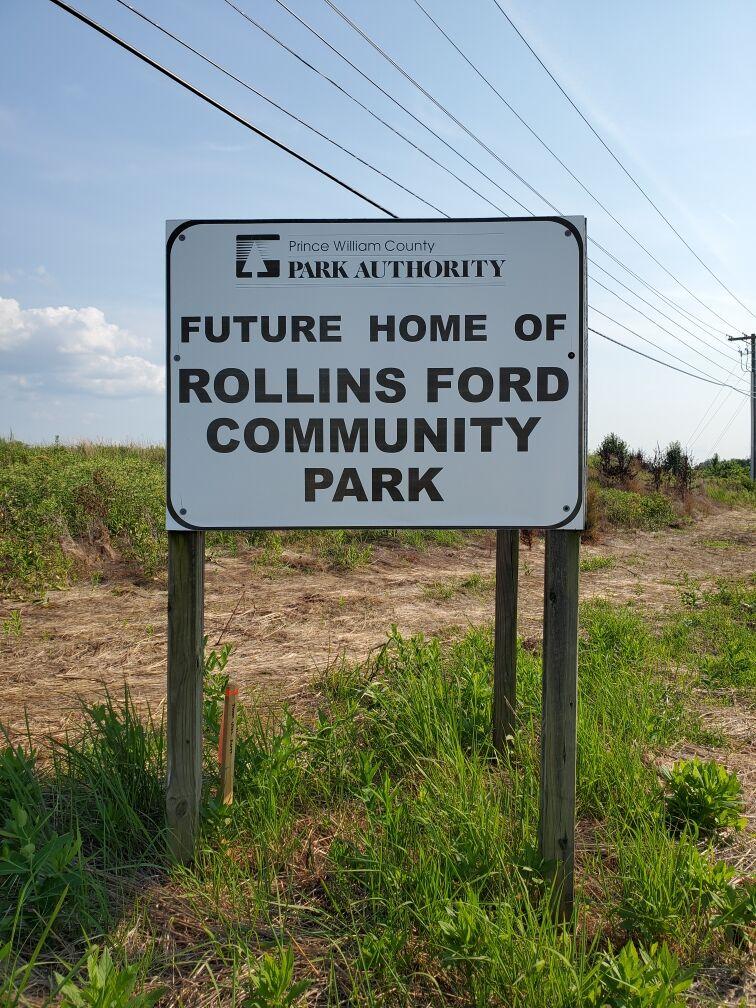 The latest design of the almost 70-acre park includes a basketball court and two large multi-purpose grass fields for soccer, lacrosse or football practice. It also includes a "pump track" for bike riders, which is a continuous course designed to maximize momentum to ride with minimum pedaling.
For nature-lovers, the park will include a large pollinator meadow consisting of native plants and wildlife. One of the goals for the project is "to really highlight our local ecosystem and the importance of native plantings," said Supervisor Jeanine Lawson, R-Brentsville, whose district contains the long-awaited park. 
A walking trail around the whole property is also part of the design so visitors will be able to take in the meadow from many different vantage points.
The crown jewel of the park will be a custom-designed, farmhouse-themed playground, which will be suitable for all ages and ADA compliant. The playground will include a large barn with two slides, a smaller barn for toddlers and playground equipment in the shapes of a red cardinal and cows.
These are "really cool features that we've tried to incorporate to make sure that people really get that feel of the rural crescent when they come out and visit Rollins Ford Park," said Erica Tredinnick, the Brentsville appointee to the Prince William County Parks and Recreation Commission.
The playground is planned to be another "destination playground," one families might consider worthy of a special trip. The county just opened a destination playground at Catharpin Regional Park in June.
"We really wanted to think about all the things as a mom, as a parent, that make you want to go there and stay there for hours.  Think Clemyjontri Park [in Fairfax County] …  That's a destination playground.  I want Rollins Ford to be that in Prince William County. I want people to say, 'We know that park for all these awesome features,'" Tredinnick said.
The park's other amenities are planned to include an ample dog park, a 1,200-square-foot "comfort station" building that will house permanent bathrooms and two covered picnic shelters or pavilions, according to Amarjit S. Riat, engineering manager for Prince William County's Department of Parks, Recreation and Tourism. Both pavilions will be available for gatherings or open-air events.
Regarding the pavilions, Lawson said it was important to provide "some type of space to have a large gathering area [where] people can host an event at the public park."
"They'll have to reserve it and they'll probably have to pay a small fee. But I wanted this to be a central meeting location for … moms' groups, athletic groups. I really had a vision of this serving everybody. And I'm so thrilled that's exactly what it will do," Lawson said.
County acquired the parkland in 2006
The park has been 15 years in the making and began when the land initially known as the "Wiita Property" was conveyed to the county for parks and recreation purposes as a proffer as part of the Wellington Glen rezoning in 2006.
The park is estimated to cost about $8 million, which Lawson said is being funded through a variety of county revenue sources, and is not being financed. About $1.8 million of the money was provided by Dominion Energy when it was granted an easement to build power lines through the park in a deal struck by Lawson's predecessor, former Brentsville supervisor Wally Covington.
The remainder of the cost is being funded through an assembly of proffers funds from "a few different developments" and also some funding from the county's general fund dollars, Lawson  said.
Proffers are voluntary contributions from residential developers to offset the impact of new residents on the county's schools, parks, libraries and public safety resources.
Initially, the park was planned to contain only soccer fields, "but the funding wasn't there so it never got off the ground," Lawson said. 
Lawson, who was elected in 2014, said she had a different vision for the park that included both active and passive recreational uses and sought community input. The park "has been redesigned a few times to keep up with the community's desires," said Brendon Hanafin, chief of planning and capital projects for Prince William County's Department of Parks, Recreation and Tourism.
Later, there were some engineering delays caused by the construction and widening of Rollins Ford Road, which resulted in the creation of a stormwater facility on the park property. While it initially presented a problem in the park design, Hanafin said the pond has already been remediated and turned into a landscape water feature for the park. Lawson said fixing the stormwater issue "turned lemons into lemonade" for the park. 
COVID-19 interruptions, increased materials costs, as well as problems in the bidding process, have caused further delays. But now that the design is complete, bids for park's development are expected to be collected this summer. 
Some preliminary work has already begun.  Trees have been planted along the southwestern boundary in advance of the park's development. Hanafin explained that some of the plantings were installed now so they will have time to grow and become an established part of the park landscape during the park construction.
Construction is slated to begin this fall and is expected to take about 18 months. The park's features will be completed in phases, Hanafin said, adding: "There's a lot of earth to move."