Rep. Rob Wittman was among the 197 House Republicans who voted against the impeachment of President Donald Trump Wednesday in the wake of the Jan. 6 pro-Trump riot at the U.S. Capitol that left five dead. 
The U.S. House of Representatives voted 232-197 to impeach Trump, with 10 Republicans voting in favor along with all Democrats, including Reps. Gerald Connolly (11th) and Jennifer Wexton (10th), who represent parts of Prince William County.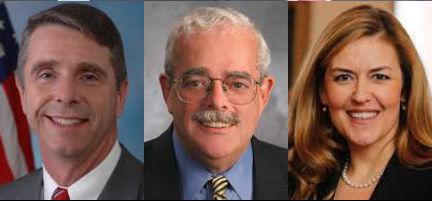 House Democrats introduced articles of impeachment against Trump for "incitement of insurrection," alleging that the president encouraged his supporters to attack the U.S. Capitol building. 
Trump is the first president in United States history to be impeached twice. 
Wittman, who represents Virginia's 1st District, which also includes parts of Prince William County, said in a statement that his vote does not mean he agreed with Trump's actions and statements leading up to the storming and illegal entry of the Capitol building.
"I believe impeaching the lame-duck president before the peaceful transition of power occurs will only further inflame emotions and further divide the Nation," Wittman said. "Our focus now needs to be on unifying our Nation and moving forward as one, and I believe impeachment does the opposite."
Wittman also affirmed that President-elect Joe Biden would be the next president of the United States. Wittman first acknowledged Biden as president-elect on Thursday, Jan. 7, the day after the attempted riot at the Capitol, according to a spokesman. 
Wittman did, however, take part in objecting to the counting of the electoral votes of Pennsylvania on Jan. 6, an action that Trump supporters believed could in part keep Trump in power for another four years. He also signed an amicus brief in support of a Texas lawsuit in December that aimed to derail the presidential election results in four battleground states.
Since the Capitol riot, however, Wittman has denounced the attack on the Capitol, saying that the actions of rioters were "unacceptable, undemocratic, un-American, and criminal."
"This was a senseless attack perpetrated by misguided individuals who were led to believe that something could have been done that day that would have changed the outcome of the election," Wittman said in today's statement. 
Virginia's three other congressional Republicans, Reps. Ben Cline, 6th, Bob Good, 5th, and Morgan Griffith, 9th, also voted against impeaching Trump. 
The pro-Trump mob that stormed the Capitol lasleft five people dead, including a Trump supporter and a Capitol police officer, and has so far resulted in more than 100 arrests of people involved in the incident. Over 50 police officers were injured in the attack, some of whom were seriously injured. 
Prosecutors are reportedly seeking sedition and conspiracy charges against some of those involved. 
Democratic congressional leaders were indignant in the wake of the riot, pushing forward with impeachment proceedings. Wexton said on Wednesday that she planned to vote in favor of impeaching Trump. 
"If we are going to heal the deep wounds that exist in our country, we need to tell the truth. That truth is that the President of the United States incited a violent attack on the Legislative Branch of our government and on our democracy. He assembled a mob of terrorists, whipped them into a frenzy, and sicced them on the U.S. Capitol," Wexton said in a statement. 
Wexton said that Trump's actions put members of Congress at risk, as well as many Capitol Hill workers who live in the Northern Virginia area. The Capitol police officer who was killed, Brian Sicknick, was a resident of Fairfax County. 
"The House of Representatives moved forward with impeachment because not doing so would allow these horrific actions to go unchecked and risk additional violence, destruction, and damage to our republic. The President must be held accountable," Wexton said. "Only then will our country be able to heal."
Connolly said Trump "peddled outrageous lies, attacked our democratic institutions, demagogued state election officials, maligned poll workers, and tried to coerce those in power to overturn election results" before ultimately stoking the crowd that stormed the Capitol.
"Members and staff forced to flee and hide from rioters. Windows shattered, doors ripped off their hinges, and messages of hate painted on the walls. Police officers beaten with the American flag, while the Confederate flag was triumphantly marched through the Capitol," Connolly said.
"There were many bad actors that stormed the Capitol, and sadly, there are some in Congress who helped stoke the flames and spread the lies that gave birth to the insurrection. There will be time to address that, and we must. But today, our judgement must be on the horrific misconduct of President Donald J. Trump." 
Now that the impeachment has been approved by the House of Representatives, it may go to trial in the U.S. Senate. It is still unclear whether that will happen, however as Senate Majority leader Mitch McConnell said on Wednesday that there may not be enough time to hold a trial before Biden's inauguration. 
The Federal Bureau of Investigation is warning of armed protests at the Capitol on Inauguration Day. Thousands of National Guard members are stationed in Washington D.C. in preparation for possible violence.