Rep. Rob Wittman and his Democratic opponent Qasim Rashid sparred on climate change, Social Security, rural broadband and other issues during a sometimes contentious debate Monday night.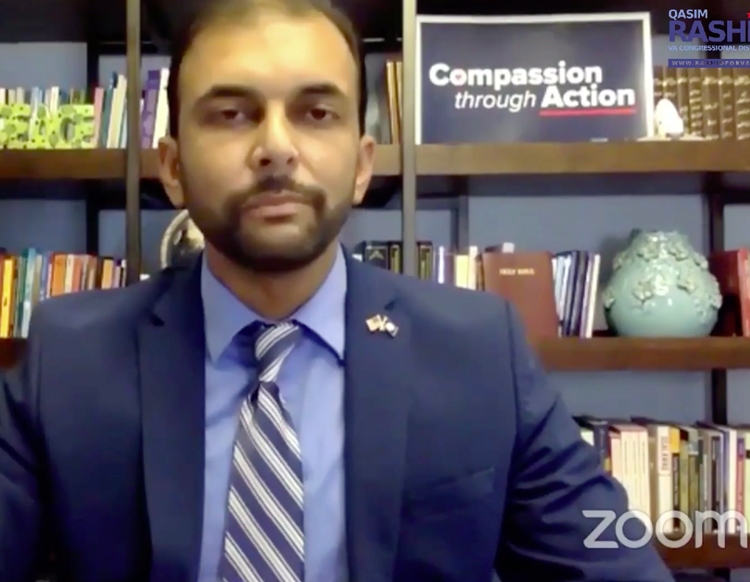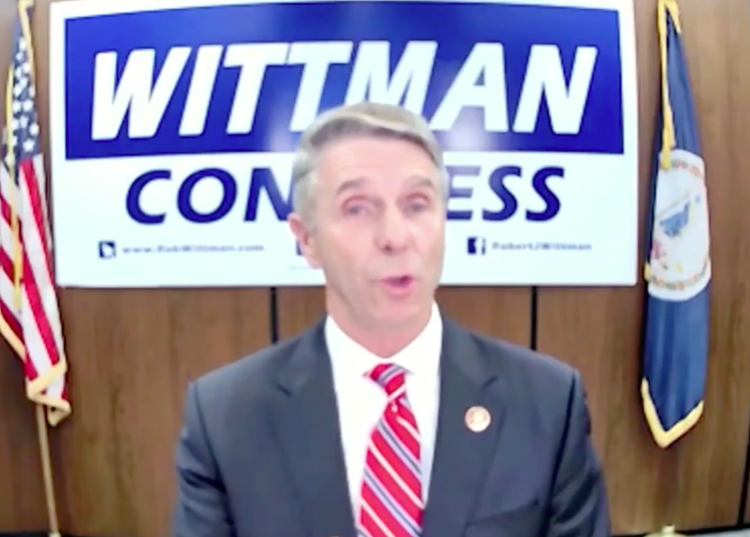 Rashid, a human rights lawyer who lives in Stafford County, is challenging Wittman, 61, who has held the 1st Congressional District since 2007. Rashid is hoping to overcome what many analysts believe to be a safe Republican seat.  
At points in the debate, Rashid accused Wittman of attacking his Muslim faith and attempting to tie him to Islamic terrorism in a recent television campaign ad, a charge Wittman strongly denied. 
The debate was moderated by Stephen Farnsworth, director of the University of Mary Washington's Center for Leadership and Media Studies, and sponsored by The Free Lance-Star, the Fredericksburg Regional Chamber of Commerce, the Fredericksburg chapter of the League of Women Voters and UMW student political groups. 
Social Security  
On Social Security, Farnsworth asked how the candidates would protect Social Security for today's seniors and strengthen it for future generations. 
Rashid answered by accusing Wittman of "work[ing] with the president to try to defund social security, even supporting the repeal of the payroll taxes, which would effectively harm social security and Medicare."  
Rashid said it is "fear-mongering" and "nonsense" to say we need to cut into Social Security because to fix the federal deficit.  
"We need to protect Social Security by strengthening it and by making sure our senior citizens know that it will be accessible to them when they are ready to retire," Rashid said. 
Rashid further said Wittman has "refused to stand up to the president" to demand that he not repeal Social Security.  
"He's not willing to publicly oppose him," he added. "That's deeply problematic." 
For his part, Wittman said, "We absolutely have to honor our commitment to our current Social Security and Medicare beneficiaries and those who are nearing eligibility." He further called for raising the income threshold on which Social Security withholding applies, saying: "Once somebody makes $137,700, they no longer contribute to Social Security. Instead, there shouldn't be a cap. That way, we're increasing the amount of contributions into the system." 
Rashid pounced on Wittman's failure to mention preserving Social Security for future generations, saying: "Think about what he just said. That we need to honor the current commitment. That means that he is, again, supportive of getting rid of Social Security altogether for those who may not have qualified for it yet." 
COVID-19 
Rashid and Wittman also sparred over the federal government's response to the COVID-19 pandemic, which has now claimed the lives of over 200,000 Americans.  
Wittman, who has a master's degree in public health, said that he is "fully committed to protecting Virginians and raising awareness about how public health issues impact lives and communities." 
"We have to develop a vaccine and we must do so quickly and effectively. And we must continue to focus on masking, testing and social distancing," Wittman said.  
Rashid said he would listen what scientists recommend on COVID-19 and would not make it "a partisan issue." Rashid said Wittman had not criticized President Donald Trump's response to the pandemic, even when Trump called it a Democratic "hoax."  
"The frustrating thing about this is that we have seen our economy shrink by one-third, 30 million Americans are on the cusp of eviction, our small businesses have been decimated … and we still refuse to get cooperation on this virus from the president," Rashid said. "... [Trump] took the longest job growth economy in the history of this country, and my opponent helped him drive it into the ground." 
Rashid also criticized Wittman for purchasing more than $1,000 in pharmaceutical stock in February, at the beginning of the pandemic – a claim Wittman denies. Wittman said during Monday's debate that, "despite my opponents false claim, I never bought myself stock." 
Political news outlet Politico reported in March that Wittman had purchased between $1,001 and $15,000 of stock in the pharmaceutical company AbbVie Inc., on Feb. 27, "the day the company released a statement saying it had donated one of its antiviral drugs to China as an experimental option for treating the coronavirus and that it was exploring a research collaboration on potential treatment options." 
But according to the report, Wittman's office told Politico that he "does not have any involvement in investment decisions for his financial portfolio." Politico said that Wittman's office "noted that AbbVie shares have since lost value." According to Politico, Wittman's office said Wittman's initial AbbVie purchase was for $1,218. 
Climate Change/Green New Deal 
Farnworth asked both candidates if they believe climate change is primarily caused by human activity, and if so, what their plan is to reduce the nation's carbon footprint. 
Wittman responded that "we absolutely need to protect the environment." But Wittman added that "we can have the debate on how much man contributes to climate change or we can focus on ways to address these changes." 
Wittman did not answer whether he believed that climate change was caused by human activity, even after Rashid repeatedly pressed him for a response. The U.S. government released a major scientific report in 2017 that says humans are the dominant cause of the global temperature rise.  
"We can and must protect our environment by promoting policies that encourage clean energy like nuclear, hydropower, natural gas, wind and solar," Wittman said. 
Wittman also attacked Rashid for his support for the Green New Deal, saying Rashid was "pushing a far-left socialist agenda" that would cost taxpayers trillions. Rashid countered by saying the Green New Deal could create millions of new jobs in the green energy sector and help create a more sustainable and energy efficient economy.  
"The reality is that we have new technologies … that require technicians and people who can build them out," Rashid said.  
Rashid added that the goal of the Green New Deal is to protect the environment and "ensure that our blue collar, hardworking Americans who are relying on fossil fuel jobs have jobs to transition to in a way that maintains their standard of living." 
Rural broadband 
Rashid and Wittman disagreed on the best way to expand rural broadband access in the area. Rashid called for making broadband a public utility to ensure that all citizens in the 1st district have access, while Wittman pushed for creating more public-private partnerships.  
"We can make it a utility. We can make it affordable and accessible for all people," Rashid said.  
Rashid pointed to the City of Chatanooga, Tennessee, which recently created a broadband utility, as evidence that the plan could happen in Virginia.  
Wittman lambasted the idea, saying public utility model would "simply [create] less efficient government bureaucracy." 
"Public utilities will stifle innovation with a one-size-fits-all mandate that would overregulate and slow down projects. Instead, I believe we need public-private partnerships. They are the best vehicle for expanding broadband access," Wittman said.  
Rashid hit back, saying that Wittman had had 13 years in Congress to do something to expand broadband access in the 1st district, but "passed zero bills on broadband" while accepting thousands of dollars in campaign donations from telecommunications corporations.  
While Wittman has not been the lead sponsor on broadband legislation, he has co-sponsored numerous bills aimed at increasing broadband access.  
"The scope of underserved people in our area is staggering," Wittman said. "I'm proud to say that since I've been in office, we've made significant strides. But I know it's vital for congress to continue to do more to make sure we close the digital divide for rural Americans."