Prince William County teachers gathered outside the school division's administration building Friday morning to express their frustration over a planning process for reopening schools that they say has mostly excluded them. 
Wearing masks and carrying handmade signs saying, "Listen to teachers" and "I want to live to see your child graduate," about 75 educators, supporters and local elected officials gathered in the parking lot of the Edward L. Kelly Leadership Center to voice concerns about reopening schools safely and their impatience with administrators who have so far released few details about the school division's plans.
Oveta Scott, a sixth-grade math teacher at Fred Lynn Middle, helped organize the rally. She said she's not convinced any plan that includes in-school instruction can keep students and teachers safe. More teachers, she said, must be included in the discussion.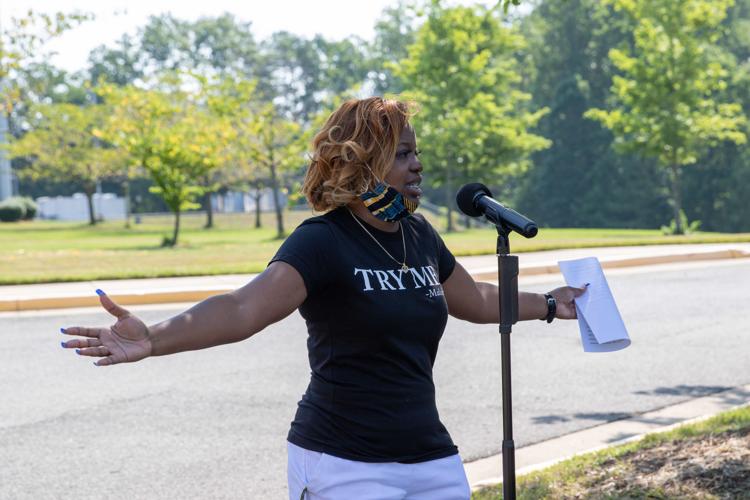 "It's not so much about being upset. It's about, why can't we be a part of the process? Why are you excluding us?" Scott said of the school division administrators, led by Superintendent Steven Walts, who are involved in the planning.
Scott said she much prefers teaching students in person, which she said is more effective and doesn't require the arduous work of recreating lessons online. Still, she said she doesn't know in-school instruction can be accomplished safely. 
"None of them are going to be in [the schools] when those kids come in and out of those buildings," she said of the school division administrators. "It's me. And then I have to go home to my family. … Are you going to give me my hazmat suit?"
Scott said the school division's plan must address the needs of all children -- at different ages and grade levels -- and that teachers should be allowed to instruct students only online if they consider teaching in person too risky. 
"Can we [teach] as many classes as we can virtually? And if we do have to go [into the school buildings], let's focus on the [students] who really do have to be there, whether it's the core classes or whatever," Scott said.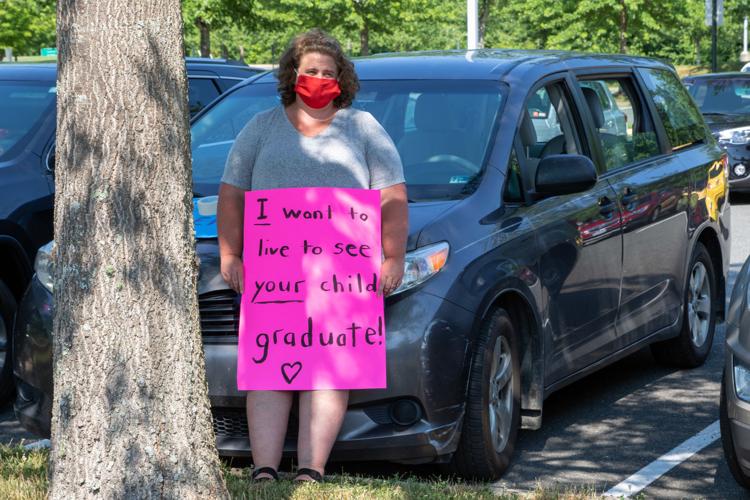 Other teachers at the rally said they're thinking anxiously about everything from their own health to the risk of exposing older or medically fragile family members to the virus. There's also concern that young students and those with special needs won't be able to understand the need for social distancing. Teachers also wonder how the school division will handle sick leave, which teachers closely guard because of the role it plays in maternity leave as well as retirement benefits. 
"So if a teacher has to be quarantined for 14 days, is that my sick leave?" asked Heather Oberle, an English teacher at Brentsville High School. "If I come back [to school] and have to go out again, that's more sick leave."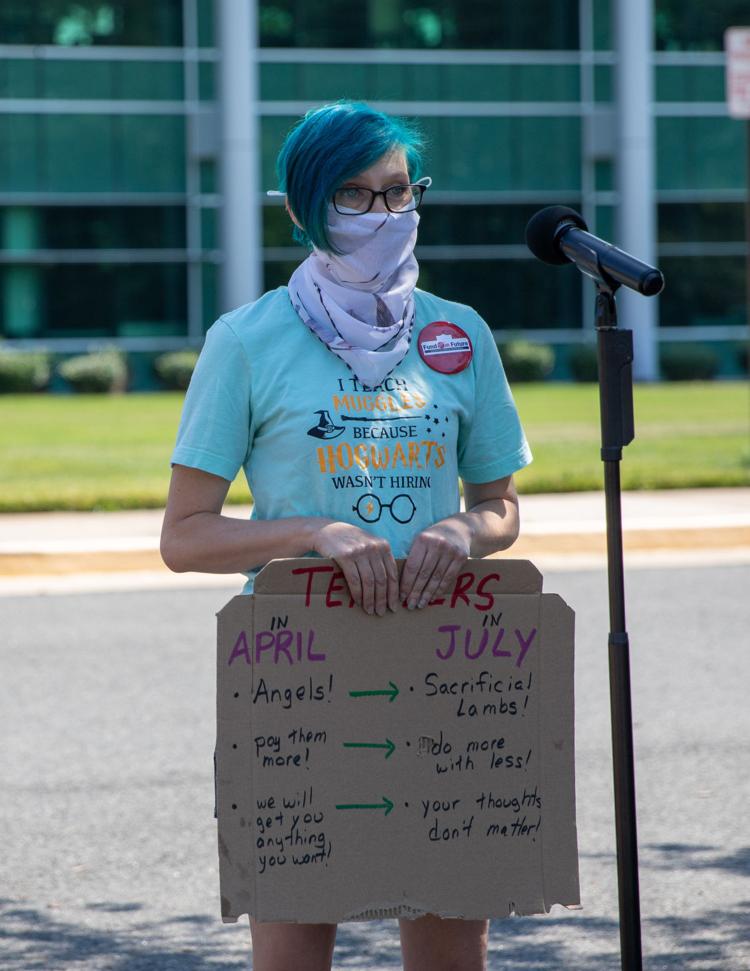 School board announces two meetings this week
The school division has been relatively quiet about reopening plans until earlier this week, when they released a statement announcing that a "return to new learning task force" involving "multiple work/focus groups" has been meeting to hammer out plans for the new school year. The groups include 90 members representing "principals, teachers, support staff, and central leadership, as well as parents," the statement said.
The aim of the work has been to "develop draft plans that prioritize the health and safety of all students and staff while delivering equitable, high-quality new learning in the fall," the statement said.
As an example, the announcement said principals have been measuring classrooms to determine the maximum number of students who can be in every space while maintaining the 6-foot social distancing required in the state's reopening guidance for schools.
Bus capacity is also being studied. The school division also conducted survey of parents, which wrapped up this past Thursday, and has distributed a school-based staff survey. The results of each, when compiled, "will inform the creation of the plan," the statement said.
The school board also announced last week it will hold two special virtual meetings this coming week to allow the public to weigh in. The first will take place at 6 p.m. on Tuesday, July 7, to hear community input on the schools' reopening.
The next night, on Wednesday, July 8, the school division will conduct a work session beginning at 5 p.m. to hear Walts present the reopening plan. The school board is scheduled to vote on the plan during their 7 p.m. meeting on Wednesday, July 15.
All of that was news to Riley O'Casey, the outgoing president of the Prince William Education Association, the local teachers' union. O'Casey did not attend the rally but issued a statement Monday, June 29, criticizing the school division for leaving the PWEA out of the discussion. In an interview, O'Casey said teachers had heard nothing about the task forces until the school division released its statement.
The PWEA has since been invited to participate, but Maggie Hansford, the incoming president, said during the rally she believes the planning is likely mostly complete. Hansford, a speech teacher, unsuccessfully challenged Prince William County Supervisor Jeanine Lawson, R-Brentsville, last November. PWEA members elected her to lead their union this past spring. Her term begins in August.
During the rally, Hansford said the school division's task force "should have been more meaningful and more diverse and teachers should have had an opportunity to join."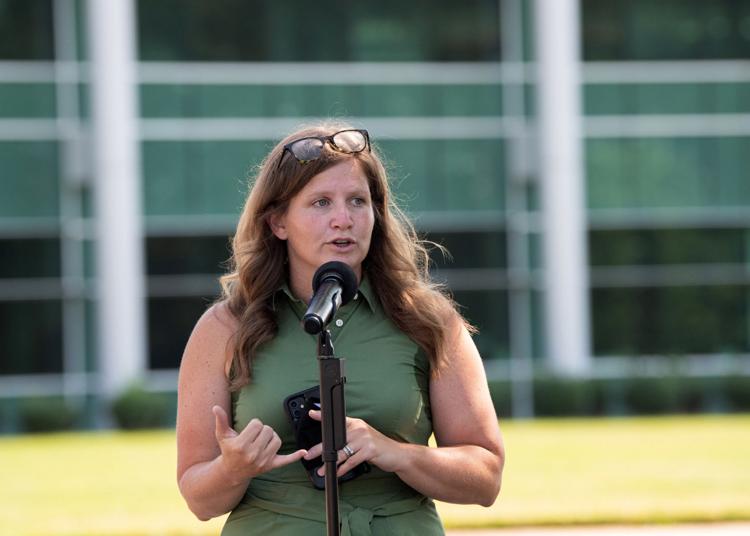 "So, if all of us are fools, we would believe that the division hasn't already developed a plan. We know the plan's made," Hansford said while at the microphone. "We know that teachers are already receiving emails from principals showing what their classroom is going to look like."
Hansford said teachers also received emails from their principals asking them not to participate in the rally. The event, she said, "would have been more well attended if teachers would have been allowed to come and felt comfortable coming."
"Teachers deserve a voice. Teachers deserve a seat at the table. It's neglectful that PWEA was not provided a seat at the table until the end of the decision-making process," she added. "It's disappointing that we're being heard at the end of the process and not at the beginning."
Missy Alexander, an English teacher at Patriot High School, said teachers were scared to come to the rally both because of the coronavirus and because of the school division's decision to include a furlough clause in their contracts for the first time for the coming school year. Teachers, she said, were worried that speaking up would place them at the top of the list if the school division decides it needs to follow through with teacher furloughs, something Walts has said will be avoided if at all possible. Considering those concerns, Alexander said organizers were pleased with the turnout.
"People were so afraid and questioning so much, that we're happy to have 50" teachers, she said. "It shows how much this means to teachers because despite the fear, they still came out." 
Elected officials voice support
Two state delegates -- Danica Roem, D-13th, and Elizabeth Guzman, D-31st – joined the event as did three county supervisors: Board Chair Ann Wheeler, D-At Large, and Supervisors Victor Angry, D-Neabsco, and Kenny Boddye, D-Occoquan.
Those who took the microphone expressed sympathy and support for the teachers. Roem called their work "good trouble," a phrase she said was borrowed from U.S. Rep. John Lewis, a civil rights leader and Freedom Rider before he was elected to Congress. She said teachers shouldn't have had to protest in the heat of July to get a seat at the planning table.
"You shouldn't have to have a July baking-in-the-sun day, demanding your inclusion," Roem said. "It should be intuitive to anyone in charge that you, as our essential workers, who are out there putting yourselves in danger … should have a seat at the table from the time of [the plan's] conception, when this actually came up in the first place."
Guzman said it is important for school division leaders to listen to teachers. 
"Every now and then, you have to speak up for your safety as well, and we are here to listen," Guzman said.
Five school board members also attended the rally: Adele Jackson (Brentsville), Jen Wall (Gainesville), Vice Chair Loree Williams (Woodbridge), Justin Wilk (Potomac) and Lisa Zargarpur (Coles).
School Board Chairman Dr. Babur Lateef (At Large) was traveling out of town for the holiday weekend but said in a text message that this week's school board meetings are intended for the board to hear the community's input on the school division's reopening plans.
"The school board and the administration have received many emails about parent and teacher recommendations about the fall reopening. We are hoping to continue to hear input, concerns, and opinions from parents, teachers and community members during the [July 7] meeting," Lateef wrote. "The board/administration will consider this input as a final reopening plan is created."
Williams spoke at the rally and told teachers the board "needs to hear from you."
"You are the frontline, boots on the ground, we don't do the job that you do. There is almost no one more important to this puzzle, in putting this together from our board's perspective, than your voices." 
In an interview, Wilk said he understands the teachers' frustration because communication from the school division administration – even to the school board members -- has so far been limited. Wilk, a former teacher who is married to a Prince William County teacher and has a special needs son in a county elementary school, said he can relate to the general anxiety about reopening schools. 
"Seeing this from all different perspectives, I know that no matter what we come up with, someone's going to be upset. But I think the earlier we come up with something, or options, we're going to ease concerns, in a sense, to where people can move forward and begin planning their fall," Wilk said. "Right now, it's a standstill. People are like, I don't know if I'm going to need childcare. I don't know what's going to happen to my special needs child. I think this should have been rolled out much earlier." 
Williams, also in an interview, said she could not fault Walts and school division administrators for planning the reopening the way they approach other tasks: with limited participants hammering out most of the work behind closed doors. But she said the pandemic "has changed the paradigm" and "more voices must be heard."
"I'm not going to fault people for doing things in a way that they know. What I'm asking for is, the ability to shift and move and work in a manner that we've ask our staff to do," Williams said. "We've asked our teachers to shift on a dime and work from home. And I think people in higher administration are sort of still stuck in a mode of operating pre-pandemic, and I think now it's time for everyone to be included in that shift."
Williams also stressed, however, that the plan is not complete and that school board members need to hear from teachers, staff and parents and be willing to make changes as needed. 
"We're the ones who are going to have to vote on this plan. We can't make an intelligent decision if we have not heard from the administration; if we haven't heard from teachers; if we haven't heard from cafeteria workers, bus drivers, parents, guardians," Williams said. "This is going to be an evolving process. So I don't want anyone to think in this community that whatever gets presented to us is the final, final. … We're trying to make sure we're doing the best for all our stakeholders and acknowledging it's not going to be perfect for everybody."
Reach Jill Palermo at jpalermo@fauquier.com