Like much of Virginia, Prince William County is under an "excessive heat warning" until 9 p.m. Temperatures could reach 100 degrees, and the "heat index" as high as 115, according to the National Weather Service. 
The highest heat indices will be near and east of Interstate 95, the weather service says.
In other words, it's hot!
First responders across the state are doing what they can to get the message out about the danger of the extreme heat. 
Woodstock Police Officer Josh Wilberger penned an especially entertaining Facebook post to get residents' attention. It's been shared more than 300 times and well beyond the confines of Woodstock, a hamlet of about 5,000 residents along I-81 in the Shenandoah Valley.
Woodstock Police Department Sgt. John Fox says the department's social media team likes to stay behind the curtain, but they are OK with us sharing Wilberger's ditty about the heat.
Thanks to Del. Michael Webert, R-18th, for bringing this good advice to our attention.
"Y'all. We cannot stress this enough. 
If you don't have to go out, stay inside. We're under varying flavors of heat alerts from the weather service. Some are worse than others but honestly, if they have to tell you it's hot... it's already too late. We think we're at "🌶🌶🌶" right now... or maybe that's Thai food. Whatever, it's hot. 
If you must go out, and aren't acclimated like those hearty public works guys, construction workers, landscapers, farmers and such... don't. Just don't go out. You'll yeet yourself into a heat stroke and we're not sure how they fix it at the ER but I'm sure it involves a bathtub of ice which is the other extreme of unpleasant. This is 2019. Elon Musk and Jeff Bezos can beam you anything you want within a day.
But if'in you won't listen to us, keep hydrated. With water. Not coke, not Monster, not Cotton Candy Bang, not Hardee's iced tea you smuggled back from Rockingham County like the Duke boys running shine. Certainly not what made Milwaukee famous. Water. Drink water and dress like Luke Skywalker on Tatooine. 
Give it to your pets, too. Hose them off if you've gotta, but keep them cool. 
Check in on your neighbors, especially the ones who can't get around too good. Maybe they need their AC knocked down a tick, maybe they need some shades pulled. Be a good neighbor and go visit them. If they are of the aged variety, they'll have some pretty cool stories about that one time in '38 when that thing happened. 
Some acceptable activities for this weekend include patronizing one of our many iced cream stands, going to our pool; throwing in your kids/siblings/spouse in is optional. Dozing on the couch, floating the river, and making Darth Vader voices in front of the fan. 
Y'all be careful."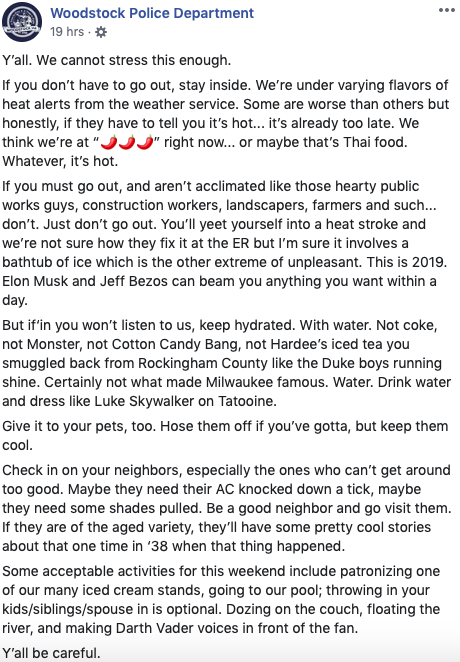 In all seriousness, though, anyone overcome by heat should be moved to a cool and shaded location. Heat stroke is an emergency and those suffering from it should call 911.
Symptoms of heat exhaustion and heat stroke include throbbing headache, dizziness and light-headedness, a lack of sweating despite the heat, red, hot, and dry skin, muscle weakness or cramps and nausea and vomiting.
The Prince William County overnight shelter is operating on extended hours due to heat index rising above 95 degrees today and tomorrow.
The shelter will open from 10 a.m. to 6 p.m., when the normal shelter hours will begin. The shelter will remain open on Sunday from 7 a.m. to 6 p.m., at which time the normal shelter hours will begin. 
The overnight shelter is located at 14730 Potomac Mills Rd, Woodbridge.
Again, y'all be careful!