As of Nov. 30, more than 200 Prince William County students and 157 staff members had tested positive for the novel coronavirus since the start of the school year, including 100 staff and 14 students attending and working at schools in person.
But neither those numbers – nor the county school's ongoing "highest risk" COVID-19 metrics – offer sufficient reason yet for the school division to pull back on its hybrid, in-person learning plan, which expanded this week to include about 3,000 first grade students attending school in person two days a week.
That was the message Superintendent Steven Walts shared with school board members during their Wednesday, Dec. 2 meeting, during which he said he's is not recommending any changes in school division operations despite rising infection rates across the county and state -- or the increasing number of cases reported among students and staff. 
Walts said he would maintain the status quo, for now, "due in large part" to the limited number of students attending school in person coupled with the school division's "extensive mitigation efforts," which include at least 3 feet social distancing, requiring face-coverings and other protective gear as appropriate and frequent cleaning and hand-washing.
Walts noted, however, that the school division is keeping a close eye on COVID-19 metrics daily and could make a change "should more indicators reach the highest levels."
Possible changes, he said, could include delaying the return of more students "or other mitigations," which were not specified.
For the last several weeks, Prince William County's COVID-19 metrics have topped the region in both the average daily infection rate per 100,000 residents and percent-positivity rate on COVID-19 tests. 
On Thursday, the local health district reported an average daily infection rate of 35 per 100,000 residents – about 35% higher than the statewide per capita rate of 26.2 – as well as an 11.7% positivity rate on COVID-19 tests, also about 30% higher than the state rate of 8.8%. Both metrics exceed the limits both Fairfax and Loudoun counties have set for bringing more students back into their school buildings.
But Walts and other members of the school division's pandemic team stressed again Wednesday that Prince William County Schools officials would not tie their decisions to one or two COVID metrics, mostly because they said the numbers are not a reflection of the school division's ability to control the spread of the coronavirus inside school buildings.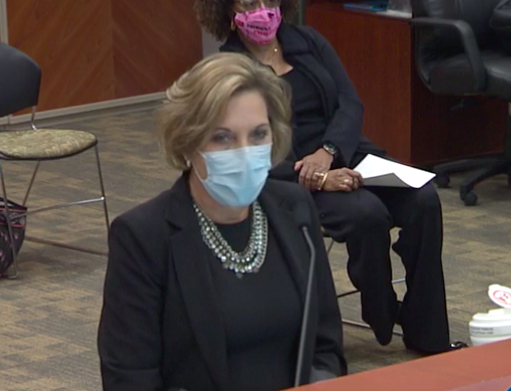 Denise Huebner, associate superintendent for student services and special education, said the school division continues to place itself in the "moderate to high" range on the Virginia Department of Health's risk scale for schools – a determination school division officials make in consultation with Prince William Health District Director Dr. Alison Ansher.
"I assure you that our decisions are being made thoughtfully based on a number of indicators. It is our team's belief that we have a stronger methodology by not anchoring on a single metric," Huebner said. "There are a number of factors to consider, and again, perhaps most important is our ability to mitigate the risk."
Huebner said the school division's pandemic team believes of spread of COVID-19 in the community is not necessarily tied to transmission of the virus in schools as long as schools' mitigation efforts are successful.
"The community health may not reflect the activity of the virus within our school buildings.  Our school buildings continue to mitigate risk and maintain a safe and effective learning environment, and that is one of our most important factors," she said.
So far, Huebner and other school division officials said, "there is no evidence" of the virus's transmission inside a Prince William County school building.
Still, the number of cases reported in schools continues to rise. The school division's "health trends" dashboard reported 50 cases in September, 84 in October and 208 in November. In just the first two days of December, the school division has reported 39 new cases.
Most of those cases, however, have been reported by students and staff working virtually, with the exception of 100 cases among staff members and 14 among students learning in person. None of the cases have so far qualified as an "outbreak," according to the VDH, which defines an outbreak as two or more cases among unrelated people originating from the same source.
What might trigger a change in the school division's status?
The school division could change its operations if the county's COVID-19 situation grows more severe, as might be reflected in "a change in our overall community's medical health or our ability to provide health care," Huebner said.
Also, "a significant number of clustered outbreaks" experienced among both staff and students "that cannot be mitigated with the normal protocols," could trigger a change, Huebner said. She noted, however, that the school division could respond to such outbreaks on a school-to-school basis. "This would vary from situation to situation. It could include classrooms, grade levels or entire schools," she said.
Another reason to change course would be "an inability … to staff for instruction or the safety of students," or, finally, a rise in Centers of Disease Control and Prevention metrics "indicating that our risk threshold has reached the highest risk and it is absolutely necessary for the safety of our students," she said.
Still, such occurrences might only mean changes for some students and staff, Huebner said.
"But again, I'd like to emphasize that even if we move into the highest risk possible, [changing operating status] is a consideration," Huebner said. "We may consider those phased guidelines. Unless the governor imposes different guidance, we have the option of implementing safety features that keep our children in the building."
Huebner added that the school division would also comply with any order from Gov. Ralph Northam to revert to virtual instruction.
Teachers, parents express concerns
As she has in past meetings, Occoquan School Board Member Lillie Jessie peppered Walts and other school division officials about what they are doing to address staff concerns about safety. Potomac School Board Representative Justin Wilk asked about teachers' concerns with difficulty accessing personal protective equipment and asked Walts to audit each school building's supply, something Walts said he would look into.
Jessie asked how and when Walts would decide whether to shut down schools if the COVID-19 numbers become too high. Walts reiterated that the school division would consider all the factors Huebner outlined and added: "We believe we have a stronger method than anchoring [the decision] on a single metric."
Prior to the pandemic update, several teachers spoke during citizen comment time to express concerns about the safety of in-school instruction. Some parents expressed frustrations with the pitfalls of hybrid instruction, which requires most teachers to teach students in the classroom while zooming with students learning virtually from home.
The school division now has more than 7,000 students learning inside school buildings, which include students in pre-K through first grade, as well as certain special education and English language learners. High school students in some career and technical education classes are returning to schools for Monday sessions. Most students are attending school two days a week, either on Tuesdays and Thursdays or Wednesdays and Fridays.
The school division is scheduled to bring second and third grade students back on Jan. 12 and 13, while fourth, fifth, sixth and ninth-graders are scheduled to return on Jan. 26 and 27. 
All other grades – seventh though 12th – are scheduled to return to schools for the third quarter, which begins Feb. 2. All students will also retain the option of learning virtually from home.
A few speakers complained that the school division wasn't bringing students back more quickly.
Maggie Hansford, president of the Prince William Education Association teachers' union, again asked the school division to set clear parameters on when the COVID-19 metrics are too high to attend school in person.
"Have the courage to make a decision that won't make everyone happy but that will keep everyone safe," Hansford said.
Woodbridge parent Magally Hurtado told board members parents need to understand the metrics being used to make decisions about keeping kids in schools. 
"Saying 'we are looking at everything' doesn't come across as very transparent. As a county, we are in worse shape compared to neighboring districts and yet, you seem to be ignoring the big red numbers on local dashboards," Hurtado said. "…It feels like we pulled our kids out of a house where a fire was starting back in March, and now we are sending them back when the fire is raging just because we have hoses."
Hurtado suggested the school division adopt a testing strategy like other large school divisions as an extra means of keeping COVID-19 out of the school buildings.
High school teacher Brandie Provenzano said teachers do not necessarily have easy access to personal protective equipment, despite Walts' and other administrators' assertions that PPE is readily available. 
"You probably don't know this… because teachers and staff aren't supposed to talk about it," Provenzano said. "They're supposed to quietly trudge through this unknown and often dangerous situation alone because that's what they always do, right?"
Several elementary school principals spoke during the meeting and said things are mostly going well at their schools since the kindergarten and first-graders returned for hybrid learning. 
Pressed by school board members, the principals acknowledged there is anxiety among staff members about the virus.
"Our teachers are scared. They do have anxiety. … I can't change that, but I can be a listening ear. I can support them every step of the way," said Deborah Ellis, principal of Minnieville Elementary. "They have real fears that everyone needs to hear."
Walts urged teachers and parents to report any concerns about health and safety to school principals or even anonymously if necessary.  The school division has set up a special hotline and email for that purpose: healthandsafety@pwcs.edu and 703-791-2821.
"We have a responsibility, in a health crisis, to report things that are not going well," Walts said.
Reach Jill Palermo at jpalermo@fauquier.com