Nearly 100 volunteers planted 158 native trees at Silver Lake Park in western Prince William County over the weekend to enhance wildlife habitat and beautify the park.
The event was sponsored by the Prince William Conservation Alliance in partnership with Supervisor Pete Candland, R-Gainesville, and the Prince William County Parks and Recreation Department.
Prince William Conservation Alliance Executive Director Kim Hosen said the plantings were an effort to replace ash trees lost to the Emerald Ash Borer and to make the park more pleasant for people and wildlife, alike.
"Trees help filter our air, they create a sense of place and … they attract all kinds of wildlife to an area where people are," Hosen said. "And they will improve the appearance of Silver Lake."
Among trees planted were service berries, sycamore, white oak, northern red oak, dogwood, redbud and tulip poplar trees, Hosen said.
Silver Lake Park, located on Antioch Road outside Haymarket, was in the news earlier this year because it was the site of the "Tough Mudder" obstacle race that brought more than 7,500 people to the park in June.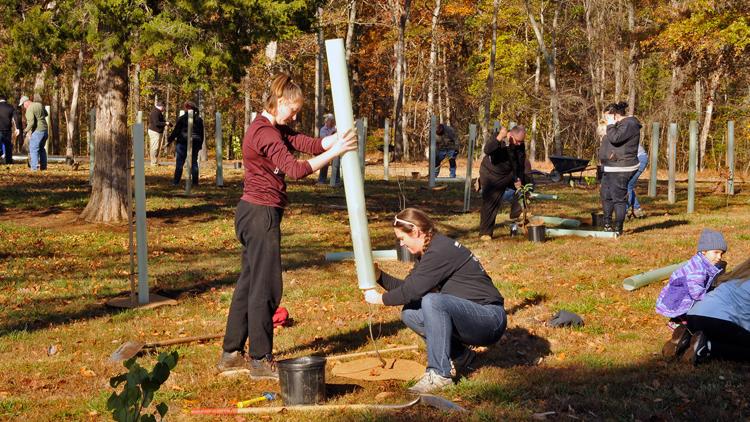 Some said the park was an inappropriate spot for a race. The park has been designated a "passive use" recreational area since Prince William County acquired it from the developer of Dominion Valley in 2006. The competition required the installation of several large obstacles, many of which involved digging pits or otherwise disturbing the land.
Tough Mudder won't return to Silver Lake Park next year. It has instead arranged to use a nearby Boy Scout campground as its main site, according to county officials.
But the race focused the community's attention on Silver Lake Park, which is a favorite spot for bird-watchers and is used by the county parks and recreation department for some children's programming.
Candland and Prince William County Parks Director Seth Hendler-Voss, both participated in the tree-planting event, Hosen said.
"Hopefully, this is just the first step to improving the quality of wildlife habitat at this great natural area," Hosen said.