The COVID-19 vaccine is once again the center of a public debate in Virginia. Republican lieutenant governor candidate Winsome Sears publicly refused to say whether she has received the COVID-19 vaccine, and her Democratic opponent Del. Hala Ayala quickly responded by calling her an "anti-science extremist."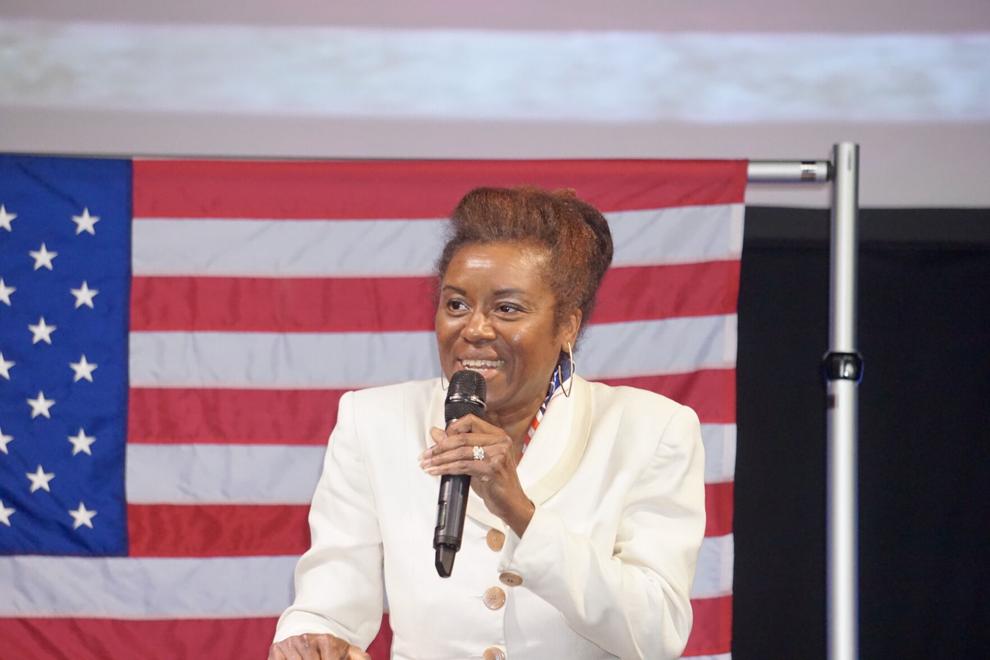 In an interview with CNN, Sears declined to say whether she is vaccinated, saying: "My life is very public. ... I want to hold certain things close." She later took to social media to further explain her position on the vaccine and attack the media: "I encourage everyone to get the vaccine, but no one should be forced to disclose their vaccination status, especially not to liberal hack reporters at CNN." 
"I won't disclose my vaccination status and I won't be bullied by the media. They want to distract you from Hala Ayala's support for policies that raise your electricity rates, increase your taxes, and force you to join a union just to get or keep a job. We won't be distracted," Sears said on social media.  
Sears, 57, of Winchester, is a former U.S. Marine. She was first Black Republican to be elected to the Virginia House of Delegates, serving one term, from 2002 to 2004.  
Ayala, 48, responded at a virtual press briefing on Thursday, comparing Sears to former President Donald Trump, and saying, "Real leadership certainly is not being evasive and refusing to say whether or not you're vaccinated."  
"She is an anti-science extremist who refuses to say whether or not she is vaccinated and puts the lives of Virginians at risk. She is not the lieutenant governor Virginia needs to advance our priorities and guide us through an ongoing pandemic," Ayala said. "... Trumpian candidates like my opponent Winsome Sears to take us backwards by pedaling misinformation about vaccines." 
Ayala has called on all Virginians to get the COVID-19 vaccine. The COVID-19 vaccination reduces the risk of COVID-19 and its potentially severe complications, according to the U.S. Centers for Disease Control and Prevention.  
Ayala, a Woodbridge native who currently lives in Woodbridge, represents the Virginia House of Delegates' 51st District, which includes parts of eastern Prince William County. Ayala was first elected to the seat in 2017 and re-elected in 2019.  
Sears and Ayala are vying to fill the seat being vacated by Lt. Gov. Justin Fairfax (D). The lieutenant governor casts tie-breaking votes in their role as president of the state Senate, which currently has a 21-19 Democratic majority.  
Both candidacies are history-making in Virginia. Sears is vying to be the first African American woman elected to a statewide post in the commonwealth, while Ayala is vying to be the first Afro-Latina to claim that title.  
The COVID-19 vaccines and vaccine mandates have also become a flashpoint in the Virginia governor's race between Democrat Terry McAuliffe and Republican Glenn Youngkin. McAuliffe is generally supportive of vaccine mandates and told CNN in a recent interview that he "is all in on vaccinations." Youngkin is vaccinated and has encouraged other to get the shot, but he does not support mandates.  
McAuliffe says he will immediately launch a "Virginia is for Vaccine Lovers" campaign and aims to "[get] every eligible Virginian vaccinated," according to his website. 
"As governor, he will urge all school divisions to require vaccines for their personnel, and work to ensure health care workers and nursing home staff follow federal vaccine guidance. He will incentivize businesses to mandate vaccines for employees …," his website says. 
Early voting has begun in Virginia 2021 general election. Election day is Nov. 2.