VFW Post 7589 in Manassas presented awards to area students and teachers at a recent ceremony.
More than 80 people attended the VFW Post 7589 Educational Awards Ceremony held last month at the VFW home on Centreville Road in Manassas, according to a news release.
Retired Air Force Lt. Col. Dominick "Bobby" Knight gave the keynote address, which addressed the importance of giving young people a roadmap of how to deal with careers, triumphs and comebacks with hard work and effort being the key. 
The master of ceremonies was Lou Filappone, of Centreville, junior vice commander of Post 7589 and chair of the Post's Youth Committee. Post Commander Wayne Moore and Auxiliary President Mary Corkhill greeted the students, parents and teachers. 
Five teachers and 120 students in the Manassas area entered the VFW contests this fall in three divisions: Patriot's Pen (for students in grades six through eight); Voice of Democracy (for students in grades nine through 12); and teachers (kindergarten to fifth grade, sixth to eighth grade, and ninth to 12th grades). 
The topic for this school year was "What Makes America Great."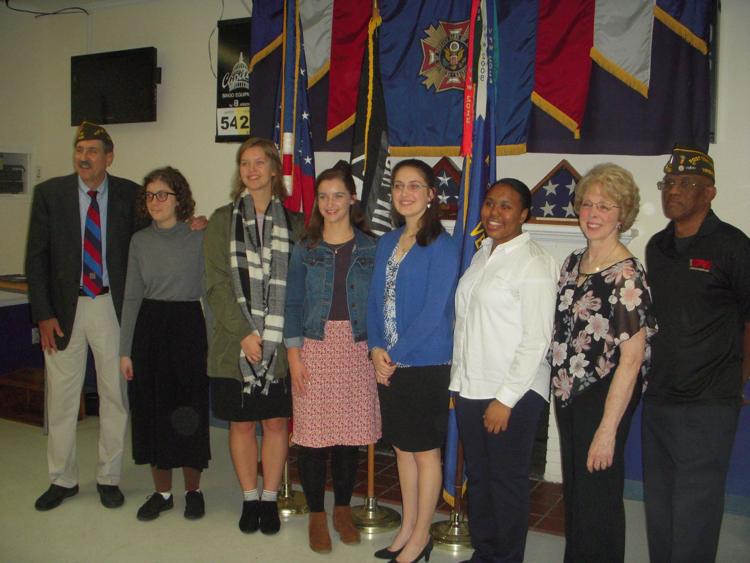 The following students were recognized with Patriot's Pen awards: honorable mention: Emily Sherman, All Saints Catholic School; honorable mention: Andrew Hensley, Reagan Middle School; third place: Abigal Ingles, Manassas Park Middle School; second place: Keona Thomas, Manassas Christian School; first place: Audrey Henderson, Reagan Middle School.  
The Voice of Democracy Award winners were: honorable mention: Delaney Falls, Seton School; honorable mention: Rachel Luetkemeyer, Seton School; third place: Virginia Hartung, Seton School; second place: Lauren Bradshaw, home-schooled in Centreville; first place: Jenascia Armstrong, Hylton High School.
Teachers of the Year were: Darrick Williams, naval science instructor in the Navy Junior ROTC program at Osbourn Park High School; Matthew Perry, social studies teacher at Marsteller Middle School, and Molly Stookey, kindergarten teacher at Yorkshire Elementary School.