UPDATED: A 20-year-old Warrenton man wanted in connection with an April 29 shooting in Manassas was located and arrested the next day in West Virginia, according to Prince William County police.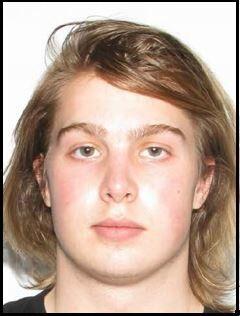 Joel Thomas Schank, 20, of Warrenton, was taken into custody by members of the Jefferson County Sheriff's Department in West Virginia.
Schrank has been charged with malicious wounding and use of a firearm in commission of a felony in connection with the shooting, which took place in a vehicle in the 8000 block of Coachcrest Court, near Ashton Avenue in Manassas, at about 11:36 a.m. on Thursday, April 29, according to a Prince William County police news release.
Family members of the victim, a 20-year-old Manassas man, called to report that the victim had been shot while sitting in an acquaintance's car.
The victim was transported to an area hospital with non-life-threatening injuries, the release said.
The investigation revealed that the victim and the suspect were inside a vehicle when a verbal altercation escalated. During the encounter, the suspect retrieved a firearm from inside the vehicle and fired a round, striking the victim. The victim got out of the vehicle and contacted a family member, who notified the police, Carr said in a news release.
The suspect fled the area in a 2013 grey Nissan Sentra prior to police arriving at the above location, the release said.
Police: Strong-arm robbery, attempted car-jacking reported at IKEA
Police are also investigating after a man reported that he was grabbed, struck and robbed by two men while inside the IKEA parking garage on Thursday afternoon. The men also attempted to steal the victim's vehicle but were not successful.
Officers responded to IKEA, located at 2901 Potomac Mills Circle in Woodbridge, at 1:36 p.m. on Thursday, April 29, to investigate a robbery, according to Renee Carr, spokeswoman for the Prince William County Police Department.
The victim, a 23-year-old man, told police he was approached by two unknown men while he was loading items into his vehicle. During the encounter, the men grabbed and struck him before taking his property and attempting to flee in his vehicle, Carr said in a news release.
When the suspects were unable to start the victim's vehicle, they fled in a dark-colored Ford SUV. 
The victim immediately located other patrons in the parking garage who assisted him in contacting the police. No injuries were reported.
Police are searching for two suspects: a Black male with a dark complexion, approximately 6 feet tall and weighting 150 pounds, with a thin build and black curly hair. He was last seen wearing a black hooded sweatshirt with white writing and light-colored jeans. 
The second suspect is described as a Black male with dark complexion, approximately 6 feet tall and weighing 150 pounds. He had a thin build and was last seen wearing a tan-colored hooded sweatshirt with a small stripe along the hood, the release said. 
Anyone with information regarding the incident is asked to call the Prince William County Police Department tip line at 703-792-7000 or submit a web tip to: pwcva.gov/policetip.