UPDATED: Most Prince William County students will begin school with 100% virtual instruction -- at least for the first quarter of the year -- under a plan approved unanimously by the school board early Thursday.
The final vote on the motion to reopen schools for the 2020-21 school year came at 1:47 a.m., more than six hours after the school board's 7 p.m. meeting began.
The move came after a vote to reopen schools with a "50% model" failed in a tie vote. That plan would have allowed students to attend school two days a week in person and work remotely the other three.
The school board decided, however, to allow the division's most vulnerable students -- those who need certain kinds of special education instruction and those who are in the beginning stages of learning English -- to attend school in person from the start of the school year, which will begin Tuesday, Sept. 8.
It's not yet clear how many students will be eligible for in-person instruction. 
Special education students will be identified on an individual basis, with those with "significant communications gaps" or who "struggle with language and attention" being most likely to qualify for in-person instruction, said Denise Huebner, associate superintendent for special education and student services.
About 12,000 students have individual education plans in the school division, but only about 2,600 are in self-contained classrooms. The latter group is the most likely to be identified for in-person instruction because they are most likely unable to benefit from online instruction, Huebner said.
The decision to begin the school year virtually for most students means Prince William County Schools will follow the lead of those in Arlington, Manassas and Richmond, all of which voted earlier this week to begin the school year with mostly online instruction because of health risks associated with the ongoing coronavirus pandemic.
The decision comes one week after the local school board gave its tentative blessing to reopen schools under the 50% model. That plan would have allowed up to 50% of each school's students to attend classes in person at one time.
School Board member Justin Wilk (Potomac) made a motion earlier in the meeting to direct school division staff to continue planning for the 50% model with the intent to reopening schools with in-person instruction two days a week if local health conditions allow it.
Wilk said he felt strongly that schools should at least continue planning for in-person instruction if the long-term goal is to get students back into the classroom.
But half of the school board members said they did not believe the school division would be ready to allow up to 50% of students back into the building by the start of the school year. They questioned the plan's safety, especially for teachers and staff.
The 50% model would ensure only three feet of social distancing between students and staff -- instead of the 6 feet recommended by the Centers for Disease Control and Prevention.  Because of space limitations and general overcrowding in many of the county's schools, it would not be possible to have 50% of most schools' students in the school buildings and ensure 6 feet of distance between students and staff, Superintendent Steven Walts said during the board's July 8 work session.
School board members voting against reopening schools under the 50% plan included School Board members Lillie Jessie (Occoquan), Vice Chair Loree Williams (Woodbridge), Adele Jackson (Brentsville) and Lisa Zargarpur (Coles).
Of those board members, three are educators. Zargarpur is an elementary school music teacher in Fairfax County; Jackson is a former special education teacher; and Jessie is a retired principal.
All said they saw merit in the plan and want to see children back in schools eventually. But they insisted that the school division is not yet ready to ensure the safety of all students and staff under the 50% model.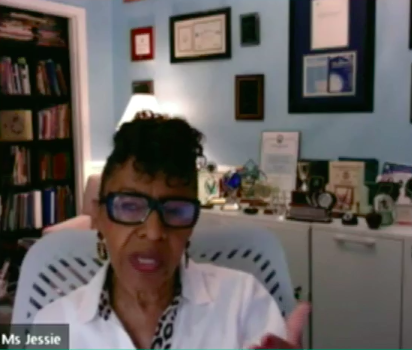 Jessie said she received "hundreds of emails" from teachers and staff, many of whom shared personal concerns about health conditions and  about infecting vulnerable family members.
"Many of you said this is a tough decision. No it's not," Jessie said. "It's a decision to not put teachers, staff and members in harms way. It really is a no-brainer."
"It's a decision that comes with a very central mantra," she added, ticking off the feedback she heard from teachers: "Number one, we're scared. Two, we need our jobs but we don't want to sacrifice our health. We need protective gear and it should not be optional. We love our students but know [the school division] cannot enforce the distancing strategy without additional support. In other words, don't ask us to be teachers, healthcare workers and safety monitors when the lack of enforcement could result in deadly consequences."
School Board members voting in favor of opening schools under the 50% plan included Wilk, Board Chairman Dr. Babur Lateef (At Large), Jen Wall (Gainesville) and Diane Raulston (Neabsco).
After the motion failed in a tie vote, Lateef introduced the alternate plan -- to begin the school year with mostly virtual instruction and transition to the 50% plan in the second quarter -- as a compromise. The first quarter will end on Oct. 30, according to a school division press release.
But Lateef stressed to school division officials that he could not support a virtual instruction model that included live instruction only one day a week, as was depicted in plans released last week.
Rita Goss, associate superintendent for student learning, said the school division would be able to offer more live learning, also known as synchronous instruction, under the nearly 100% virtual model. The challenge would come, however, if the school division transitions to the 50% plan in the second quarter. The school division does not have enough teachers to offer a full complement of classes both online and in person, Goss said.
Deputy Superintendent Keith Imon said teachers' ability to deliver live instruction would depend on how many students opt for in-person instruction in the second quarter if the school division is able to meet that goal.
Before the vote, several teachers and parents spoke during both live and virtual public comments. The school board held its meeting in person at the Edward L. Kelly Leadership Center  in person for the first time since March.
Even so, some school board members attended the meeting virtually, including Jackson, Jessie and Raulston. Two times, technical difficulties halted the meeting when connections with the remote board members were lost.
The vast majority of teachers who spoke before the vote urged the board to begin the year with 100% virtual instruction. Teachers also held a rally outside the Kelly building before the meeting began to make their position known.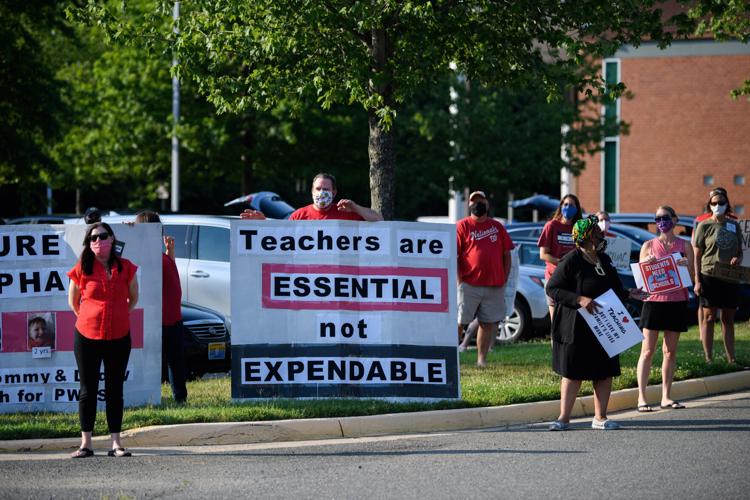 Both Riley O'Casey, the outgoing president of the Prince William Education Association, and Maggie Hansford, the incoming president, spoke in favor of opening schools virtually. About 3,700 Prince William County Schools' teachers and staff members belong to the PWEA. 
"It is clear we are unable to afford to implement the 50% plan safely," Hansford said, noting that the school division has been chronically underfunded for years, leading to overcrowded conditions in many schools.
"On a good day, we do not have the funding we need, let alone on a bad day, and today is a bad day. We are in the midst of a global pandemic and our schools are over $40 million short to safely fund a 50% return-to-school plan. Keeping budget realities in mind it would be irresponsible to ask staff to reopen without adequate protections in place."
O'Casey said she did not attend the meeting because she herself is awaiting the results of a test for COVID-19 she took earlier this week after spiking a fever.
O'Casey told board members that 90% of PWEA members expressed concerns about returning to in-person instruction and that teachers are considering "returning or resigning."
"Teachers are updating their wills," O'Casey added. "I repeat, they are updating their wills."
Parent speakers were split between reopening schools for in-person instruction and keeping them mostly closed in favor of virtual instruction.
Some parents said their students have suffered since schools closed to in-person last spring and that they want to see their children return to school. Others said the prevalence of the virus in the county, which has so far had more than 9,000 cases, makes opening schools unsafe.
Dr. Tshaka Cunningham, a parent and spouse of a Prince William County teacher who said he is a virologist working on setting up a local COVID-19 testing facility, was part of the latter group.
"I feel like until we can have a situation where we can have consistent testing and contact-tracing among everyone, it's going to present a risk," he said. "I think it's unrealistic to expect school-age children to adhere to PPE rules. I know they'll try their best, but I work in a laboratory and I see people in a laboratory having trouble with that, so I can only imagine 5, 6 and 7-year-olds trying to do that."
Walts said the school division staff would continue working over the summer to prepare for the start of the school year. The board will likely meet in mid- to late-August for an update before the year begins.
Reach Jill Palermo at jpalermo@fauquier.com