UPDATED: Prince William County, Manassas and Manassas Park are now under a tropical storm warning due to Isaias. Residents can expect between 3 and 6 inches of rainfall and strong winds beginning Monday night, according to the National Weather Service.
Most of the region is also under a flash flood watch also extending through Tuesday night, the weather service says.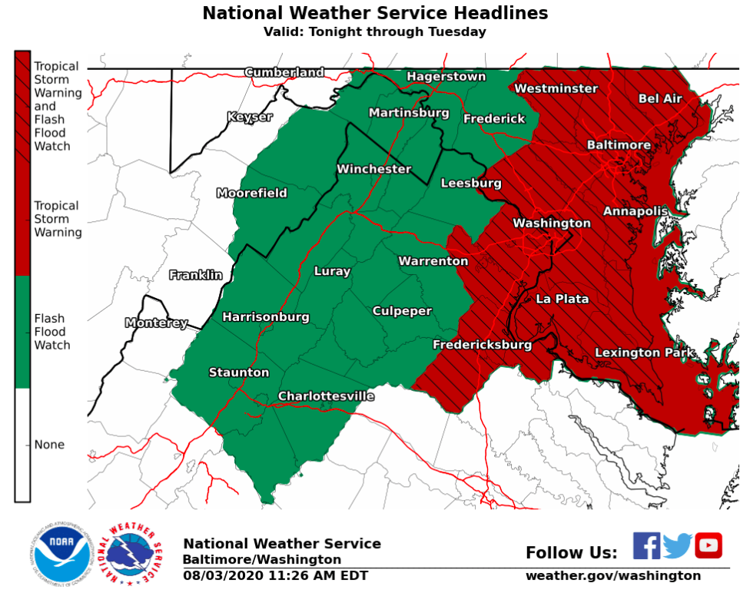 Winds between 20 and 30 miles per hour are expected, although the area could see tropical storm force gust of up to 57 miles per hour.
Potential impacts include damage to porches, awnings, carports, sheds and unanchored mobile homes, the Unsecured lightweight objects blown about. Large tree limbs might be broken off, the weather service warns
As of Monday afternoon the storm was churning off the coast of Georgia. The storm is expected to regain hurricane strength before making landfall on the South Carolina coast sometime tonight.
The storm will make its closest approach to the Northern Virginia region on Tuesday, the National Weather Service says.
Locally, the highest amounts of rain are expected east of the Blue Ridge Mountains particularly over the I-95 corridor. Moderate coastal flooding is also possible at times of high tide Tuesday as Isaias makes its closest approach to the area, the weather service says.
"Now is the time to complete all preparations to protect life and property in accordance with your emergency plan," the weather service advises. "Ensure you are in a safe location before the onset of strong winds or possible flooding."