Fauquier County sheriff's deputies have arrested a suspect in connection with the Aug. 26 death of 18-year-old Lincoln Williams Jr. Williams was shot in the face late Monday night outside his home in Warrenton and died from his wounds shortly after.
Daniel Martin Farmer II, 23, of Nokesville, was arraigned this morning on a charge of first-degree murder.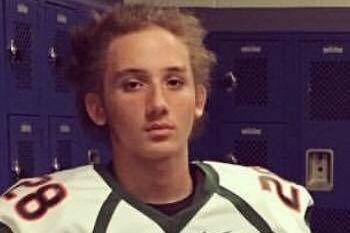 Sheriff's office spokesman Sgt. James Hartman said Farmer was taken into custody during a traffic stop on Va. 28 near Dumfries Road about 8:30 p.m. on Wednesday, Aug. 28.
Hartman said Fauquier County Sheriff's Office detectives identified the suspect early in the investigation and sought a warrant for first degree murder Wednesday night. Sheriff's detectives worked with the FBI Safe Streets Taskforce and Prince William County Police to apprehend the suspect Wednesday night in Prince William County.
911 was called at 10:42 p.m. Monday when Williams came home after a short trip to Warrenton. Williams was bleeding heavily from his head, according to affidavits filed in the case. A trail of blood led out to the SUV parked in the driveway.
Upon arriving at the house, deputies were assisting with first aid when they discovered what appeared to be a gunshot wound. They provided CPR, but the victim's condition worsened. Emergency Medical Services personnel arrived and began treating the victim, who was transported to the Fauquier Hospital Emergency Department. Williams was pronounced deceased soon after arriving at the emergency department, said Hartman. 
Preliminary autopsy results indicated that Williams died from an apparent gunshot wound, said Hartman. The autopsy was performed at the Office of the Chief Medical Examiner in Manassas. An official cause and manner of death will not be available until the autopsy report is complete, Hartman said. 
Search warrants relating to the residence, an SUV outside the home and the victim's cellphone were filed in the early morning hours of Tuesday, Aug. 27.
Hartman said Wednesday that it appeared the victim "was the target of this shooting and the shooting occurred at and was isolated to the residence [where he was found] on Old Auburn Road."
Detectives are actively investigating to determine what led to the shooting. 
Anyone with information about the death of Lincoln Williams Jr. is asked to contact the Fauquier County Sheriff's Office at 540-347-3300. A caller's identity may remain anonymous.
Martin's preliminary hearing is scheduled for November 14 at 1 p.m. 
Remembering Lincoln Williams, Jr.
Charles Porterfield, head football coach at Kettle Run High School, knew Williams when he was a player on the team in 2016. 
Porterfield said, "The Kettle Run community is heartbroken by the news of Lincoln passing. Our hearts are with the Williams family in their time of sorrow.  Lincoln was a stupendous football player and a marvelous person to be around. He possessed a magnetic personality, which naturally drew people to him.  
"Lincoln played on both our JV and varsity teams during my first year as the head coach of Kettle Run. We will always remember the joyous memories that we are privileged to have in knowing Lincoln." 
Kettle Run Principal Meaghan Brill added, "Our school counselors have been and will continue to be available to students and staff during this difficult time. We are saddened to learn of Lincoln's passing and are here to support both our students and his family."