The Prince William Health District this week reached an all-time high community transmission rate: 1,530 cases per 100,000 residents. That's up more than 125% over the past two weeks and far above the Centers for Disease Control and Prevention's highest rating, which is 100 cases per 100,000 residents. 
The Prince William Health District, which includes the county, Manassas and Manassas Park, added nearly 9,600 new cases over the past week, also an all-time high. And that number is likely an undercount due to the prevalence of at-home tests, the results of which are not always reported to the state health department.
Both Virginia and the Prince William Health District set new records for daily COVID-19 cases on Saturday, Jan. 8. Across the state, 26,175 cases were reported that day, while 1,685 were reported in the Prince William Health District. The latter beat the county's last one-day record of 1,567 local cases reported on New Year's Eve.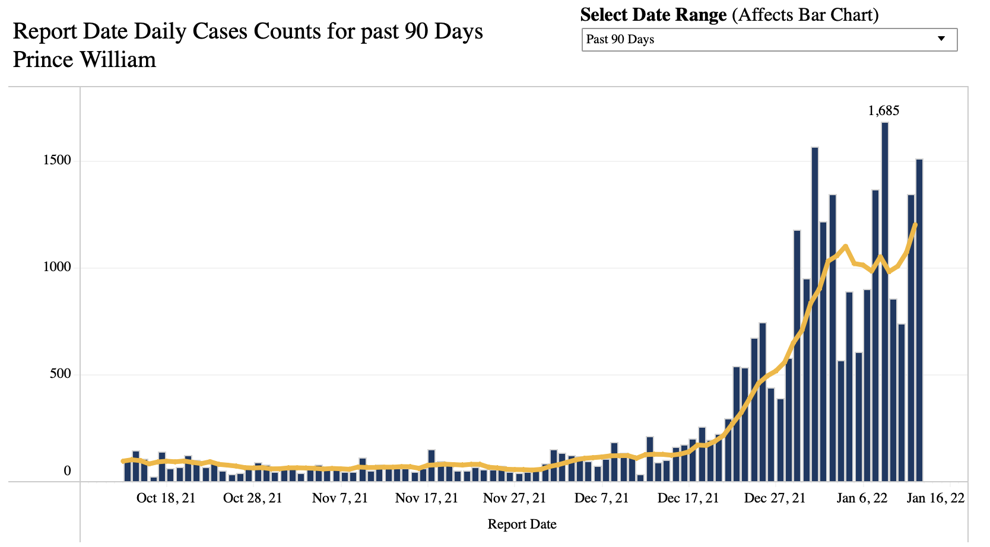 COVID-19 cases were "surging" in all 35 Virginia health districts as of Friday, Jan. 7, a situation the University of Virginia's Biocomplexity institute said was the result of cold, dry winter weather as well as holiday gatherings and travel.

"Virginia is now facing a different kind of winter storm, and one that won't melt away so quickly," the institute said in its latest report. "Models now forecast a repeat of last year's winter surge, with another peak in late January. Unfortunately, Omicron's extensive immune escape may allow this year's surge to dwarf those of 2021."
The omicron variant, first detected in Virginia on Dec. 9, is "now likely the dominant strain" in Virginia, the report said, noting that the CDC estimates it represents more than 93% of new cases, up from 70.1% last week.
Local hospitalizations still high but down from the previous week
Daily hospitalizations reported in the Prince William Health District peaked at 82 on Dec. 29 but have since fallen to a seven-day daily of average of 28, down 20% since Jan. 7.
Still, about 250 local residents were released from area hospitals after being treated for COVID-19 over the past week. The number included 19 children under age 9 and nine kids and teens between the ages of 10 and 19, according to VDH data.
As of Wednesday, Jan. 12, 89 patients were hospitalized for COVID-19 at Sentara's Northern Virginia Medical Center in Woodbridge. That's down from a peak above 90 earlier in the week but more than double the number of COVID-19 patients hospitalized there two weeks ago. 
As of Wednesday, Jan. 12, 47% of the hospital's beds were occupied by patients being treated for COVID-19, according to the hospital's public COVID-19 dashboard.
Gov. Ralph Northam issued a new state of emergency Friday, Jan. 7, aimed at helping hospitals cope with the current surge by expanding bed space and easing some regulations on hospitals and health care workers.
Sentara's Northern Virginia Medical Center did not disclose whether the hospital has added to its 180-bed capacity since the state of emergency went into effect, but spokeswoman Susan Bahorich said the hospital is ready to do so if needed.
"Sentara Northern Virginia Medical Center is prepared and practices for situations like this and has the availability to expand patient care outside of our license. For instance, each room is equipped with the capability to increase in capacity," Bahorich said in an email.
The UVA Prince William Health Centers in Manassas and Haymarket do not provide their daily COVID-19 hospitalization numbers to the public.
Friday, Dec. 31: Va., Prince William set all-time highs for new daily COVID-19 cases, county adds 1,567 in a single day
Both Virginia -- and Prince William County -- set records Friday for the highest number of new COVID-19 cases reported in a single day since the pandemic began.
New cases reported across the state ballooned to 17,618 -- a 30% increase from the 13,500 new cases reported Thursday, the previous one-day record. The number is more than double the one-day tally of 8,756 reported one week ago on Christmas Eve.
In Prince William County, the number of new daily cases reported Friday surpassed the previous record set back in January 2021 for the first time. There were 1,567 new cases reported in the county on Friday, Dec. 31 – an all-time high.
And even though testing for the virus is surging – with people standing in line for hours for tests at local urgent care centers – the local percent-positivity rate shot from about 7% in early December to 27.5% as of Friday. 
(The county's all-time-high percent-positivity rate was 36.6% set back in April 2020 when testing was extremely limited.)
The numbers are even more stark when compared to one year ago. On Dec. 31, 2020, Virginia reported 5,239 new daily cases, while Prince William County reported only 272.
Friday's 17,618 cases represent a 236% increase from New Year's Eve 2020, while the 1,567 new cases reported locally is more than five times the daily tally recorded on Dec. 31, 2020.
The ongoing surge in cases is worse in the Washington, D.C. area than in most parts of the country, according to the Washington Post, and is being blamed on the convergence of the more contagious omicron variant and the lingering delta variant.
The Post reported Dec. 31 that epidemiologists are attributing the local spike to everything from D.C. Mayor Muriel E. Bowser's decision to drop the city's mask mandate in November to the D.C. area's relatively high vaccination rate. While vaccines helped ward off cases of the delta variant, the shots have been less effective at stopping infections of the omnicron variant, experts say.
Still, those who are both vaccinated and boosted are experiencing much milder symptoms than the unvaccinated, who continue to make up the vast majority of those hospitalized for COVID-19 in Virginia, according to the Virginia Department of Health.
Hospitalizations are creeping up locally and statewide, however. On Friday, a total of 2,182 people suffering from COVID-19 symptoms were hospitalized across the state, up from 2,101 on Thursday, according to the Virginia Healthcare and Hospital Association.
Locally, 70 new hospitalizations were reported on Friday. That's fewer than the record 82 reported on Wednesday, Dec. 29, but the seven-day average remains near an all-time high. An average of about 48 COVID-19 patients were released from hospitals each day this week – a more than 200% increase than the seven-day average of 15 reported locally on Christmas Eve.
Sentara Northern Virginia Medical Center in Woodbridge added eight more COVID-19 patients to its daily census on Friday, Dec. 31. The increase means 24% of the hospital's 180 beds are currently occupied by those needing treatment for COVID-19. 
Sentara Northern Virginia Medical Center has the second-highest number of patients hospitalized for COVID-19 of any of health care system's 12 Virginia hospitals. Only the Sentara RMH Medical Center in Harrisonburg has more COVID-19 patients: 42, according to Sentara's public COVID-19 dashboard.
VDH released age information on only 26 of the 70 new hospitalizations reported locally on Friday. Of those, three hospitalizations were added among kids age 9 and under, while kids and teens between 10 and 19 reported four. 
Residents in their 20s reported the most hospitalizations on Friday at seven. (Local residents in their 20s have reported the most COVID-19 infections since the pandemic began: 12,488. A total of 188 local twenty-somethings have been hospitalized for COVID-19, while eight have died since March 2020.)
Residents in their 30s and 40s reported three hospitalizations in each age group, while there were four hospitalizations recorded among residents in their 50s and one each among residents in their 60s and 70s.
The VDH reported age information on only 206 of the 1,567 new cases reported on Friday, or about 17%. 
Of those, residents in their 20s reported the most new cases with 101. Kids and teens between the ages of 10 and 19 reported 37 new cases, while kids ages 9 and under reported 40.
Northam: Hospitalizations and severe symptoms – not cases – are the state's the top concern
Virginia Gov. Ralph Northam, who is a pediatric neurologist, says the recent rise is in cases is "a reason for concern, but not a reason for panic."
Northam said it's important to study not only the number of cases reported each day but also the severity of symptoms and hospitalizations.
"The data are clear: Nearly everyone going to the hospital with COVID is unvaccinated. This is entirely avoidable, if everyone gets their shots," Northam said in a Dec. 29 statement. "This is really important, because people working in hospitals are exhausted—nurses, doctors, and everyone. They have worked tirelessly for months to care for people who have gotten sick." 
The VDH and the VHHA issued a joint statement Thursday saying Virginia's hospitals are "overwhelmed" and urging people not to go to the emergency room for COVID-19 tests or only mild COVID-19 symptoms.
Late Thursday, The Virginia College of Emergency Room Physicians asked Northam to declare a state of emergency to help hospitals access state disaster funding and federal dollars to provide for more nurses, more tests and more PPE. The governor has not yet issued a public response to that plea.
As part of his Dec. 29 statement, Northam released a list of steps he said Virginians should take as COVID-19 cases spike, the first of which was to "stay away from people who have not gotten their shots."
Northam also recommends getting booster shots, vaccinating all children who are eligible, wearing masks and social distancing.