UPDATED: The Dale City Farmers Market is moving back to Dale City this weekend after operating for about four months at the Prince William County government complex.
The market relocated in June to allow for more space for social distancing due to the ongoing coronavirus pandemic.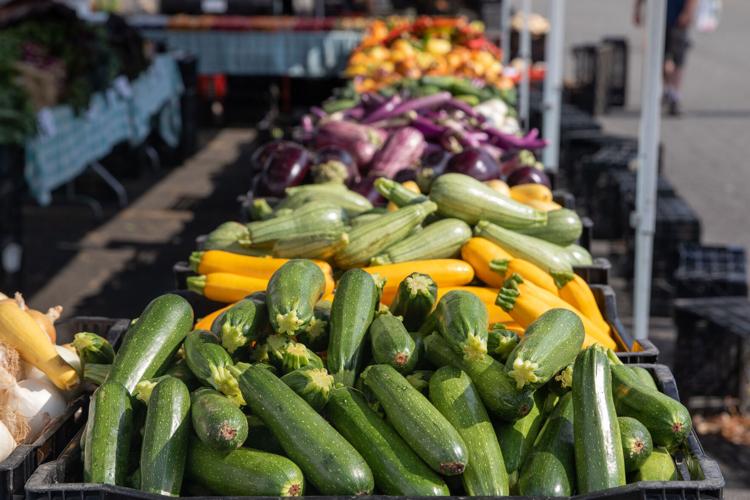 Now, it's moving back to the Dale City commuter lot so it won't conflict with softball and baseball tournaments happening at Pfitzner Stadium over the next few weekends, said Brent Heavner, spokesman for Prince William County's Department of Parks, Recreation and Tourism.
"We will still have the same social distancing procedures in place," Heavner said of the farmers market. "We may need to set up in a slightly larger footprint than we've done at the site previously, but we're prepared to open it safely."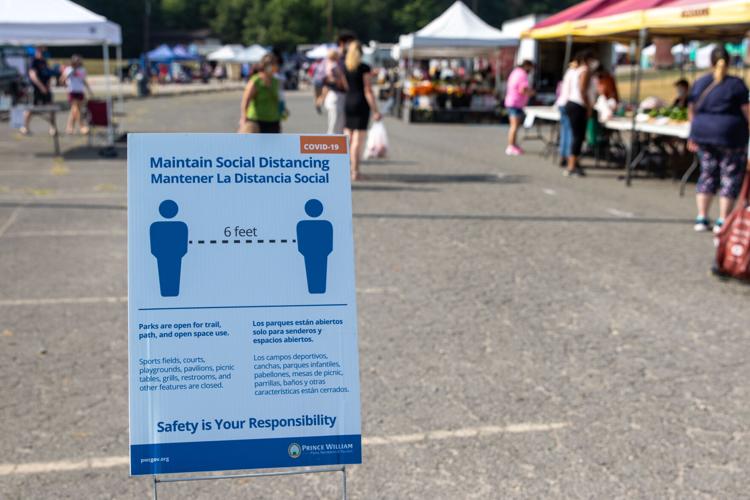 Moving the farmers market back to its original location will help the county keep the overall crowd numbers down at Pfitzner Stadium on Sunday mornings, Heavner said.
Some farmers market vendors were upset by the county's decision to close the farmers market this past Labor Day weekend when a large softball tournament took place at Pfitzner Stadium.
The Dale City commuter lot is located behind the Giant grocery store near the intersection of Dale Boulevard and Gemini Way in Dale City.
The farmers market operates on Sunday mornings from 8 a.m. to 1 p.m.
Original story: Relocated farmers market offers more room to spread out and shop
The Dale City Farmers Market has been relocated to a larger venue to allow for social distancing. But it's still serving up summer favorites and a taste of normalcy in troubled times.
The farmers market moved from the commuter lot on Gemini Way in Dale City to a larger parking lot outside of Pfitzner Stadium behind the James J. McCoart Administration Building and county government complex in Woodbridge.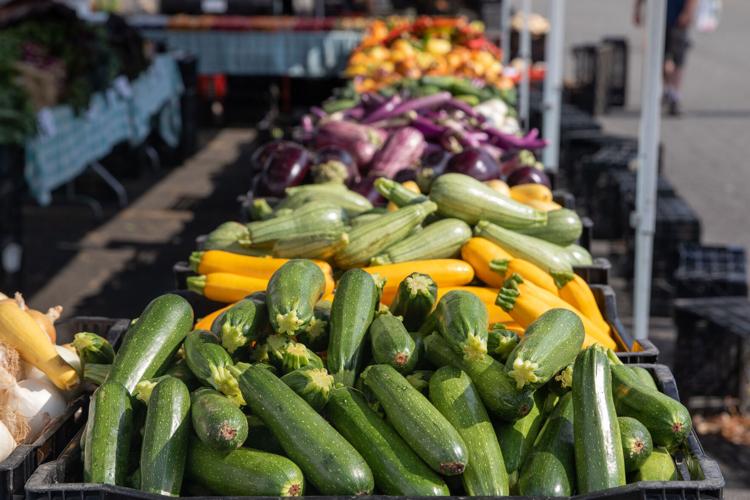 The move allows vendors to spread about 10 feet apart. They and their customers are asked to practice social distancing and wear masks at all times. There's no handling of produce or products. Customers select what they want, and the vendors bag it.
The market was unable to open as it usually does in the spring because of the coronavirus shutdown. But the Prince William County Parks and Recreation Department soon started working on ways to reopen it.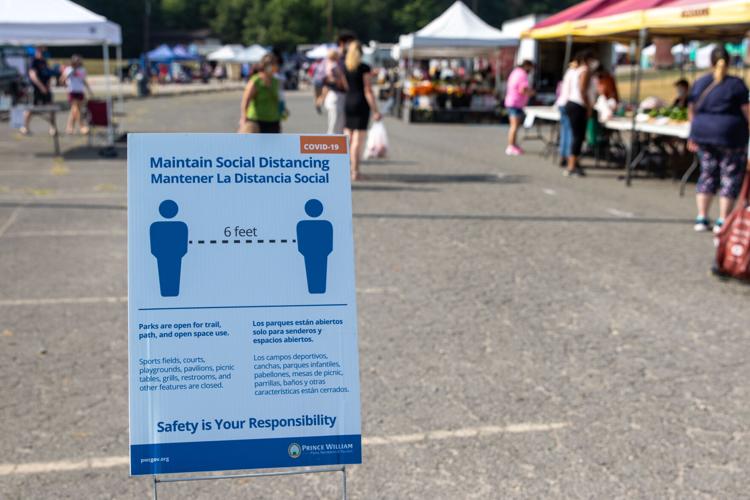 "We started looking at ways we could operate the market that would be consistent with social distancing guidelines and where we were with the [state's reopening] phases," said Brent Heavner, spokesman for the county's department of parks, recreation and tourism.
"We realized we had a lot of space at the Pfitzner complex and we spoke to our emergency management professionals and our rangers and the manager of the market and determined we could open there safely as a walk-up market because we had so much space."
The farmers market opened at the Pfitzner complex on June 7.
"Since then, the market had been operating well. I think there was a lot of pent-up demand. It's appealing to many people to be able to shop outside right now," he said.
Heavner emphasized the location is temporary and that the farmers market will return to Dale City as soon as possible.
"The staff is working on how to operate it there safely and how many vendors will be returning to that location," he said. "Our community in Dale City has grown accustomed to having that amenity there and a lot of folks would like to see their farmers market come back to their community," Heavner said. "That's what we are trying to balance."
The Dale City Farmers Market is one of the largest in the region and has existed since 1987. The market usually hosts about 50 vendors.
This year at Pfitzner, it is averaging 35 vendors. Two weeks ago, there were 42, according Kim Dorman who manages the market.
Under Phase 3 of Virginia's reopening plan, outside gatherings are limited to 250 people. Dorman said the market has not had to turn people away. 
"With vendors spread out, it has allowed people to come in. Overall, people are social distancing well," she said.          
Heavner said they are seeing community interest in having the Pfitzner location continue as a farmers market even after the Dale City location reopens.
"We are seeing that the different location has opened it up to some new shoppers," he said. The county has sent a questionnaire to vendors asking if they would support a second market.
Samantha Stern of Holy Cow, which sells mainly dairy products, has been a vendor at the Dale City Farmers Market for seven years.
She said she likes the new location better. At the Dale City location, her booth was located off of the main pathway, and she didn't feel like she got as much foot traffic as other vendors.
"It's larger. There's more room. We're not all squished together," she said. "This allows everyone more opportunity for customers.
"I feel like everybody is very conscientious," Stern said. "The customers are not all approaching your table at once. They get in a line and stay 6 feet apart."
"A lot of people are figuring out the new location. It's not quite what it was before corona but it's making progress," she said. "We've got a lot of new customers, and slowly the old customers are finding us."
Dan Dodson of Dodson Produce, which sells fruit and vegetables, has been at the market for about 25 years.
"It's really picked up in the last three or four weeks. People are figuring out where it is now and they are telling their friends," Dodson said. "I'm happy with it.
"People are nice and considerate about [not being able to handle the produce,]" he added. "They can point to what they want. They just can't touch it."
Everybody is following the rules. "You can't be waited on if you aren't wearing a mask," Dodson said. "Everybody understands. They know what's going on."
"Overall, I didn't think it would be any good this year but it's gotten really, really good," he said.
The Manassas Farmer's Market at Harrison Pavilion is also open this summer. Like at Pfitzner, customers cannot touch to produce or products.
The Tackett's Mill Tuesday Market did not reopen because of the pandemic.
"We are unable at this time to find a solution that will be beneficial to both our customers and vendors, while maintaining public safety and health," Tackett's Mill posted on Facebook.
The Haymarket Farmer's Market isn't open but the Haymarket Town Council will consider reopening it and make its decision in the coming weeks, according to Chris Coon, town manager.