UPDATED: The winter weather has canceled COVID-19 vaccinations and testing in Prince William County today, but those who were scheduled for vaccine today will receive new appointments scheduled over the next few days, according to the Prince William Health District.
Those who were scheduled for shots at both Potomac Middle and Beacon Hall, the Prince William Health District's existing vaccination clinic at George Mason University's Manassas, were notified of the cancellations over the weekend.
They should watch their emails for rescheduled shots in the coming days, according to Kathy Stewart, spokeswoman for the Prince William Health District.
The health district is now expecting to receive about 6,000 vaccination doses each week from the Virginia Department of Health. 
It's not clear how many shots the county health district expects to deliver on a weekly basis. The health department has so far not been able to disclose how many people are on the waiting list or how many shots are expected to be administered daily at the two new clinics, Stewart said Monday.
The vaccination clinic at GMU's Beacon Hall is administering 360 shots a day, according to health district officials.
The Prince William Health District has so far received a total of 43,450 doses of vaccine and has administered 26,019 shots, or about 59% of the doses received, according to VDH data.
The number includes vaccinations administered by the health district and local hospitals as well as those administered in local nursing homes, assisted living facilities and group homes.
Those who were scheduled for shots today, Monday, Feb. 1, can also call the health district's call center for assistance at 703-872-7759.
The call center is open from 9 a.m. to 4:30 p.m. seven days a week.
Sunday, Jan. 31: Prince William County is expected to receive 6 to 8 inches of snow by Tuesday night, according to the latest predictions, and "icy patches" were being reported on several main thoroughfares Sunday morning.
The Virginia State Police continues to ask Virginians to stay off the roads if possible today as the snow is expected to intensify throughout the day before tapering off tonight.
In Prince William, the Virginia Department of Transportation was reporting "icy patches" early Sunday morning on several roads, including parts of Va. 234, Prince William Parkway, Smoketown Road, Dale Boulevard, Minnieville Road, Joplin Road and Neabsco Mills Road as well as several secondary roads and ramps and bridges, according to the agency's road conditions table.
Road conditions can be seen in real time from VDOT cameras positioned locally on Minnieville Road, Dale Boulevard, Prince William Parkway and Interstate 95.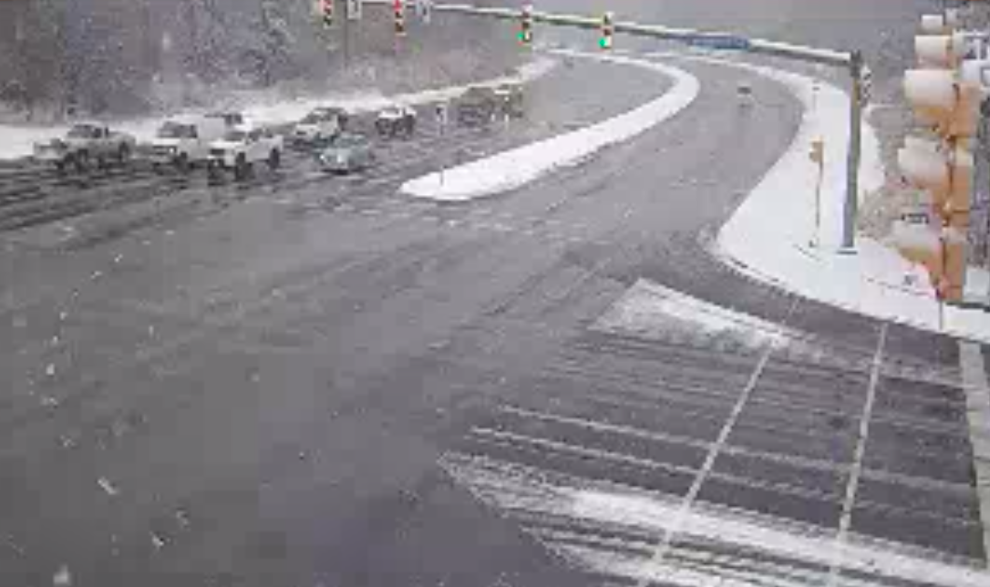 As of 9 a.m. Sunday, the Virginia State Police was responding to 34 crashes across the state. "Fortunately, most only involve damage to vehicles and no injuries," the state police said in a tweet.
The mass vaccination clinic  for Prince William County schools at Unity Reed High School was proceeding as planned Sunday morning, according to School Board Chairman Dr. Babur Lateef.
The clinic delivered 230 inoculations in the first hour, and many teachers and staff members scheduled for shots today are coming in early, Lateef said.
The parking lot at the school has been plowed and the walkways have been shoveled. Teachers and staff may reschedule their vaccinations, however, if they feel unsafe driving to Unity Reed High School either today or tomorrow, Lateef said. 
Stay with Prince William Times for updates.
Saturday, Jan. 30: Virginia State Police urges residents to avoid travel during Sunday, Monday winter storm
The Virginia State Police is asking residents to avoid travel if possible during the expected winter storm, which forecasters say will bring 4 to 8 inches of snow and up to one-tenth of an inch of ice to Prince William County and surrounding areas of Northern Virginia between early Sunday morning and Monday night.
A winter storm warning is in effect from 1 a.m. Sunday to midnight on Sunday night, according to the National Weather Service.
Snow is expected to overspread the area between 3 and 5 a.m. Sunday morning, with the steadiest snow falling through the afternoon before tapering off to an intermittent mix of light snow, sleet and freezing rain on Sunday night.
Additional snow is expected Monday through Monday night with additional accumulations of around 1 to 3 inches.
The two phases of the storm are expected to bring a total of 4 to 8 inches of snow to the area, the National Weather Service says.
"Travel will be very difficult Sunday through Tuesday morning due to a prolonged period of snow and wintry precipitation with temperatures near or below freezing," the winter storm warning says.
The Virginia Department of Transportation has been working to pre-treat the highways today, but slick and dangerous conditions are still anticipated due to the forecasts calling for significant snow accumulations, ice and rain.
"The Virginia State Police is already preparing for the winter weather and will have all available troopers on patrol in order to respond as quickly as possible to traffic crashes, emergencies and disabled motorists," according to Corinne Geller, Virginia State Police spokeswoman.
Those who must travel should check Virginia road conditions at www.511virginia.org or download the VDOT 511 app.
Drivers should clear all snow and ice from their vehicles' roofs, trunks, hoods and windows before travel. Use your headlights and drive for conditions, including slowing speed and increasing traveling distance with other vehicles.
The state police asks that people not call 911 for road conditions in order to leave the lines open for emergencies.