After calling a temporary recess due to a sometimes unruly crowd of activists gathered to protest critical race theory – which officials insist is not taught in local schools – the Prince William County School Board made quick work of its agenda Wednesday night, adjourning about 30 minutes after the meeting began. 
In a unanimous vote, the board voted to suspend citizen's comment time, "in light of the night's events," said Woodbridge School Board member Loree Williams. 
The school board then adopted a new policy requiring the school division's more than 11,000 teachers and staff to prove they are vaccinated against COVID-19 by Nov. 1 or submit to weekly testing. The school board passed the measure unanimously and without discussion.
The new policy is an effort to limit student and staff quarantining due to exposures to positive and probable cases of COVID-19, according to School Board Chairman Dr. Babur Lateef, who called ongoing quarantining "incredibly disruptive" to student learning in an interview with the Prince William Times last week.
As of Friday, Sept. 10, 298 students and seven staff members were sent home to quarantine because of an exposure to a positive case of COVID-19. 
During the previous week, 495 students and 13 staff members were sent home to quarantine, according to Diana Gulotta, school division spokeswoman.
Superintendent LaTanya McDade also announced that the school division would assign seats on school buses in an effort to assist with contact tracing when students are diagnosed with COVID-19.
"We believe it is a necessary and commonsense step," McDade said.
Regarding the staff vaccine requirement, McDade said that during the pandemic, "public health and public education are directly linked," and that scientists are "unequivocal in their message" that vaccines are the best protection against contracting and spreading the coronavirus.
McDade said the school division would be offering "free testing" to help staff members who chose not to be vaccinated comply with the new requirement. More details about testing would be forthcoming, she said.
The money will be spent on "high-dosage tutoring" at all schools and on extra teacher assistants, instructional coaches and parent liaisons at some schools where more targeted help is needed, according to Rita Goss, the school division's associate superintendent for student and professional learning.
Temporary recess called after activists became unruly
While the school board was still in closed session, a temporary recess was called due to safety concerns over "disruptive behavior" displayed by activists who attended the meeting to express their concerns about critical race theory.
The school board meeting was scheduled to begin at 7 p.m. but was delayed due to the board's closed session meeting. Some activists entered the school board chambers around that time, but many others were barred from entry by police officers when the room reached capacity. 
That led to arguments between activists and police officers over whether they would be allowed in the room during the meeting.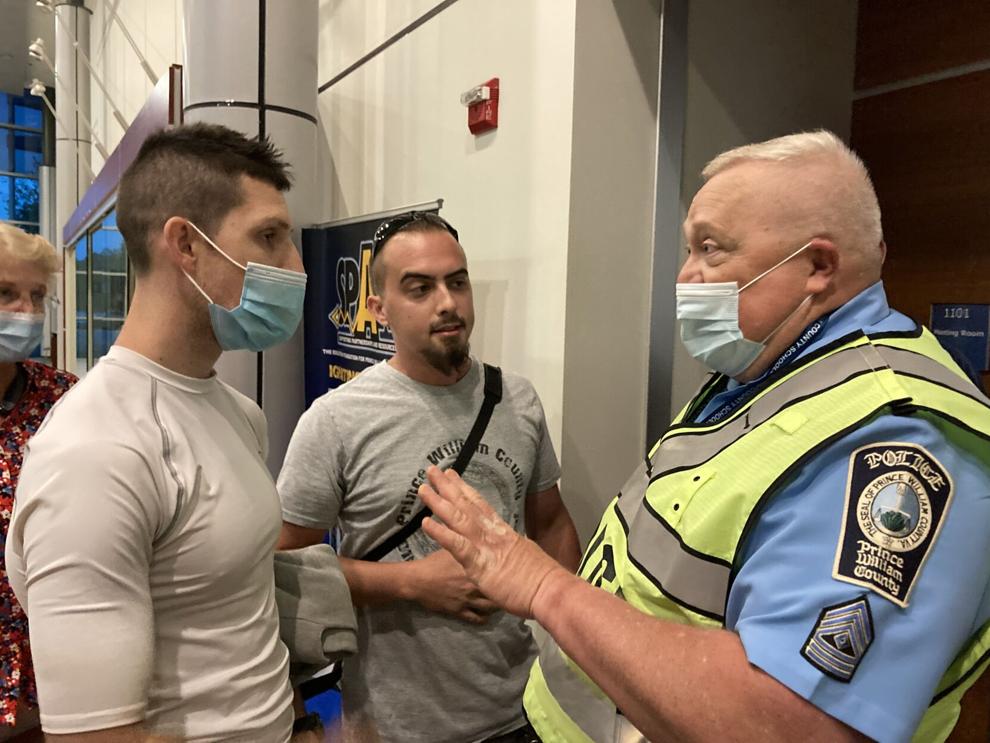 Some protesters were being loud inside the board room and in the lobby, including one person who was using a bull horn. Many already inside the building were not adhering to the school division's mandatory face-covering rule.
At about 8:15 p.m., at least four police officers and school security guards began clearing the room and the lobby. They asked everyone in attendance to exit the building. The protesters then gathered in front of the building. 
Critical race theory is an academic theory coined more than three decades ago that states, among other things, that racism is structural rather than only personal, and that laws and institutional practices can have racist outcomes without racist intent.
Protests against the perceived influence of critical race theory on public schools have been occurring across the country over the last several months, despite school division officials' insistence that the theory is not part of the public schools' curriculum.