Glenn Youngkin's victory in last week's gubernatorial election marks the first time a Republican has won a statewide election since 2009. Thanks to an energized Republican turnout, Youngkin captured 50.6% of the 3,286,997 votes cast, with Democratic candidate Terry McAuliffe receiving 48.6%, according to the latest data from the Virginia Department of Elections.
The 2021 election saw 55% voter turnout; the highest for a statewide election in recent history.
Youngkin's victory follows a long-standing pattern in Virginia gubernatorial elections, which always take place the year following a presidential election. With only one exception in the past 40 years, whichever party doesn't hold the White House takes the governor's mansion. McAuliffe's tight win over Ed Gillespie in the 2013 election, when Democrat Barack Obama was president, is the one exception to this pattern.
This year's election also saw a significant drop in absentee voting, which accounted for just 36.5% of ballots cast. During the 2020 election, 63% of votes were absentee.
In Fauquier County, voters remain overwhelmingly supportive of Republican candidates, with 33,992 county residents – accounting for 62% of registered voters – casting ballots in the 2021 election. Youngkin won 65.5% of votes in the county to McAuliffe's 34%. Then-President Donald Trump won 57.5% of Fauquier County votes in last year's presidential election.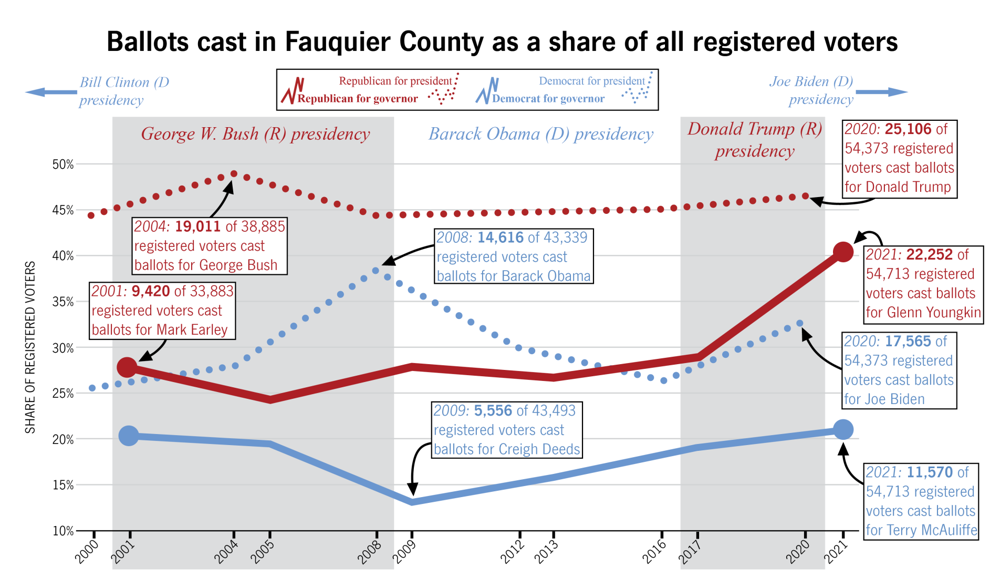 Absentee voting also dropped off in Fauquier County. In 2021, 12,979 absentee ballots were cast (38.2% of votes), compared to 28,422 (65% of votes) in 2020.
Republicans in deeply conservative Fauquier County turned out in record proportions this year; votes for Youngkin accounted for more than 40% of all registered voters in the county. No single gubernatorial candidate had turned out more than 28% of the Fauquier electorate before this year.
In fact, this year's gubernatorial race drew turnout rivaling presidential-year elections. Votes in Fauquier County for Republican presidential candidates have hovered around 45% of the total electorate in this century, while Democratic turnout has varied wildly. Democratic turnout for presidential elections peaked with Barack Obama's election to the presidency in 2008 but by 2016 had declined to what it was during the 2000 presidential election.
In gubernatorial elections, however, Republicans have seen progressively higher turnout in the county while Democratic turnout has remained proportionally — and consistently — low.
Ballots cast for Republican gubernatorial candidate Mark Earley in 2001, for instance, accounted for 28% of the Fauquier electorate at the time, meaning Youngkin's candidacy encouraged a leap of 13% Republican participation in comparison.
Democrats' 2021 showing as a share of the total electorate, on the other hand, was just 1% higher than it was in 2001.
Republicans' gains in Fauquier have come despite a significant amount of population growth — a factor that has contributed to a leftward political trend in some neighboring counties.