When Tim's Rivershore Restaurant and Crab House closes for good this Sunday, Sept. 26, it will leave a hole in the hearts of its staff, loyal patrons and local charities it supported over its 28-year run of serving buckets of crabs and good cheer on the banks of the Potomac River.
But the sense of loss hits especially hard for Tim and Jamie Bauckman, who opened the restaurant in 1993.
"This has been more than a restaurant," said Tim Bauckman, owner of the popular hangout accessible both by land and by boat. "We're part of a community. Some of my oldest and dearest friends are people I met on the river."
"I'm in a fog. I know this was happening, but now that it's September, it came so fast," said Jamie Bauckman, who works with her husband. "I feel bad for Tim. It hurts to see him hurting. He had something really special here. ... I feel so bad for all of the people who have worked for us over the years, the customers who come in all the time and for my kids. They grew up here. They worked here.
"It's going to be huge loss. It's been worries and happiness and a staple in our lives every day. It's heartbreaking," she said.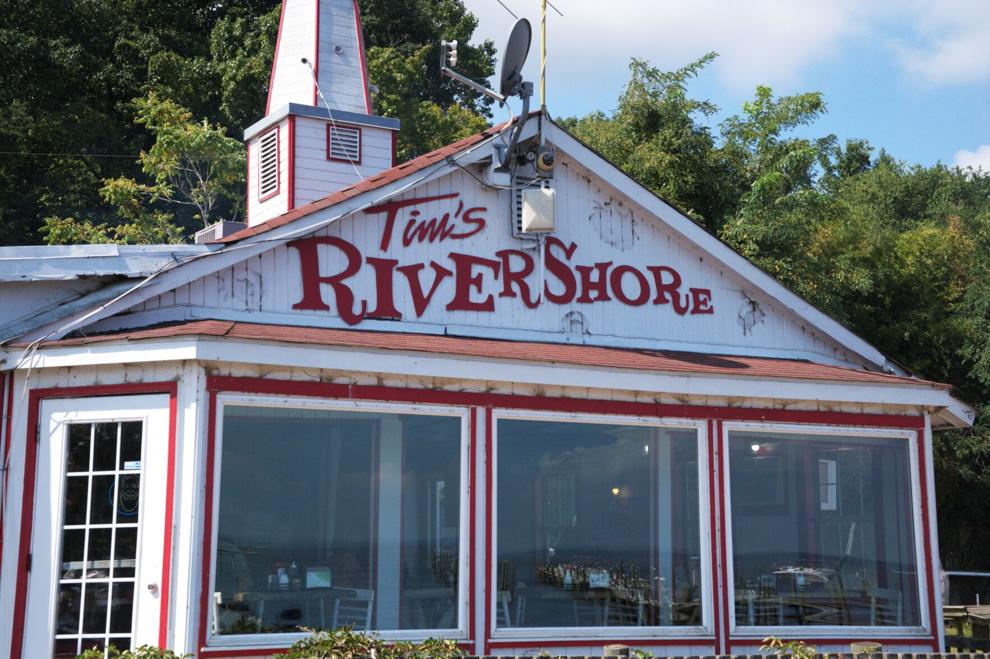 The Bauckmans have high praise for their staff over the years. "They are like our family," Jamie Bauckman said.
"It's heartbreaking," said Tim Bauckman, 63. "We have people at our other stores who worked here for a long time." Bauckman also has Tim's restaurants at Lake Anna, Fairview Beach and Coles Point.
Many of Bauckman's "kids," as he calls them, have gone on to become nurses, businesspeople, or joined the military, among other professions. Many stayed in the restaurant business.       
"I think they look back and think well of us," Bauckman said. 
Over the years, many charities and youth organization also thought well of the Bauckmans.
The Polar Plunge, an annual event benefiting the Special Olympics, raised more than $1 million over the 20 years it was held at the Rivershore.
The Bauckmans also sponsored other organizations. "You've got to be involved. We tried to do things for kids," Tim Bauckman said.
Softball, baseball, swimming and soccer teams along with high schools and many more all benefited from the Bauckmans' generosity.
Bauckman turned to the courts, filing a lawsuit asking a judge to extend his lease by two years, per a stipulation in the lease agreement. His landlord, in turn, answered with a counter lawsuit that not only sought to dismiss Bauckman's claim but asked for almost $500,000 in damages.
"If I had a chance to stay for a day, I would have stayed. If I had to go through the same thing for a chance to stay for another month, I would," Bauckman said. "But at what point do you continue to fight, which costs money, and lose money over the winter when we don't make any money?"
Ahead of the restaurant's Sept. 26 closing, Bauckman put on a fireworks show one last time on Saturday, Sept. 18. 
"I figured I'd go out with a bang," Bauckman joked. He has put on fireworks shows the weekend before the Fourth of July for 20 years, drawing hundreds of patrons who watched from the shore and from the river.
"I wanted to do something for everyone. Everyone, the customers, have been so good to us for the last 28 years," he said.
Via Facebook, many loyal fans of the Rivershore shared comments of support and love.
"To me, it was a place that my customers could use as a touchstone. Whether it was the full-moon party every month or just hanging out and watching fireworks, Tim's was a gathering place so much more than a restaurant," wrote Joseph Paul Hoffmaster of Hoffmaster's Marina on the Occoquan River. "I've known [Tim] a long time, and I think personally I will just miss getting to talk to him. He and I had a lot of good conversations," 
"It was a place to have a conversation and even an argument while looking at the water and enjoying the blue crab. The result was agreement; we are all the same, despite differences," wrote Pat Piper.
"What I love about Tim's is the atmosphere. You [were] always welcomed, and the staff goes above and beyond. And Tim has always supported the student athletes by purchasing ads in the football programs. He has always been about the kids," wrote Georgiann Yates Thompson.
"All three of my kids have grown up working at Tim's and learned many life lessons, [becoming] the amazing young people they are today from those experiences," said Lori Statzer Bauckman-Moore.
"I love Tim's. I have taken my daughter there for 18 years. She is 19 years old. We went to Tim's for fireworks, music, food and a piece of heaven in the city that, just for a second, you forgot you were in. In my 41 years, I have never seen such an outpour[ing] of love for a single establishment. That is a testament to Tim's," wrote Jackie Gaudet
As a teenager growing up in the Lake Ridge area, Bauckman and his friends spent a lot of time on the Potomac River, water skiing and just goofing off. They would stop by the Rivershore, as it was known then, owned by Allen "Junior" Dent and Buzzy Cumberland, Cherry Hill watermen who built it in 1970.
Sometime in the early 1990s, whileDent told him he needed to "come down here and take this place over," Bauckman said.
He said he thought about it for a while. He had work at restaurants, including his father's, Charlie Brown'sn Lake Ridge, for years. He gathered some of the people who had worked at Charlie Brown's before it closed and asked them to come work for him at what became Tim's Rivershore. 
"I thought it might be a good place to make a few bucks and that it would be fun on the river and … would tide everyone over until they found something they were happy with," he said. 
"We got fired up and we got started," Bauckman said. "Every day it got better. I know we went 10 years where we did better every day over the day before, even if it was only a few bucks. It was the little restaurant that could."
He eventually bought the property from Dent and Cumberland in 2007 for $360,000, according to Prince William County land records.
Then came Hurricane Isabel in 2003 and things took a turn for the worse. The storm trashed the restaurant and destroyed the outside seating decks and tiki bar. Volunteers rushed in to help rebuild, but Prince William County got involved with permits and inspectors. The county decided the rebuilt decks couldn't be used, for lots of reasons. That went on for a long time. About 80% of the restaurant's business at the time came from people eating outside and was being lost, Bauckman said.
Then the county told him he didn't have enough parking on his small slice of property, which is  boxed in between the CSX railroad tracks and the Potomac River.   
While there was land for parking on the other side of the tracks, the county wouldn't count it because it wasn't adjacent, Bauckman said. 
"If we didn't have the parking, we could never open outside," Bauckman said.
KSI, which had recently bought most of the land around the Rivershore for a planned residential development, Harbor Station, approached Bauckman to buy the restaurant. Bauckman said the deal included a promise that if he sold the restaurant, KSI would let him use the land it owned on the other side of the railroad tracks for the necessary parking. 
"If we buy the property, then all this land becomes one property and you can park wherever you want," Bauckman said he was told. Bauckman sold the land and the restaurant in 2011 to Lee Carolina LLC, Harbor Station's ownership entity, for more than $3 million, according to county land records.
"We had a [verbal] 99-year agreement with them that we could be here as long as we wanted," Bauckman said. 
The 2008 Great Recession hit, and the housing market went south. Harbor Station never came to fruition, and Lee Carolina LLC defaulted on its loan. The land was acquired by Wachovia Bank, which was then absorbed by Wells Fargo, according to news reports at the time.
The bank representative Bauckman had been working with asked him what they could do to help. The result was a $1 a month rent agreement. 
That went on for four years, until new developers got involved. The property was purchased by SunCal for its new residential development – Potomac Shores – which got under way in 2013. Eventually, the rent increased substantially, Bauckman said.
Bauckman said he is considering a proposed expansion of Belmont Bay as a future spot for a Rivershore. The plan includes a new "marina district," which would be mixed-use and include a "dining hall" where several restaurants would be housed in one building. The county will likely hold public hearings on the plan next year.
"Yes, we are definitely interested," Bauckman said. "I just don't know if it would be perfect for us."        
Bauckman said when they move out, he has a few projects to work on at the other restaurants and then he will likely base himself at Tim's II in Fairview Beach, which is about the same distance from his house as Tim's Rivershore.  
"All in all, we've had a good run for [almost] 30 years," said Bauckman's business partner, Dave Wright.