A "new life" may be what most of the world is seeking as the pandemic, hopefully, lifts its lock on humanity and fades to a bad memory. 
One Nokesville family is eager to create a new life for themselves and their village that will help speed, in a small way, the transition back to normal.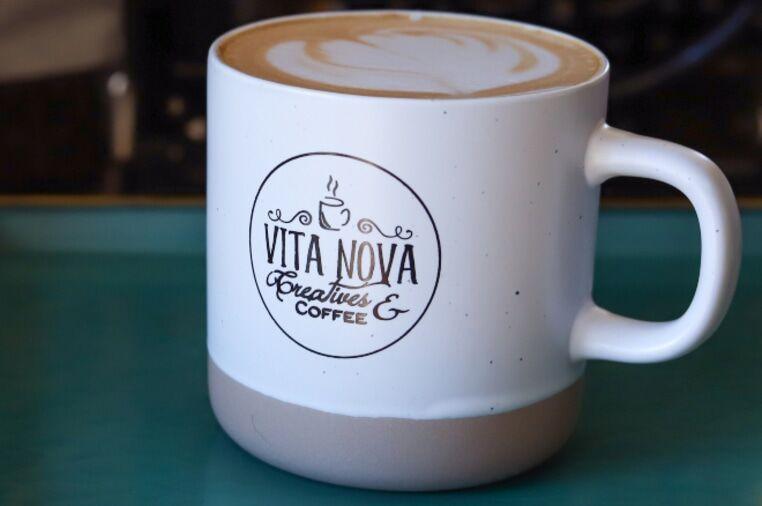 Tom Millar, 55, and Paula Millar, 53, are the force behind the new business. Their homeschooled children, now grown up, are their enthusiastic partners. The close-knit family hopes to offer a home-like atmosphere in their soon-to-open shop, which will feature unique gifts, art and all manner of espressos.
The store will be run by Paula Millar and her two daughters, Danielle Millar and Rebecca Ferguson, and her daughter-in-law, Jessica Millar, who is married to the couple's oldest son Alex. Their fourth offspring, Jerrod, is in his early 20s.
Many people had expressed interest in a local coffee shop, Paula Millar said, and that helped drive their dream forward. There are no comparable businesses in the area.
The shop is expected to launch with a soft opening in June after the interior build-out is completed and they finish procuring coffee-making equipment, gifts and art.
The 1,500-square-foot shop will be located at 13059 Fitzwater Drive at the Va. 28 intersection in Nokesville.
The Millar family has lived in Nokesville for 18 years. Daughters Rebecca and Danielle have worked in coffee shops before, bringing experience to the family's first business venture.
"I've always enjoyed art and painting," said Paula Millar. "Tom is one of the pastors at our church, Evergreen Community in Manassas, and a full-time real estate agent. I also ran a children's church for about 20 years."
"We considered running a coffee shop back in 2005 as I was getting close to retirement as an Air Force major," said Tom Millar.
Now those earlier musings are becoming a reality.
Everyone in the family is a coffee lover, so envisioning the next chapter of their lives as a business centered on java and art made sense.
Paula Millar had spent years tracking quaint coffee shops and checking out the atmosphere while enjoying a cuppa brew.
"I loved how each one had a different vibe, a different feel," she said.
Rebecca Millar echoes her mother's feelings.
"I worked in a coffee shop full-time for almost a year. It was an experience I will not forget. The relationships I built with the customers are ongoing today. The friendships, getting to know people's names and their daily orders was fun. I had many wonderful conversations with customers at the coffee bar."
She added, "Relationships are important to our family. We know people are made in God's image, and He loves them and us. To have a place where people are drawn to the coffee while enjoying a warm and welcoming atmosphere will be great."
She underscores that, unlike major coffee chains, people visit the smaller shops to sit and visit while getting their coffee fix.
Paula Millar has a broad number of connections within the art community and said she expects to draw on them to find art items to sell.
Additionally, a line of paints will be available for restoring furniture and recycling home décor items. Transfers, molds, stamps and related materials for embellishing crafts, cabinets, and other furniture projects will be for sale.
The Millars will also be offering local artisans the opportunity to feature their products in the store. Items will include pottery, painted signs, water bottles, towels and more.
"It's an eclectic mix that works well together," said Paula Millar.
The coffee shop area will seat up to 25 people and is being planned to include a children's play corner. They hope to offer classes on at painting, furniture painting, macrame, jewelry making and more in the fall. The classes will be held after hours in the evening.
Edible selections will also include a selection of pastries, including gluten-free and vegan choices.
The coffees will be produced using a professional espresso machine and include cappuccinos, frozen coffee beverages and various teas.
The Millars volunteered the costs of starting their small venture, offering a peek to others who might be considering doing something similar.
The startup costs will be about $110,000. A coffee shop consultant cost $5,000 (and included the equipment); $9,000 was for the architect and about $40,000 for the interior design build-out.
The Millars have put $25,000 of their personal funds into the shop. They also secured a $50,000 loan but are hoping not to use it all.
To further help with expenses, they created a crowdfunding page at Indiegogo.com.
People interested in supporting their efforts can make contributions at their indegogo.com page.
Their goal is to raise $30,000 and they are already more than a third of the way there.
The shop will be opened six days a week, from 7 a.m. to 5 p.m. and closed on Sundays.
After the shop opens its doors in June, a grand opening is scheduled for July. For more information on the shop, visit their Facebook page.
Tom Millar said, "We love the community aspect of our new business and are looking forward to providing something the local community has been clamoring for a long time."