Every Monday morning, Anthony Kostelecky, chief of staff to Prince William County Commonwealth's Attorney Amy Ashworth, can be found hurriedly reading case files as he prepares to represent the commonwealth in the morning's arraignments and bond hearings.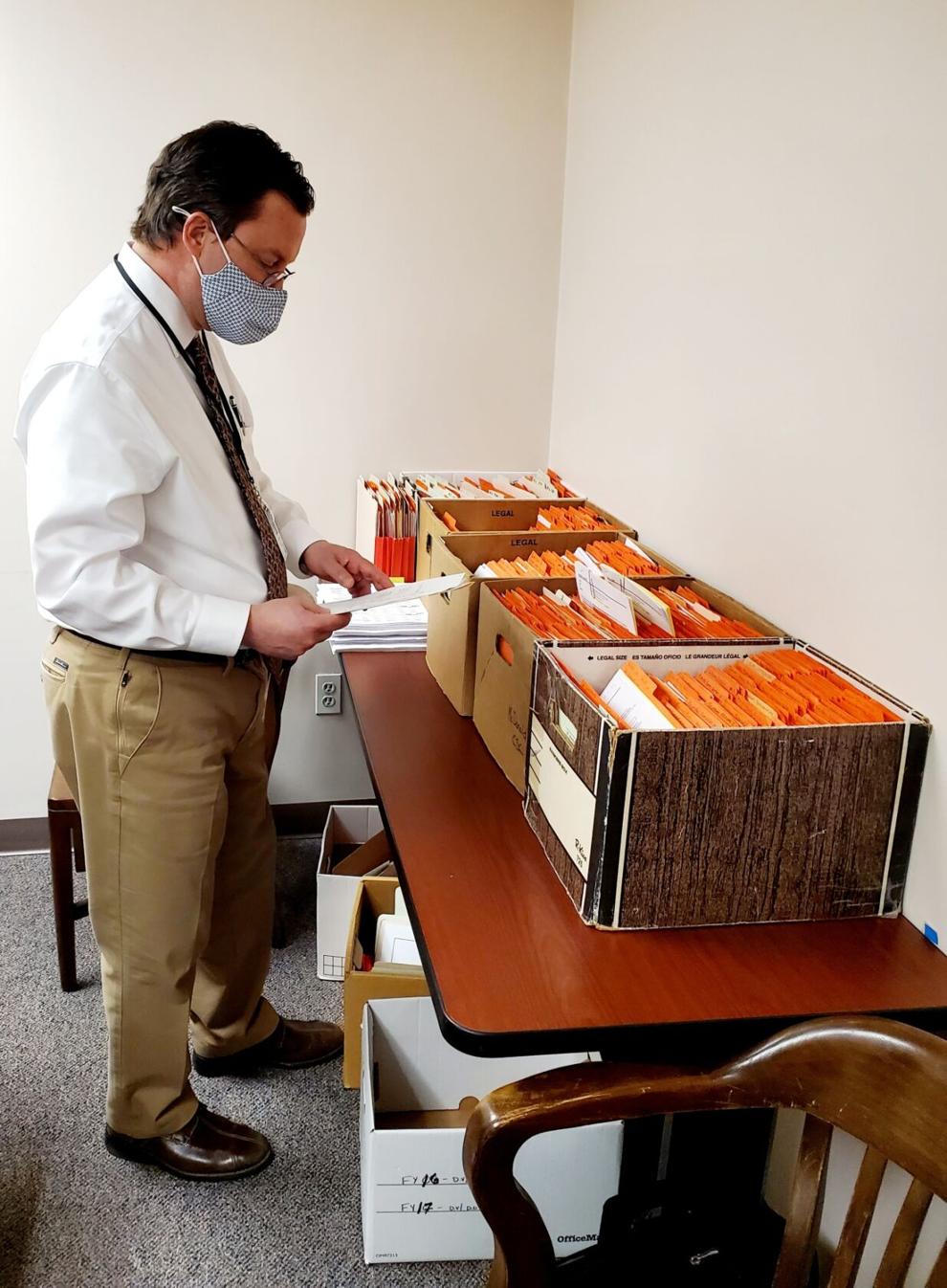 On March 29, Kostelecky had 22 files waiting on his desk involving people charged with crimes ranging from misdemeanor trespass (one at the Quality Inn and another at Neabsco Regional Park) to murder in the second degree. In between was a cornucopia of felony and misdemeanor offenses; most defendants faced multiple charges.  
Kostelecky carried his files down the hall from his office to Courtroom 2 of Prince William's general district court 10 minutes early. The courtroom was already abuzz as the attorneys, pretrial workers and court staff readied for the morning's hearings.  
Kristina Robinson, Ashworth's chief deputy attorney, was there to assist with the murder case. The 15 people crowded in the small courtroom hushed as Judge Turkessa Bynum Rollins took the bench at precisely 9:30 a.m.
Defendants, appearing via video from the Prince William County Adult Detention Center, wore bright orange jumpsuits, white socks, navy lace-less sneakers and face masks. Diverse as their charges, they included a nonverbal man in a wheelchair, a father of seven who threatened to fire his public defender when he was denied bond, and a confused young woman whose mother appeared in the courtroom in a show of support.
One by one, Judge Rollins addressed each case, appointing counsel, granting or denying bond motions, and setting future hearing dates. Defendants took turns in front of the camera, and defense attorneys rotated in and out, as Kostelecky represented the commonwealth in the initial steps of each case. 
When court adjourned about an hour and a half later, Kostelecky headed back to his office to enter the new cases into the CA office's database, adding to the stack already on his desk. Currently, the office is "full service," meaning it prosecutes all felony, misdemeanor and traffic offenses in Prince William, Manassas, and Manassas Park. Prosecutors' caseloads far exceed best practice of 45 cases per attorney. Still, many cases remain unassigned, Kostelecky said.  
"We don't have enough bodies. We are just too busy. It's frustrating because our specific mission is to seek justice," Kostelecky said. "The idea of having to cut services makes me sick to my stomach."
Ashworth, who was elected the county's top prosecutor in 2019, pled her case for more funding to the Prince William Board of County Supervisors last month. According to Virginia law, she said, her office is not required to prosecute all the county's criminal charges. It can choose to focus on only felony offenses, leaving misdemeanor and traffic charges to be prosecuted by local police.
Still, Ashworth said she does not want to resort to such steps and at a minimum wants to keep more serious misdemeanors and domestic violence charges within the commonwealth's attorney's office. Doing so, however, would require at least 23 additional positions, including 12 attorneys, six administrative staff and five case managers at a cost of $2.9 million.
Keeping up the status quo, she said, would require a total of 41 new positions, including 27 attorneys, nine administrative staffers and five case managers at an estimated cost of $5.2 million.
In the middle is a $3.8 million option, which would add 30 staff new staff members: 18 attorneys, seven administrative staff and five case managers. That's enough to keep prosecuting all misdemeanor and felony charges, leaving just traffic offenses to police. 
Without any extra money, Ashworth said, her office would be forced to stop prosecuting misdemeanors in order to focus on its most serious felony cases.
On Tuesday, county budget Director David Sinclair proposed that the county provide an extra $952,000 to Ashworth's office to fund seven additional full-time employees next year, while ramping up to an additional 24 by 2024. Ashworth has not yet publicly commented on the proposal. The supervisors are scheduled to pass a final budget on April 27.
'How can you abandon us?'
Ashworth said she's been in contact with the police chiefs from all three jurisdictions – Prince William County, Manassas and Manassas Park -- about what a reduction in service levels at her office would mean for their departments.  
"The police officers that I've talked to, I think they just feel incredulous," she said. "They ask, 'How is this going to work? How are we going to do this? This is too much. We're not lawyers.' They always say, 'We're not lawyers.' And a couple have even said, 'How can you abandon us?' And I'm trying to explain to them that I'm fighting every way that I can to not abandon them."
Officially, the Prince William County Police Department declined to speculate on how it would adapt to prosecuting traffic cases and possibly some or even most of the county's misdemeanors.
"A reduction in services by the commonwealth's attorney will certainly place additional burdens on our agency," 1st Sgt. Jonathan Perok, spokesman for the Prince William County Police Department's spokesman, said in an email. "Considering the critical importance of ensuring that justice is served, we will make the necessary adjustments when the picture becomes more clear."  
Shifting the prosecutorial burden from the commonwealth's attorney's office to police is not unprecedented. In 2020, Fairfax Commonwealth's Attorney Steve Descano's office stopped prosecuting certain misdemeanor cases due to lack of staffing. The county's website tells defendants to appear in court on their charges because "the prosecution … will still proceed by other means." 
Earlier this month, however, Fairfax County Circuit Court Judge Richard Gardiner sent shock waves through the Virginia legal community when he dismissed a misdemeanor charge solely on the basis that the commonwealth attorney's office elected not to prosecute the case. The dismissed charge, driving without an ignition interlock system, is one of the misdemeanors Descano's office no longer handles.
In his opinion, Gardiner said he was reluctant to dismiss what he believes to be a legitimate charge but held that neither a law enforcement officer nor a crime victim may assume the duties of the commonwealth's attorney to prosecute the case. 
The decision is not binding on Virginia courts. It remains to be seen how the extensive legal reasoning underscoring the holding may affect commonwealth's attorney's offices across the state that prosecute few to no misdemeanors -- a list Ashworth said she would like her office to avoid.
Ashworth called the opinion "concerning." 
"Our community is better served when we have prosecutors handling all of the cases," she said.
'It's a public safety issue'
Robinson, Ashworth's chief deputy, has been a part of the Prince William prosecutors' office since 1999, handling violent crimes and crimes against children. Robinson said that under Ashworth, resources have been reshuffled to focus on the cases that put the community most at risk.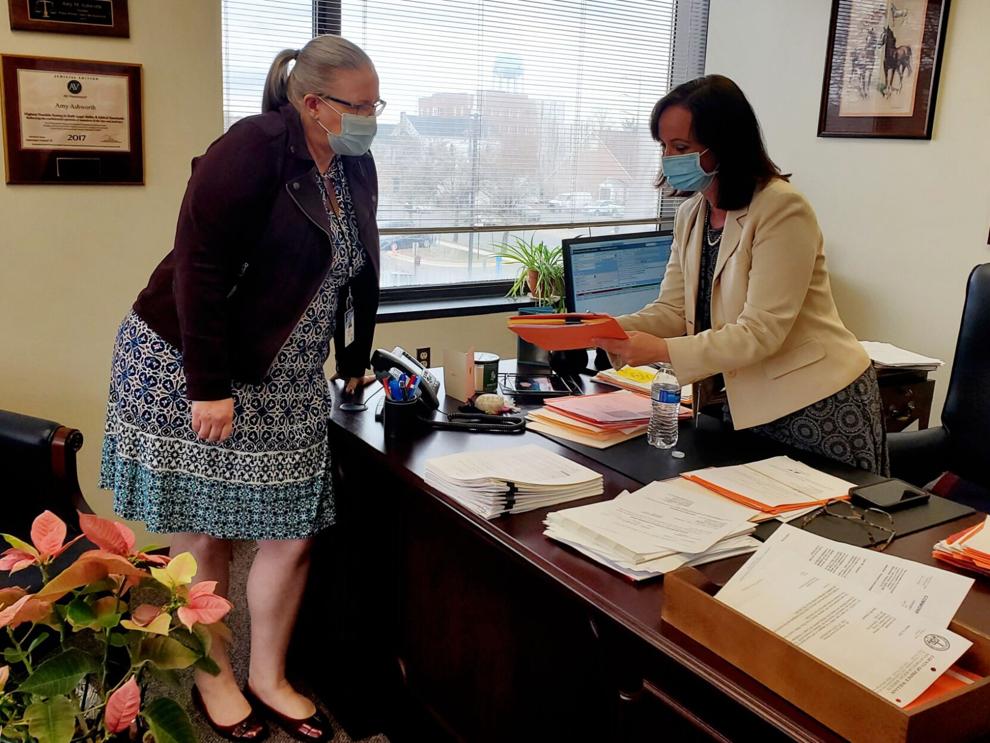 Robinson said her fellow prosecutors are committed to equitable administration of justice and work every day to ensure victims are protected. She said she believes "the community would immediately recognize a reduction in services," adding: "It is unfair to the community and unfair to the police." 
Robinson said the office's cases are increasingly time-intensive and require rigorous legal preparation. Ashworth said she agrees but notes her prosecutors and case managers are already working nights and weekends at a cost to their health and their families.  
"We absolutely don't want to offer less services, but the amount of work is untenable. Resources have to be focused on crimes that matter the most to the community. I raised my kids here. I want our families to be safe. For me, it's personal," Robinson said.
Ashworth told the supervisors she's worried about what prosecuting only certain misdemeanors would mean to local crime victims.  
"This is a public safety issue. And that's the simplest way I can put it. Not holding people accountable, not having the staff to hold people accountable for their crimes that the police worked so hard to solve, it gives me a lot of concern," Ashworth said. "I lay awake in bed at night thinking about it."