Summertime is primetime at Tim's Rivershore Restaurant and Crabhouse, a popular destination along the banks of the Potomac River in Dumfries. 
As one of the few restaurants in Prince William County accessible from both land and water, Tim's is known for its long wooden docks, its sandy beachfront and its expansive riverfront deck -- complete with an outdoor bar and umbrella-covered tables. 
Among locals, Tim's is a favorite for kicking back with a bucket of crabs, enjoying live music and socializing with friends and strangers, alike.
But things are different at Tim's this summer, due to the ongoing pandemic. Tim's has taken all required steps – and some extra ones – to ensure safety during COVID-19. Not doing so could close the restaurant down, said owner Tim Bauckman.
The Rivershore has limited its capacity to 50% for indoor and outdoor dining. There's no ordering or congregating around the bar, and masks are required for everyone. 
"That's me and everyone else," said Bauckman who owns the Tim's Rivershore outside of Dumfries as well as three other Tim's restaurants in King George County, at Lake Anna and at Coles Point in the Northern Neck.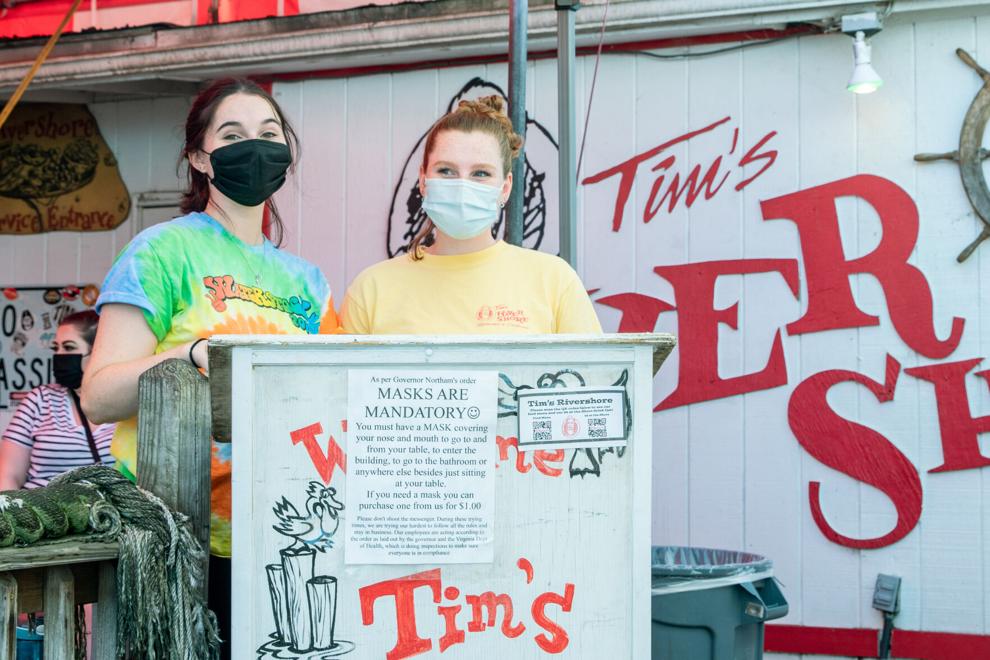 There are also rules patrons might not expect. For example, diners are now discouraged from lining up outside the restaurant. (If they do, they're urged to stay 6 feet apart.) Tim's Rivershore is instead encouraging people to wait for tables from their cars or boats. 
"We've been religious about doing this," Bauckman said. "We're thankful just to be open right now."
Yet, there have been some challenges.
"For the most part I would say 90 percent of the customers are onboard. They come up to the podium with masks on," Bauckman said. "But the ones who don't want to wear masks or have a problem with not being able to stand at the bar, they are adamant about it. They think it's a fake virus and all that." 
If they don't have a mask, they can buy a disposable one for $1 or leave.
"We have been harder on it that than some other places. I hear that," he said.
Not allowing patrons to wander around, greeting friends at other tables is a very different atmosphere for Tim's.
"It used to be very social. People came to talk to everybody," Bauckman said. "They can't do that now."
Changes behind the scenes 
In addition to the new rules for patrons, Tim's has also changed its procedures for staff, Bauckman said.
For example, when employees arrive for work, their temperatures are taken, and they have to sign a log and answer a few questions to ensure they are not sick.
Bauckman said there are hand sanitizers everywhere. When a table is cleared, it is then sprayed with disinfectant.
When waitresses deliver food to tables, they do not return periodically to remove finished plates, a once common practice at Tim's and most restaurants. Now, everything remains on the table until the patrons leave.
"The tables seem to be more cluttered until the end. But this way, she's not coming into contact with something anyone else has touched," he said.
The menus are paper and used only once. To cut down on unnecessary waste a party of four will receive one menu to share.
"We had plenty of time to think about all this since we were closed for two months," Bauckman said. The Rivershore reopened June 12.
Bauckman said he received a call from the Prince William Health District and was asked about the steps the restaurant had taken to reopen. "She seemed to think we were well above what we should be doing," he said of the health district worker.
The Virginia Department of Health and the state Alcohol Beverage Control Authority have a lot of power over the state's restaurant industry, one of which is the ability to revoke a license to sell food for a set period of time.
"If you can't sell food, you can't sell alcohol in Virginia," Bauckman noted.
"For any restaurant right now, any amount of time [without a license] is enough to put you out of business because everybody is riding so close to the edge," Bauckman said.
The Prince William Health District has received 517 complaints between May 25 and July 29 regarding face coverings, gathering and social distancing. Of those, 133 of the complaints were about restaurants. 
But the state has not yet received any complaints about Tim's Rivershore, according to Patrick Jones, environmental manager for the health district.  
"If my staff reached out to the establishment, it was either a courtesy call for the new phase or a phone inspection with the focus on food safety practice and reopening during COVID- 19," Jones said. "We have not contacted the establishment regarding any complaints."
While the new requirements can be difficult, Bauckman said he sees their merits. He understands they are in place to keep both staff and patrons safe and to try to stop the spread of the deadly virus.
"I know a couple of people who have had the virus and they are through it now and OK, but I understand it's still out there and flourishing," he said.
"I'm one of those people who will kind of buck the system, especially if government is pushing people around. I don't think this is one of those cases," he said. "This is a virus that can hurt people and we are going to do what we can do. Nobody wants to be on the end of making people sick."