The Prince William Education Association, the county's teachers' union, says it will continue to push for an all-virtual start for the new school year despite the current plan to offer in-person instruction to about 1,600 special education students when the new year begins Sept. 8.
About 50 teachers rallied outside the Edward L. Kelly Leadership Center on Aug. 26 and they are planning to return to the school board meeting this Wednesday, Sept. 2, to urge the board to reverse course and allow all teachers and students to work virtually for the first quarter, said PWEA President Maggie Hansford.
"Our request remains the same," Hansford said. "We want the school board to start the year with all students online and then slowly bring students in when it's reasonable."
The vast majority of the county's 91,000 school children and 6,000 teachers will work virtually throughout the first quarter. When the quarter ends Nov. 1, the school board plans to switch to a 50% hybrid plan that would give students the choice of attending school in person up to two days a week.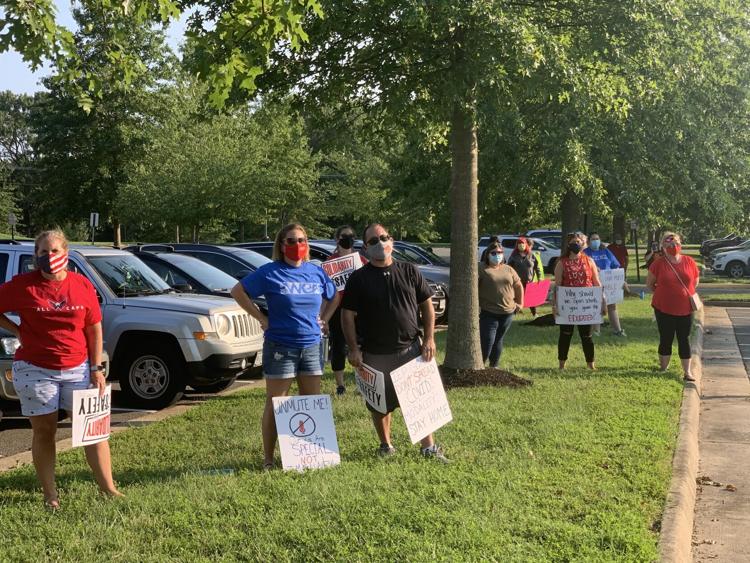 About 1,600 "level two" special education students – defined as those who receive most of their instruction in self-contained classrooms – as well as some English language learners are set to return for in-person instruction four days a week starting on the first day of school and continuing through the school year. The number is a reduction from the nearly 2,000 announced during Aug. 19 school board meeting. Superintendent Steven Walts gave no reason for the change.
The students will be chosen based on their individual education plans (IEPs) and will include those who have significant difficulty learning online and those who have had significant breaks in their schooling.
The plan has teachers worried about safety and concerned that the school division is offering no extra help in the way of hazard pay or additional paid sick leave for teachers who begin their year in the classroom.
The school division's sick leave policy is the same for teachers who teach in person and online. Teachers who get sick or have to quarantine because of a COVID-19 outbreak will get up to 10 days of paid leave before having to dip into their own banked sick leave -- if available. Once that runs out, they'll get another 10 days of leave at two-thirds pay. When that's gone, they'll be on their own, Hansford said.
"There's no additional protections for staff going in early," Hansford said. "That means there's an equity concern that's not only about health but also financial."
During the rally, teachers held signs reading "Safety first" and "Our kids are special, not immune." Some said they feel they are effectively being used as "guinea pigs" to test the waters for in-person learning.
Linda Thurston teaches autistic students at Beville Middle School and says she loves working with her students. But she said she's worried her some might resist mask-wearing and hand-washing. She also said many require "hands on" instruction, such as the need for a teacher to hold their hand to help them write.
"Staying six feet away is not going to happen," she said.
On top of that, special education teachers are required to re-write all of their students' individual education plans (IEPs) into a new software program before the new year begins, a task she said takes between four to six hours for each student. That's in addition to learning the new "Canvas" system, which teachers will use to deliver online instruction to students who choose not to attend in person or are not selected for in-person instruction during the first quarter.
"It's a lot. I'm stressed," Thurston said. "I've never had this much thrown at me at the same time, and the added thing is that they want us to teach in person, risking our health on top of everything else."
Hansford said teachers have not yet been told which teachers will be teach in-person or why school division officials believe doing so is safe.
"We're asking for transparency in the decision-making," Hansford said. "What do they mean when they say it's safe? We don't know."
Health director: Local community spread of COVID-19 'moderate'
During the Aug. 26 school board meeting, Dr. Alison Ansher, director of the Prince William Health District, gave an update on the current state of the pandemic in Prince William County.
Ansher explained several different COVID-19 metrics the state is tracking to assess the level of "community spread" of the virus, including cases per 100,000 residents, percent-positivity rate on COVID-19 tests, outbreaks, emergency room visits, the number of COVID-19 patients in intensive-care units and the number of health care workers who have tested positive for the disease.
The Virginia Health Department has compiled the information into a "Pandemic Metrics Dashboard" for each health district. The report categorizes the each metric with stoplight colors of red, yellow and green to indicate the numbers' severity.
The Prince William County Health District, which includes the county, Manassas and Manassas Park, has 14.7 cases per 100,000 residents, a number classified as "red" on the Aug. 22 dashboard. Community spread of COVID-19 in the health district is "moderate" and "fluctuating," and has been increasing for the past seven days, Ansher said.
Other local metrics were also colored red and yellow, although Ansher said metrics such as percent-positivity rate, infected health care workers and hospital measures are mostly trending downward.
"We shouldn't be talking about whether schools are safe. We should be talking about how we can make it safer for students and staff to come back to school," Ansher told the school board members.
She stressed the importance of mitigation strategies such as ensuring six feet of distance between students and staff, wearing cloth face-coverings, hand-washing and keeping students "clustered" in the same cohort throughout the day so possible outbreaks are limited.
"So if there is a case in that classroom, it could be limited to that classroom and would not require the entire school to shut down," Ansher said.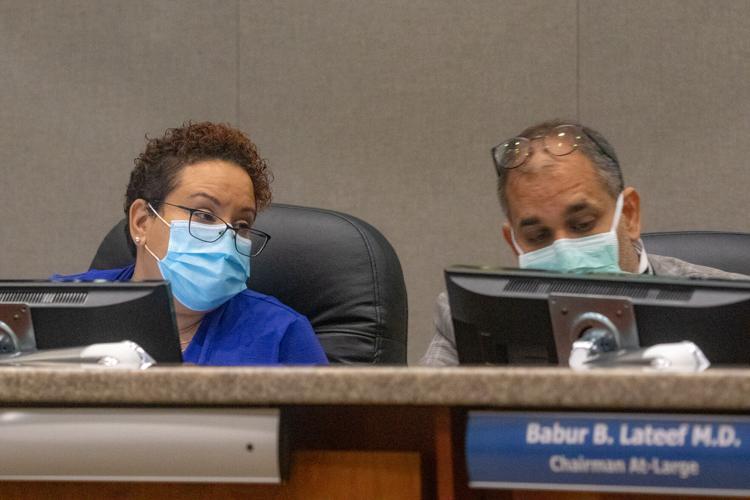 "It's very important not to panic if there is a case in the schools. It doesn't mean we have to close down the schools, it's going to be a case-by-case basis," Ansher added, noting that she has been working with the school division's pandemic team for weeks to prepare for new school year.
Jessie: 'Teachers are still very scared'
School board members expressed concern about the risks to special education teachers and their workload and peppered Walts and other school division administrators with questions about what could be done to help teachers complete their IEPs and prepare for online instruction.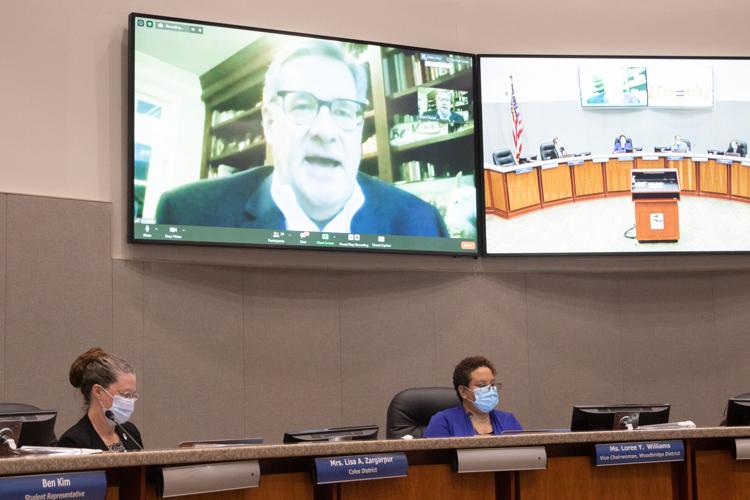 Occoquan Representative Lillie Jessie asked what could be done to make special education teachers' experience equitable to that of regular education teachers.
"The bottom line is, teachers are still very scared about this," Jessie said.
Walts and Denise Huebner, the school division's director of special education and student services, said both school level administrators and those at the Kelly building would help teachers as much as possible. On Saturday, Walts released a memo saying special education teachers should not worry about having more than basic information on their Canvas page for the start of the school year.
The school division was in the process of transitioning to the new IEP system prior to the pandemic. The new system "grew out of a need for school divisions to have a streamlined IEP process," that will better facilitate meetings with parents, monitor progress and submit data for state reporting purposes, school division spokeswoman Diana Gulotta said in a statement.
At the close of the meeting, and after breaking into closed session, School Board Chairman Babur Lateef said the school board would continue with its plan to open schools to about 1,600 students on Sept. 8.
"We continue to have confidence in Dr. Walts and his staff toward this effort, and everyone is working full-time, and overtime, and we understand that," said Lateef (At Large).
"We have heard a lot from teachers, especially our special education teachers. We want to make it crystal clear … that we will continue to listen to our teachers, try to accommodate them, provide them the support they need."
Reach Jill Palermo at jpalermo@fauquier.com