Does Prince William County need a new indoor aquatics and fitness facility? A new indoor "field house" with soccer and football fields? How about an $84 million indoor track complex?
Those were among the seven parks and recreation projects that could be part of a $600 million bond issue the Prince William County Board of Supervisors could ask voters to approve in the Nov. 5 election.
After months of behind-the-scenes chatter about a possible bond issue, the supervisors and the community got a first glimpse Tuesday of the projects that could be part of the initiative.
The list includes seven park projects and 11 road projects. The 18 are scattered around the county, with a few items in each of Prince William's seven magisterial districts.
The road projects include grade-separated intersections at some of the county's most congested choke-points: Prince William Parkway and Minnieville Road; Gordon Boulevard and Va. 123; and Va. 123 and U.S. 1. Also included are plans to widen some major thoroughfares and create brand new ones.
Three major new roads proposed include: a $300 million extension of Godwin Drive known as the "Va. 28 bypass;" a $70 million extension of Van Buren Road, from Cardinal Drive to Va. 234; and an extension of University Boulevard from Devlin Road to Progress Court.
Board of Supervisors Chairman Corey Stewart, R-At Large, is an enthusiastic supporter of the bond issue. Stewart's not running for re-election this year. He said he sees the bond issue – and the projects it would potentially fund – as part of his legacy.
"It's taken me 16 years to get to the position where I have the influence to push something like this through, to get the board to look at the needs of the whole county," Stewart said in an interview after the meeting.
"This is very exciting for me. I know the ... indoor recreation facility is the biggest need with regard to parks and recreation," he added. "The road package will leverage hundreds of millions of dollars in state and [regional] funding."
Part of the strategy behind the bond issue is to raise local matching funds to apply for state and Northern Virginia Transportation Authority grants to help pay for the projects.
That's what the county did as it spent down the last road and parks bond, a $327 million initiative that voters approved overwhelmingly in 2006. That bond issue planned to spend $300 million on road projects and $27 million on park projects.
Over the following 10 years, the county issued $150 million in borrowing for road projects, which translated into $400 million worth of improvements, said Rick Canizales, director of Prince William County's transportation department.
The parks projects were chosen based on a recent study of the county's needs conducted by a consultant, ETC Institute. With the consultant's help, the parks department interviewed focus groups and mailed out 16,000 surveys. About 2,400  were completed and returned, according to Seth Hendler-Voss, director of the county's parks and recreation department.
New taxes?
The county would likely need to reduce spending or raise taxes to make payments on the debt needed to build the projects. The parks projects would also incur operational costs, which would need to be covered by new spending.
The supervisors have not yet discussed how they would raise such funding. During the supervisors' afternoon session May 7, county finance director Michelle Attreed said the county has enough "debt capacity" for the borrowing – meaning the projects would not exceed the county's self-imposed limit that caps borrowing at 10 percent of local tax revenues.
The supervisors could raise revenue for the projects by cutting county spending or raising county tax rates, Attreed said.
The supervisors might also consider new taxes, including a cigarette tax, a meals tax, an admissions tax or a "commercial and industrial tax," Attreed said.
Some of the new taxes would require enabling legislation from the Virginia General Assembly or would have to go before voters, such as a meals tax, Attreed said.
Supervisor Pete Candland, R-Gainesville, noted residents should understand that approving the bond projects would likely mean paying more taxes.
"This stuff isn't free. It's going to come from somewhere," Candland said. "The decision the citizens are going to have to make in November is: Are we OK with our taxes going up for these projects?"
Indoor track proposal draws supporters
Several people turned out to the evening portion of the May 7 meeting to speak in support of the indoor track complex, a 230,000-square-foot  facility with a "hydraulic track." A hydraulic track includes a mechanism that allows for the surface to be raised and lowered to create slopes and embankments.
Hendler-Voss said it would be only the fifth such public indoor track facility in the country, if Prince William County voters opt to approve the bond issue.
The facility is slated to be located somewhere in the Occoquan District, although the county has not yet chosen any particular locations for any of the new buildings included in the bond proposal, according to county spokesman Jason Grant.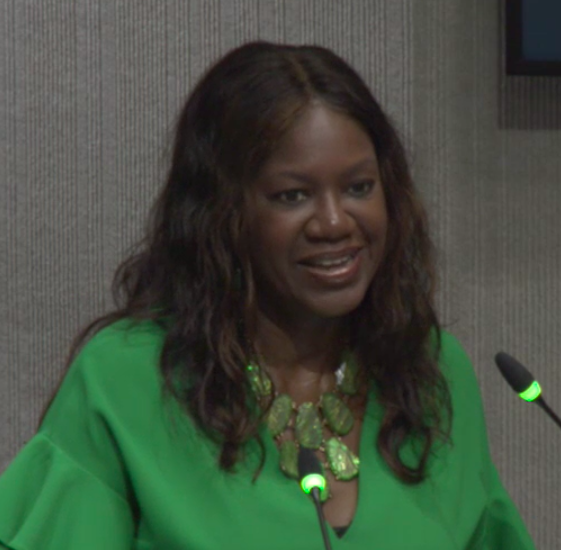 Several parents whose children compete in area private youth track clubs as well as several high school track coaches spoke of the need for such a facility.
Supporters included 1984 Olympic Gold Medalist Benita Fitzgerald-Mosely, who lives in Haymarket and has two children who participated in track at Battlefield High School.
Fitzgerald-Mosely is the daughter of Fannie Fitzgerald, the late teacher who was one of the first four teachers chosen to integrate Prince William County schools in the 1960s. In Dale City, there is a school named after Fannie Fitzgerald, which is located on a street named after Benita Fitzgerald-Mosely.
Fitzgerald-Mosely said the indoor track facility is needed for students who train for track year-round and compete during the "indoor track" season, which is really outdoor track in Prince William County and most of Northern Virginia because of the dearth of indoor track facilities.
She and others spoke of teams and kids having to travel hours to train or who forego training for weeks because of bad weather.
"I throw my full weight behind this project and I hope and pray, even though my kids won't be able to benefit, I will still be a huge champion of this projects and the events that will come to it," Fitzgerald-Mosely said.
The supervisors will hold a town hall meeting on Tuesday, May 21, to further discuss the projects and allow residents to weigh in. The meeting will begin at 7 p.m. at Hylton Performing Arts Center in Manassas. Doors will open at 6:30 p.m.
The supervisors will have to vote on the projects by June 25 to place them on the Nov. 5 ballot. That vote could take place on either Tuesday, June 18, or Tuesday, June 25, Stewart said.
Reach Jill Palermo at jpalermo@fauquier.com